Insight | Director and co-founder, ASIA NOW
Alexandra Fain
Now in its second edition, ASIA NOW Paris Asian Art Fair (20-23 October, 2016) is a new art fair on the art calendar with a distinct focus. Occurring in the same week as FIAC in France's capital, the event aims to support and promote a fresh representation of important contemporary Asian art. Acting as an educative platform that provides exposure for lesser known Asian artists and galleries within the Western market, in a short amount of time, the fair has become regarded as significant boutique event that promotes high quality Asian contemporary art informed by key industry figures.

ASIA NOW director and co-founder Alexandra Fain discusses the development of the fair and its plans for 2016 with Rachael Vance, explaining how she hopes to offer something different for art fair audiences that accurately reflects Asian art being produced today, beyond commonly held stereotypes.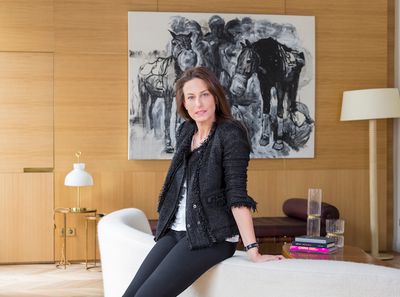 Alexandra Fain. Courtesy ASIA NOW, Paris.
Can you explain your background and experience within the arts industry?
I come from a strategic planning and branding background, after twelve years with the group Publicis and four years with the group Richemont. I grew up surrounded by my father's art collection. This gave me the bug for collecting from a very young age. I discovered the Asian art scene thanks to the dslcollection and Karen Levy when she assisted Ami Barak for the Shanghai World Expo in 2010. With her, I visited artists studios, galleries, exhibits and it was from there immediately, that I wanted more collectors to discover Asian art as well. Since this moment, Claude Fain and myself, along with Ami Barak, have promoted this buoyant scene. As it's difficult for a collector to block out a whole week to discover the art scene in Asia, we thought, why not establish a specific art fair that focuses on Asian art in Paris, involving pioneering galleries in Europe experienced in working with some of the best Asian artists?
In terms of collecting art myself, I discovered a film projection, thanks to Leo Xu, by Cheng Ran and item idem on the walls of the Palais de Tokyo. I started to collect this work in addition to other video works. Each piece selected for the fair is a battle of love, similar to the selection process for one's own art collection.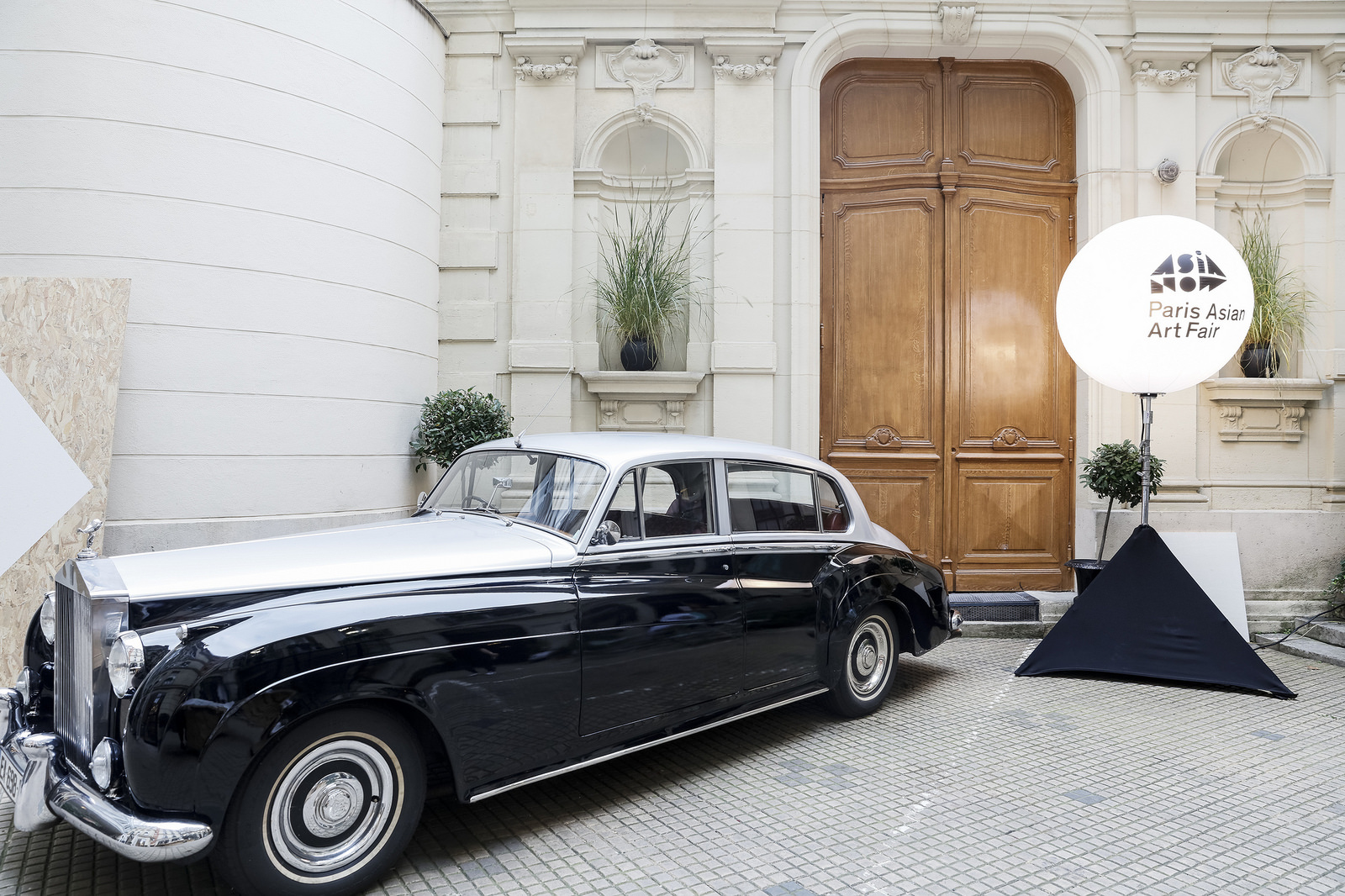 ASIA NOW Paris 2016. Photo: © Charles Roussel & Ocula.
How did you come to establish ASIA NOW Paris and what have been the overall goals in developing this new and targeted art fair that focuses on Asian art within Europe?
In 2015 ASIA NOW launched its first project abroad at the 56th Venice Biennale which marked its first project in collaboration with The Art of this Century, The Writings of Today are a Promise for Tomorrow (18 May - 28 June). The exhibition was curated by Dr. Martina Köppel-Yang, with the artists Zheng Guogu and the Yangjiang Group. Alongside the kind support of Vitamin Creative Space, the project was comprised of in-situ installations co-commissioned by ASIA NOW and the dslcollection.
Our goals for ASIA NOW are to share a passion, provide excitement, and perhaps challenge a few perceived ideas about Asian art. We have found that the image many have of Asian art is sometimes a fantasy of Western projections. The basic image of contemporary Asian art is often based on aspects of market value as opposed to its rich and varied scene which are worth exploring. The driving motivation behind our event is the desire to provide a real time picture of a rich, active and constantly changing Asian scene.


ASIA NOW Paris 2016. Photo: © Charles Roussel & Ocula.
Who do you work alongside within your curatorial and advisory team?
From the very beginning we have been lucky enough to get the support of ASIA NOW's friends like Ami Barak, François Curiel, Jérôme Sans and Morgan Morris, Jean-Marc Decrop, Cao Dan, Laure Raibaut, Martina Köppel-Yang, Yang Jiechang, Caroline Ha Thuc, and the dslcollection, The Ullens Foundation, and UCCA with Philip Tinari. We are also lucky to be kindly advised by great collectors of Asian art such as the Lévys, the Ullens and Dr. Oei.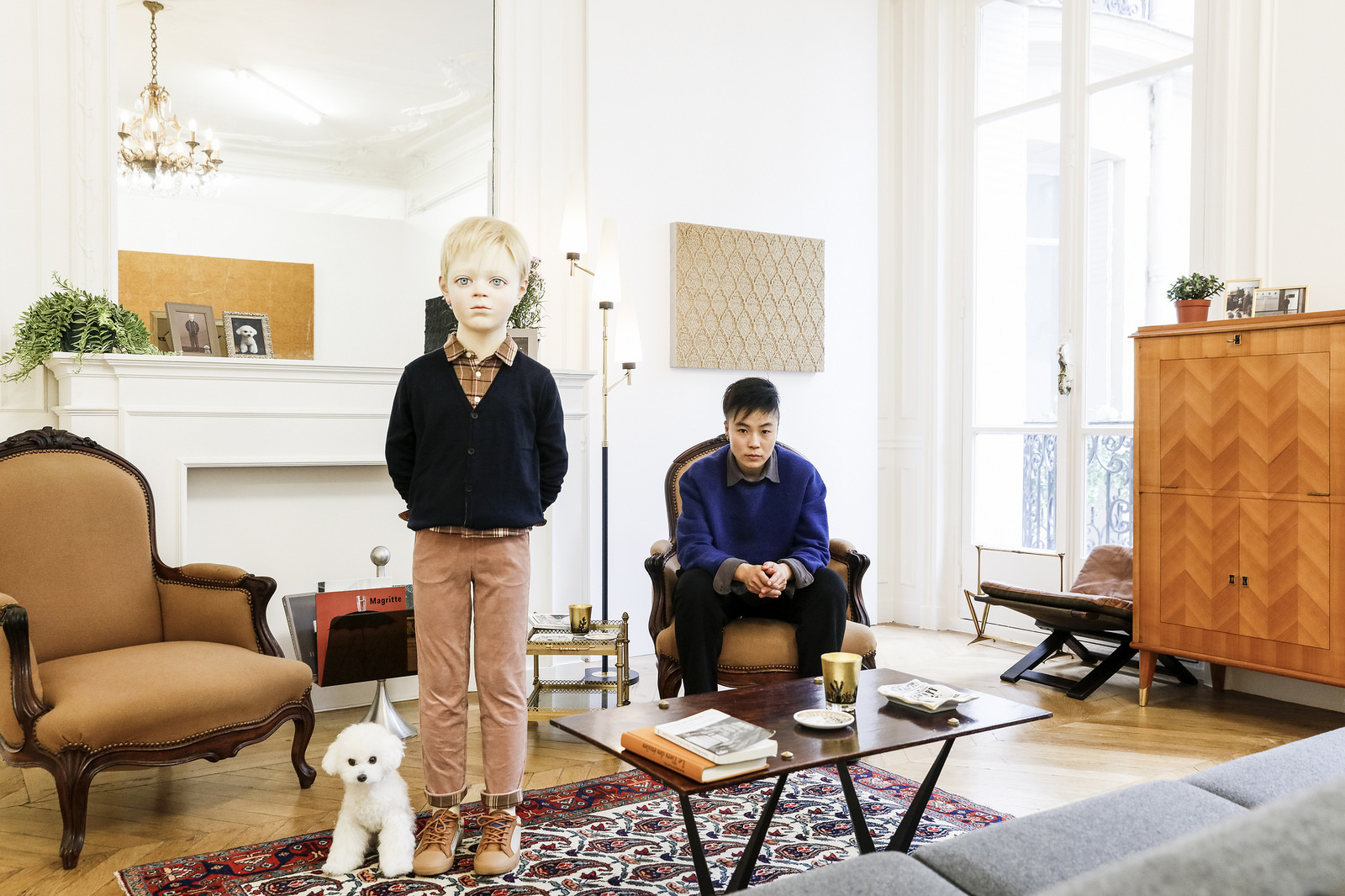 Fabien Fryns Fine Arts at ASIA NOW Paris 2016. Photo: © Charles Roussel & Ocula.
In only a short period of time the fair has attracted much attention as a boutique fair that presents a high quality list of artists and galleries. What do you attribute the fair's success to, and how do you think it distinguishes itself?
It is true we have been very lucky with our very first edition in attracting great collectors as well as blue chip institutions which is so valuable for the artists. I believe content should always be critical in everything we do. So I believe ASIA NOW has been distinguished first by what we exhibited, trying our best to present the most precise propositions and projects by some of the most talented artists, supported by amazing galleries-some coming to Paris for the very first time last year in an intimate and friendly environment, likely to foster in depth relationships.
Also, what really sets ASIA NOW apart from other fairs with a focus on China, Singapore or Korea, is the fact that we want our fair to become an annual event that supports and maintains the presence of Asian art in both France and Europe. We want to explore in-depth the challenges faced by the Asian art scene, and how best to address these concerns from a global perspective.
Can you isolate any special relations within France and Asia?
Paris has been a central location for art for centuries and has always inspired artists, as well as Asian artists. It has hosted important exhibitions: from les Magiciens de la Terre at Centre Georges Pompidou in 1989, to Alors, la Chine? in 2003 and Paris-Pekin at the Espace Cardin in 2002, focusing on the new generation of artists. In the last few years alone, we have seen some outstanding Asian exhibitions take place in Paris such as Korea Now! at Musée des Arts décoratifs (19 September 2015 - 03 January 2016), Monumenta with Huang Yong Ping at Le Grand Palais (8 May - 18 June 2016), Bentu, Chinese artists in a time of turbulence and transformation at Foundation Louis Vuitton (27 January - 2 May 2016), and Nobuyoshi Araki at Musée Guimet (13 April - 5 September 2016), and Anywhere But Here at Bétonsalon (14 September - 5 November 2016), just to mention some of them.
The connection of Asian inspired artists in Paris is still very vivid today, which is visible in our VIP program with visits to the studios of artists such as Gaston Damag and Yao Qingmei's, and to Xie Qi and Li Yonggeng's artist residency in the DawanArt Foundation. There will also be a private tour of the Zao Wou-Ki donation at Musée Cernuschi and another visit to artist Jiang Dahai's studio after his exhibition at the Musée Guimet. Then there are of course the cultural institutions such as Centre Culturel de Chine, Centre Culturel Coréen, and Centre Culturel de Taiwan, which are all concerned with bringing their respective countries culture and art to Paris. This period is also an extremely strong time for art in Paris, attracting an international audience giving a great platform to an ever-changing and marvellously diverse Asian scene. It seems like the obvious place to showcase Asian contemporary art!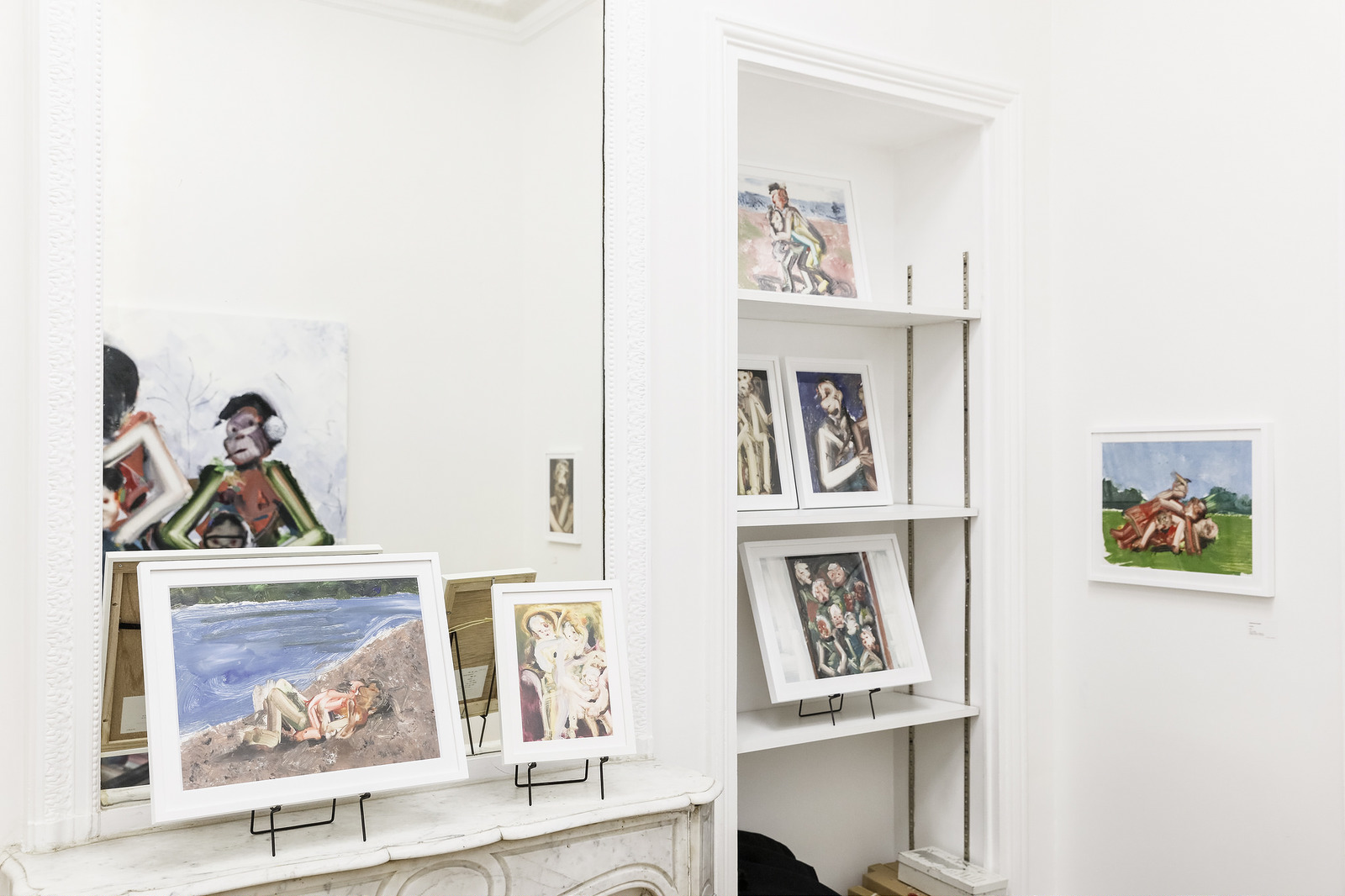 Urano at ASIA NOW Paris 2016. Photo: © Charles Roussel & Ocula.
Do you feel that ASIA NOW has achieved the desired level of education that has allowed for the introduction of art beyond Europe and America for collectors hoping to broaden their collecting scope?
The fair started with a strong focus on teaching and last year it was dedicated to 'Conversations'. For every edition of ASIA NOW, we intend to bring together the best experts, from an academic point of view, such as Jérôme Sans, Philip Tinari, director of the UCCA in Beijing, and Nicolas Bourriaud, with collectors who are already familiar with the Asian art scene. The aim is not to try and convince everyone to start up Asian collections tomorrow, but to show artists supported by galleries a repertoire that can be of interest to collectors. The latter are curious about the Asian art scene but don't really know where to start. By presenting a compelling selection from the very beginning, we feel we ease the path for those who do not know the scene well, and also for those who know a little but search for direction. Before collecting, one must also be able to understand, and so the educational aspect is essential.
Which audience or demographic do you hope to connect with?
ASIA NOW is still growing and last year we realised our first demographic was really quite broad. This year, like last year, we will attract collectors of Asian art seeking a new generation of artists. Then there are collectors who are willing to collect Asian art and are excited to discover new talents, but who are looking for guidance on the subject. ASIA NOW also appeals to Asian art collectors who find interest in the Eastern and Western connections and travel to find discoveries on a different platform than they are used to. We also hope to reach an audience which cares about art, that includes collectors, art advisors, art academics, art writers and curators. As the fair grows and develops, we hope that this audience will grow beyond the art world and connect to the general public.


Leo Xu Projects at ASIA NOW Paris 2016. Photo: © Charles Roussel & Ocula.
Starting out were you concerned about there being enough room within the market for another fair in Paris locally, but also on an international scale?
I think there is always room for pioneering propositions, and ASIA NOW is not just another fair. In Paris it doesn't compete with anything similar. Running at the same time as FIAC, when great collectors from the international art world are gathering is a positive thing. There is no doubt that there is room for different propositions, like ASIA NOW, dedicated to the Asian contemporary art scene. ASIA NOW also differentiates itself by enhancing a 'boutique' environment in an intimate Parisian building which encourages a close relationship between collectors, galleries, artists and their works.
Artists who are known and acknowledged by some of the best galleries in Asia, sometimes have little visibility in France and Europe. These galleries offer us an art scene which rises above the clichéd stereotypes of the image of Asian art. We aim to share our discovery of this scene during an active time of the contemporary art calendar which brings together European and international collectors. The idea is to make the most of this busy period, unveiling our Asian proposition and showing a well selected group of galleries and projects.
Have there been any artist discoveries or innovative elements from last years' fair you have particularly proud of?
We were particularly happy with the first edition to have 18 projects and were lucky enough to have 12 artists come in person to the fair. In terms of particular artists, we were really proud of Svay Sareth from Cambodia for being awarded the Overall Best Emerging Artist at the 2016 Prudential Eye Awards for Contemporary Asian Art. We are also really proud of Im Heung-soon for winning Silver Lion at the 56th Venice Biennale-the highest art award ever won by a Korean artist. Another artist who comes to mind is Wang Sishun whose artwork Truth—a flame from a lamp—was our key visual last year and for me represents ASIA NOW 2015. Another artist we were really proud to exhibit in 2015 was Chou Yu-Cheng.
Do you travel to Asia regularly seeking out new talent?
Indeed, we do travel to Asia regularly to seek out new talents. We are very cautious about the quality and quantity of the participating artists and galleries and we do not want to sacrifice that just to save time or money. The first year, Ami Barak researched and explored galleries for almost three months. He met each gallery one by one, talked through their long term programs with the directors of these galleries, and then met the artists. Another aspect of the work consisted of meeting the Asian curators themselves in each of the art scenes, to strengthen their convictions, as it is a considerable financial and logistical investment for the galleries to travel to Paris.
This year we have over 32 galleries joining us from 13 different Asian territories along with some special projects. Of course, I have a personal interest in all of them but I have a special focus on work from the Philippines and Indonesia. This year I am particularly excited about our international performances from artists such as Singaporean-based Teow Yue Han, Japanese artists Lei Saito and Tsuneko Taniuchi, and River Lin from Taiwan. Not forgetting of course the best from the Chinese, Korean and Japanese scenes.
This year we are delighted to welcome Jiang Qiong Er the founder and director of Shang Xia and Géraldine Lenain the international head of Chinese Ceramics and Works of Art at Christie's to talk about modern Chinese design. We also have Pierre Coinde, a curator and the founder of news of the world, a not-for-profit organisation and research studio based in London who will take part in our conversation platform and present two projects that reveal the thinking processes in contemporary visual media.
What are some of the key factors in the selection criteria for exhibiting contents?
It is crucial to have something new, to have something of quality and to always bring a rich and varied selection. What we aim to do is to present a fresh take on it each year. ASIA NOW strives to provide outstanding exhibitions and to promote Asia's rich artistic diversity.


Sundaram Tagore Gallery at ASIA NOW Paris 2016. Photo: © Charles Roussel & Ocula.
Can you tell me about the program, constellation of artists, and galleries for the 2016 edition?
We are very excited this year to have newcomers on board such as Sundaram Tagore Gallery (Singapore, Hong Kong, New York) exhibiting Tayeba Begum Lipi who represented Bangladesh at the 54th Venice Biennale, URANO, (Tokyo), showing Takahiro Iwasaki recently nominated to represent Japan at the 2017 Venice Biennale. Galerie Paris-Beijing (Paris, Beijing, Brussels) will present Li Jinghu who is exhibiting at Gwangju Biennale 2016. Then there is Fabien Fryns Fine Art (Beijing) with a project of Li Wei. There will also be Magician Space (Beijing), showing Liu Yefu paired with Paris-based artist Yao Qingmei. The Columns Gallery (Seoul) will bring 6 artists from Korea and Made In Gallery (Shanghai) will present artists Xu Zhen, Wang Sishun, and Lu Pingyuan, who is exhibiting this year at the 11th Shanghai Biennale. There is also The Drawing Room (Makati City, Philippines) with a dual show of Gaston Damag and Manuel Ocampo, and Tang Contemporary (Beijing, Hong Kong, Bangkok) will present artists Cai Lei, Xu Qu and Zhao Zhao, and this is not even all of them!


The Drawing Room at ASIA NOW Paris 2016. Photo: © Charles Roussel & Ocula.
We are also proud to welcome galleries from last year who have come back for our second edition such as A Thousand Plateaus Art Space (Chengdu), with Chen Qiulin, CHOI&LAGER (Seoul, Cologne), will present Hein-kuhn Oh and Ayoung Kim, who was artist-in-residence at the Palais de Tokyo in 2016. Not forgetting to mention, ifa Gallery (Brussels) with Xu Zhe's video works, Leo Xu Projects (Shanghai) with Shanghai-born and Brooklyn-based artist Pixy (Yijun) Liao. We really hope to bring a real mix of artists from different parts of Asia and this will always be a main focus.


Choi & Lager at ASIA NOW Paris 2016. Photo: © Charles Roussel & Ocula.
What is really interesting this year is that we have an outstanding selection of female artists, and they stand for almost 30% of our exhibiting artists. We have also invited Matthias Arndt who has over 25 years' experience working with South East Asian contemporary art, and Hervé Mikaeloff, a contemporary art curator whose collective expertise on South East Asian and Indonesian art can be seen this year in a curated show 'Chimères: Visions of South East Asia'.
On top of this we have a project called Women's Independence Art Show curated by Magda Danysz, commissioned by Etam to celebrate its 100th anniversary, that will present the works of 12 artists including Li Hongbo, Stella Sujin, and Liu Bolin. So it seems that this year we can really focus on women in the arts—a theme which is very close to my heart.
Where will the fair be staged this year?
This year it will be at a new location at 9 Avenue Hoche, in the middle of the 8th district of Paris. This move has allowed us to expand from 18 projects last year, to 34 exhibitors and performances this year. This beautiful Haussmannian building is designed to be walked through from room to room, like a Parisian apartment with high ceilings and wooden floors. There will be a courtyard and loft area, designed to provide a space where our visitors can congregate and feel part of the general ASIA NOW ambiance. We hope to keep the friendly and intimate feel of last year, while at the same time, be able to provide more space for performances and galleries. It is also two minutes' walk from the Arc de Triomphe and Avenue des Champs-Elysees and five minutes driving distance from the Grand Palais and the Palais de Tokyo. —[O]