SP-Arte 2022: In Photos
Sp-Arte, one of Brazil's most anticipated art fairs, opened in São Paulo this week. Hosted in the Niemeyer-designed Fundação Bienal de São Paulo in Ibirapuera Park, the fair brings together a range of exceptional contemporary art from Latin America and beyond. View images by Ocula photographer Tiago Lima who captured the people, the art and the atmosphere on the fair's opening day.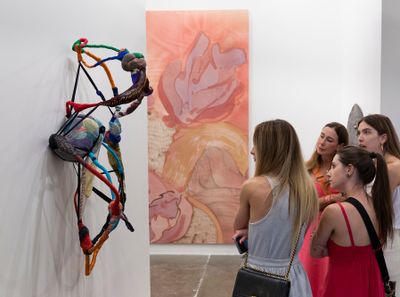 Sonia Gomes and Matthew Lutz-Kinoy, Mendes Wood DM. SP-Arte, São Paulo (6–10 April 2022). Courtesy Ocula. Photo: Tiago Lima.