News | Artists
Angela Su to Represent Hong Kong at Venice Biennale 2022
Su is known for works that explore medical science and other ways humanity intersects with technology.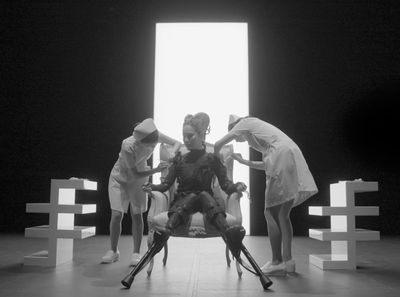 Angela Su, Cosmic Call (2019) still image. Single channel video 12' 43". Image courtesy the artist and Blindspot Gallery.
Angela Su will represent Hong Kong in a collateral event at the 59th Venice Biennale. Her solo exhibition will be curated by Freya Chou, an independent curator based in Hong Kong.
Both Su and Chou were selected by the M+ museum and the Hong Kong Arts Development Council (HKADC).
'The choice of Angela Su, who is widely known for her intricate biomorphic drawings and performative works, signifies a maturing art scene in Hong Kong gaining increasing international recognition,' said Doryun Chong, deputy director and chief curator of M+.
Su's work will respond to the exhibition venue, located near the entrance to the Arsenale, one of the biennale's two main sites along with the Giardini.
Angela Su, We are standing in the spiral under a hammer (2015). Hair embroidery on silk. 86 x 122 cm. Courtesy the artist and Blindspot Gallery.
'It is particularly meaningful to me to show in Venice having lived through these turbulent years in Hong Kong, and to connect with a global audience through my participation in the international biennale,' Su said.
The artists Hong Kong previously presented in Venice are Lee Kit in 2013, Tsang Kin-Wah in 2015, Samson Young in 2017, and Shirley Tse in 2019.
The 59th Venice Biennale was originally scheduled to open in May 2020, but was pushed back two years due to the pandemic. It will now take place from 23 April to 27 November 2022.
President Roberto Cicutto and curator Cecilia Alemani announced the title and theme of the event this month. The Milk of Dreams is named after a book by Surrealist artist Leonora Carrington.
Angela Su. Courtesy of Angela Su and Blindspot Gallery.
Carrington 'describes a magical world where life is constantly re-envisioned through the prism of the imagination, and where everyone can change, be transformed, become something and someone else,' Alemani said. 'The exhibition takes us on an imaginary journey through metamorphoses of the body and definitions of humanity.'
Other artists representing their countries at the next edition of the Venice Biennale include: sound artist Marco Fusinato (Australia); video artist and photographer Stan Douglas (Canada); conceptual artists Maria Eichhorn (Germany) and Francis Alÿs (Belgium); and Zineb Sedira, who was born in Paris to Algerian parents (France).
Brooklyn-based sculptor Simone Leigh will become the first Black woman to represent the United States; London-based artist Sonia Boyce the first Black woman to represent Britain, and multimedia artist Yuki Kihara the first Pasifika artist, and first fa'afafine artist, to represent New Zealand. —[O]