News | Artists
Christian Boltanski Sees Dead People in Exhibition at Manege, Saint Petersburg
The artist hand-picked works for the exhibition in the months before his own death in July last year.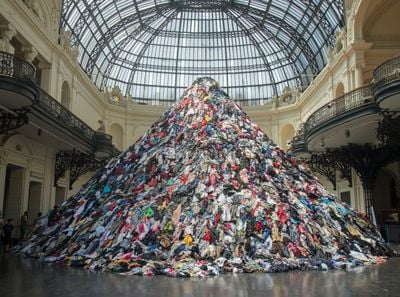 Christian Boltanski, Personnes (Persons/Nobodies) (2010). Exhibition view at Museo Nacional de Bellas Artes, Santiago, Chile, 2014 © Christian Boltanski, ADAGP, Paris, 2021. Courtesy: Museo Nacional de Bellas Artes, Santiago, Chile. Photo: Jorge Brantmayer.
UPDATE: This exhibition was cancelled by Christian Boltanski's estate due to Russia's invasion of Ukraine. 'Christian would not have accepted presenting this exhibition in this context,' they said. 'Attached to his roots, he would have been affected by this conflict that concerns his history. To exhibit in a country that is militarily invading his father's homeland would be contradictory to his thinking, his philosophy and his works.'
Manege, which has worked on the exhibition for the past two years, said, 'As an institution committed to the ideas of humanism, the only thing we call for these days is to remember the absolute value of human life. We stand for an immediate search for a solution to the current conflict exclusively through peaceful negotiations.'
Manege Central Exhibition Hall in Saint Petersburg has shared details of the Christian Boltanski exhibition Esprits (Spirits), which will open at the historical riding hall on 13 March. It's the French conceptual artist's first solo show in Russia and one of the last shows he worked on prior to his death on Bastille Day in 2021.
Manege began discussing a potential exhibition with Boltanski in 2020. He was unable to visit in person due to the pandemic, but he saw the exhibition space in photos and videos.
'He was quick to articulate the concept of the future show, and proceeded to select exhibits for it from the last 10 to 15 years of his work, including large art installations, videos, and objects,' said Pavel Prigara, director of Manege.
Born in 1944, Christian Liberté Boltanski grew up in the shadow of World War II. He was conceived in Nazi-occupied Paris during the 18 months his father, a Jewish-Ukrainian doctor, spent hiding beneath the floorboards of his family's apartment.
Christian Boltanski, Après (2010). From the exhibition Après at the Musée d'Art Contemporain du Val-de-Marne (MAC VAL), France, 2010. © Christian Boltanski / ADAGP, Paris 2021/ © Photo by Jacques Faujour.
Historical trauma remained central to his practice throughout his life.
In preparing the exhibition at Manege, Boltanski referenced the 1905 Bloody Sunday, when members of Russia's imperial guard shot unarmed demonstrators, sparking mass political unrest that moved the country closer to ending Tsarist rule. In his notes, he imagined the insurgent workers as ghosts wandering the exhibition halls waiting to be dispatched to heaven or hell.
Boltanski was thinking not about politics so much as 'the destinies of the dead intertwining with those of the living,' Prigara suggested. 'In my view, the Bloody Sunday theme is like a tragic tuning fork for the exhibition, meant to attune the Russian viewer to ideas that far surpass the confines of any personal story.'
Prigara said he is especially excited to see two of the newest works conceived by the artist, the installation Frozen River (2021) and the film The Last Summer (2021).
'The former evokes the theme of ghosts roaming the frozen surface of a river, and the latter work reflects on the mass suicide of Nazi soldiers that took place when Soviet troops entered German territory,' he said.
Christian Boltanski, Chance (2011). Festival Images Vevey, Switzerland, 2020. © Christian Boltanski / ADAGP, Paris, 2021. © Images Vevey, photo by Emilien Itim.
Boltanski frequently honoured the lives and deaths of others in his work. His installation Personnes (2010), French for both 'people' and 'nobodies', consisted of 30 tons of clothes arranged in a grid and accompanied by a loud recording of human heartbeats.
He was likewise mindful of his own limited time on Earth, capturing it in part by filling 646 old biscuit tins with photographs, documents and miscellanea from his studio for the work Les archives de Christian Boltanski 1965–1988.
He also sold a livestream of himself working in the studio to collector David Walsh, founder of MONA in Hobart, that continued until Boltanski's death.
Speaking about the work, entitled The Life of C.B., in 2017, Boltanski told The New York Times, 'I hope that when I shall be dead, somebody that I don't know in Australia is going to be sad for two minutes. It would be something marvellous because it means you've touched people you've never seen, and that is something incredible.'
'To me, the documentation of a life can be an extremely expressive, multilayered work of art,' Prigara commented. 'Filled with ideas of the preciousness of everyday life, the finiteness of human existence, the completion of a journey, and the tragedy of reality, this life-document is one of the most compelling statements of humanism we have seen in the past few decades.'
Prigara said Boltanski's exhibitions were never monologues, but 'an intimate conversation about matters of the ultimate importance.'
'I think he knew this conversation would continue after his death,' he said. —[O]