News | Institutions
Online Programme NEW NOW Promises to Demystify the Present

Manege Central Exhibition Hall | Sponsored Content
The talks programme, initiated by Saint Petersburg's Manege Central Exhibition Hall, will introduce ideas to help us rethink our relationship with the world today.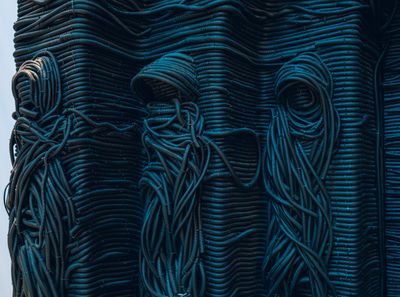 Recycle Group, New Nature (2021). Courtesy the artist and Manege Central Exhibition Hall.
Saint Petersburg's Manege Central Exhibition Hall has set an ambitious scope for NEW NOW, a nine-month programme of online talks.
Themes the programme will explore include 'corporeality and problems of identity', 'reality and post-truth', 'technology and the limits of freedom', and 'transhumanism and mental health'.
Update: the talk Body & Identity: Metamorphosis in the Digital Age will be livestreamed on the NEW NOW website at 8pm Saint Petersburg time on 27 January. The speakers are Moheb Costandi, a developmental neurobiologist and science writer based in London, and Helen Hester, Associate Professor of Gender, Technology and Cultural Politics at the London School of Film, Media and Design.
'It was exciting to bring these topics together in an attempt to describe the contemporary agenda and its most pressing and transformative issues,' said Anna Kirikova, the programme's creator.
Talks with cultural theorists, philosophers, curators and others aim to give us new insights into the contradictions inherent in some of today's most intractable problems, allowing us to respond in ways that make sense to each of us.
'NEW NOW is explicitly aimed at becoming a forum for dialogue, and the exchange of opinions about and interpretations of reality,' Kirikova said. 'We're not looking for obvious, or direct answers. Rather it is an opportunity to rethink our relationship with ourselves in the changing world and probably generate new meanings.'
The first discussion, entitled Neomythologies and the Disintegration of Reality, will take place on 18 September at 8pm Saint Petersburg time (UTC +3). To attend, register here.
Recycle Group, New Nature (2021). Courtesy the artist and Manege Central Exhibition Hall.
Alexander Vileykis will moderate the conversation between: feminist scholar and publisher Sarah Shin; philosopher Federico Campagna, who advocates for magical thinking as a way to restore our experience of the ineffable in his book Technic and Magic (2018); and Reza Negarestani, author of Cyclonopedia (2008), a theoretical horror in which Middle Eastern oil has its own dark agency. Jeff VanderMeer called Cyclonopedia 'the best horror novel you've never heard of.'
Future NEW NOW speakers will include: Lucia Pietroiusti, founder of the General Ecology project at Serpentine, London; writer and media activist Franco "Bifo" Berardi, ecological theorist Timothy Morton, and environmental justice and decolonisation researcher Suzanne Dhaliwal, with other outstanding thinkers still to be confirmed.
NEW NOW is part of the international UK–Russia Creative Bridge programme 2021-2022, supported by the Cultural and Education Section of the British Embassy in Moscow.
By staging the NEW NOW talks online in English with simultaneous Russian translation, Kirikova hopes more people can participate in the programme, generating even better ideas that more people can benefit from.
'As American writer William Gibson famously said back in the 1990s, "The Future is already here. It is just not evenly distributed",' Kirikova said. 'NEW NOW is one of the means to put the "unevenly distributed" pieces together, and take better control of our own fate and shared future.' —[O]