News | Artists
Dettol Is the New Xanax, Finds Artist Cao Fei
Leading Chinese new media artist Cao Fei has revealed intimate, anxious studies created under lockdown in Singapore.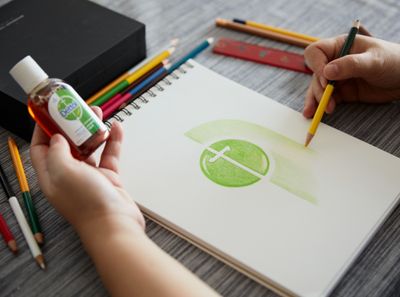 Cao Fei, study for Isle of Instability (2020). Courtesy the artist and Audemars Piguet.
Cao Fei was in Singapore for an exhibition opening at the National Gallery Singapore when the pandemic shut down Beijing, where she ordinarily lives. Deciding to wait out the worst of COVID-19 abroad, she began taking photos and making simple sketches that spoke to her quarantine experience in the island city state.
Among the images she created are a haunting self-portrait in bed lit only by a smartphone screen, and an adoring illustration of a bottle of Dettol hand sanitiser.
'The symbolism behind hand sanitisers ... goes beyond the symbolism of resistance depicted in its [shield and sword] logo,' Cao Fei explained to Ocula Magazine. 'The pandemic has shaken our trust in the world ... making the icon a shield for alleviating human anxiety.'
Dettol doesn't just kill germs, Cao Fei suggests. Symbolically, at least, it's also an anti-anxiety medication.
These photos and sketches are studies for a multimedia installation commissioned by Swiss watch brand Audemars Piguet entitled Isle of Instability that will show at the West Bund Art & Design fair in Shanghai from 11–15 November, 2020.
Cao Fei, study for Isle of Instability (2020). Courtesy the artist and Audemars Piguet.
Cao Fei had begun developing a different project with the brand after visiting their headquarters in October 2019, but pivoted when confronted with the pandemic.
'Cao Fei turned a challenging situation into a unique opportunity, creating work that explores the social realities of daily life under lockdown and reflects the current state of the world,' said Denis Pernet, Art Curator at Audemars Piguet Contemporary, which commissions new works by contemporary artists.
In the forthcoming installation, he said, 'the artist's infinite curiosity for documenting our present reality will be shared and felt above all.'
The studies created for Isle of Instability are ostensibly a departure from the high-tech work — including RMB City: A Second Life City Planning (2007), which was created using online virtual world Second Life, and the augmented reality BMW Art Car — for which Cao Fei is best known.
Cao Fei, however, likens these images to others she has made in the mode of a documentarian observing different communities and phenomena, such as her video work Cosplayers (2004), which explores the Internet-enabled fantasy lives of people in Southern China, and Asia One (2018), which looks at the triumph of e-commerce, made only more total during social distancing, through a high tech warehouse built by Chinese e-tailer JD.com.
'The subject matter and medium is different but the documentary treatment is not,' Cao Fei said of Isle of Instability. (Though she admits that asking her daughter to collaborate as an actor and assistant is unique to circumstances this year).
The focus this time around, she said, is 'how the pandemic has changed us and how it has altered the global reality.'
While she's still processing the impacts of the pandemic, the halt to her usual activities has also forced Cao Fei to reckon with even bigger and more enduring challenges.
'Isle of Instability was conceived during a time of unprecedented global crisis, and it is still difficult for me to describe as we are still experiencing the pain of a pandemic-influenced world,' she said.
However, 'over months of isolation and social distancing, we have no choice but to confront multiple crises the world presents to us: between humans and society, humans and nature, humans and development, humans and the universe.' —[O]