News | Artist
Cao Fei Creates Swinging Space Raft for National Gallery Singapore Rooftop
The meditation on migration will be on display until 25 October 2020.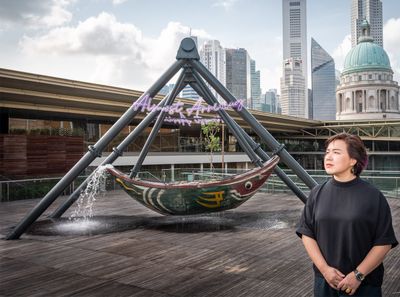 Cao Fei with her sculpture Fú Chá (2020). Courtesy the artist and National Gallery Singapore.
Guangzhou-born artist Cao Fei has created a kinetic sculpture for the National Gallery Singapore's Ng Teng Fong Roof Garden Commission. The work is a wooden raft filled with water that swings from a five-metre-tall frame. Four different soundscapes accompany the sculpture.
Entitled Fú Chá (浮槎), the commission references a mythical Chinese raft that floats across not only the ocean but also the Milky Way. The raft is decorated with symbols meant to provide protection and guidance, including eyes to help sailors find their way to shore.
Pink neon text that reads 'Almost Arriving' accompanies the work, touching on Singapore's identity as a port city shaped by its diverse migrant communities, generations who travel vast distances in search of a better life and find themselves forever 'arriving' in their chosen homeland.
Regarding the work, Cao said, 'I would like to invite [visitors] to embark on this journey with us; riding through the uncertainties of [the] present day, while remaining hopeful of the possibilities in the future.'
Dr Eugene Tan, Director of National Gallery Singapore, said, 'Informed by her personal history and experiences with Southeast Asia, Cao Fei tells unique stories of migration in the region.'
Cao is the fourth artist to receive the rooftop commission, which invites one artist each year to present work that reflects on Southeast Asian history from a contemporary perspective. The other artists who have received the commission are Danh Vō, Rirkrit Tiravanija and Charles Lim Yi Yong. —[O]