News | Artists
Ebecho Muslimova, Outré Artist Backed by Zwirner, Wins Borlem Prize
Muslimova said her desire to communicate 'is a desperate need to ascribe to the outside what is festering on the inside.'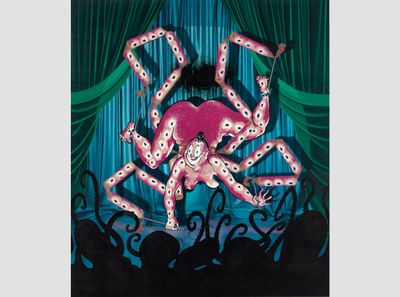 Ebecho Muslimova, FATEBE OCTOPUS (2021). Oil on canvas. 72 x 63 inches. Courtesy the artist.
Russian-born, New York-based artist Ebecho Muslimova is the recipient of this year's Borlem Prize, which goes to an artist whose work 'brings awareness to mental health issues and struggles'.
Half of the US $40,000 award goes to the artist, with the other half donated to a mental health charity in the artist's name. Muslimova chose the 988 Suicide and Crisis Lifeline.
Last year, Muslimova gave her first institutional show at The Drawing Center in New York, and a solo exhibition at David Zwirner in London. She spoke to Ocula Magazine about the power of love, laughter, piss, and shit.
Ebecho Muslimova. Photo by Matt Grubb.
Your work centres on the character Fatebe, who gleefully embraces and accommodates all manner of things—taking an entire grand piano, transforming into an ink-squirting octopus, becoming a multi-mouthed vessel for wine, and so on. I've seen her name explained as a contraction of 'fat Ebe'. In what ways is and isn't she a version of you?
She began as a carnivalesque caricature of myself at a moment in my life. The tension at the time inspired a spill-over into this larger-than-life character. She is of me, but her essence is an amplified version of my own character and personality. At times she is both an aspiration and a fear—like I am equally wishing to be able to confront life like her, and simultaneously horrified at this urge and possibility. She is a type of self-portrait, just not of me.
Ebecho Muslimova, FATEBE IMPRINT (2022). Oil on dibond aluminum panel. 96 x 48 inches. Courtesy the artist.
In an interview with the Brooklyn Rail, you've described a kind of despondency or creative constipation that accumulates before making a Fatebe painting, which turns into the misery of coming up with a new one, both of which are somewhat alleviated by finishing a work. In light of winning the Borlem Prize, how does your work illuminate struggles with mental health?
The process of examining and lovingly handling a frustrating desire to communicate something is what grounds me to my reality. I say lovingly because it doesn't work without love, I've tried. And I don't want to call this desire an idea because before this formality it is a desperate need to ascribe to the outside what is festering on the inside. This brewing thing sits right beside the lonely and the alienated. Yet, that thing that eventually leads to an art piece for me has a spark of hope in it—its nature is that if the right steps are taken, then it can be transformed and evolve into a language and vision shared with and by others. Maybe I'm just describing inspiration, but to me this process is a miracle every time. It's what keeps me working—that I am able to witness again and again this process of growth of despair, discipline, and hope. The struggle for me becomes the clay, and I'm grateful if it's apparent in my work.
Ebecho Muslimova, FATEBE LEAKING VESSELS, 2021. Sumi Ink on paper. 9 x 12 inches.
Fatebe is not exactly funny—what she endures is often humiliating or torturous—but the images are still somehow appealing. Do you see your embrace of piss, shit, penetration, prolapse, and so on, as creating more room to accept our inherent messiness as meat-and-bone mammals?
I think humour is a reaction to what are often the most humiliating and torturous parts of life. It's a sense of agency we can always claim—to laugh in the face of something. Maybe that's why it was invented. As for creating appealing images with base matter, it interests me what makes seemingly off-putting things appealing. I like how it betrays something. I use piss, shit, and all that mess, because these are elemental facts and are the best tools to describe foundational urges. Our long human project of accepting or rejecting this mess is the fragile balance that builds our world.
Ebecho Muslimova, FATEBE STAIN, 2022. Oil and acrylic on canvas. 66 x 62 inches.
Do you think the repulsive has more power in the hands of female artists, who are culturally less permitted to be gross?
Sure, probably, because of the insight that comes from being prohibited and simultaneously cast into. Since women were historically associated with the dirt of nature, their hands are well-equipped to handle this material to explore power. —[O]