News | NFTs
Hilma af Klint NFTs Head to GODA, a Platform Backed by Pharrell and KAWS
Century-old paintings by the Swedish spiritualist might seem like an unusual choice for digitisation, but there are few other opportunities to collect af Klint's 'Paintings for the Temple'.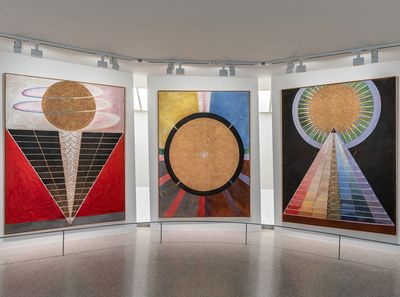 Exhibition view: Hilma af Klint: Paintings for the Future, Solomon R. Guggenheim Museum, New York (12 October 2018–23 April 2019). Courtesy Solomon R. Guggenheim Museum. Photo: David Heald.
All 193 of Hilma af Klint's 'Paintings for the Temple' (1906–1915) will be released as NFTs on 14 November in a collaboration between her foundation, Stolpe Publishing, Acute Art, and the Gallery of Digital Art (GODA). The paintings are among af Klint's most renowned works.
Following her younger sister's death, af Klint sought to make contact with the spirit realm, engaging in séances and experiments with automatic writing and painting. Trained at Stockholm's Royal Academy of Fine Arts, her painting pivoted from landscapes and portraiture to 'mediumistic' works distinguished by geometric shapes and colours invested with personal symbolism.
Hilma af Klint. Courtesy GODA.
Af Klint dreamt of creating a spiral-shaped building in which to exhibit her works, noted Daniel Birnbaum, Artistic Director of Acute Art.
'She talked about it as a museum, but also as a spiritual entity, an inner temple that is shared by all of mankind. It should be everywhere and nowhere,' he said. With the launch of the NFTs, he argued, 'the Temple will be owned by people all over the world.'
The NFTs were developed as an extension of a seven volume catalogue raisonné published by Stolpe Publishing with the endorsement of the Hilma af Klint Foundation, which owns af Klint's 'Paintings for the Temple'.
Hedvig Ersman, whose grandfather Erik af Klint founded the Hilma af Klint Foundation in 1972, told Ocula Magazine that 'the sale is carried out against the expressed will of the af Klint family.'
'The name of the Hilma af Klint Foundation is being misused and the art of our relative Hilma af Klint exploited,' she said.
Hilma af Klint, The Ten Largest, No. 3 Youth, Group IV (1907). Courtesy GODA.
Ersman acknowledged, however, that there is a contract between the Hilma af Klint Foundation and art tech entrepreneurs Acute Art, who created the NFTs, which will be released on GODA in editions of two.
'Beautiful and meaningful art truly transcends time, and Hilma af Klint's work is a perfect example of that,' said Pharrell Williams, co-owner of GODA. 'We're honoured to show her work on this platform and to truly celebrate a remarkable woman.'
'Hilma af Klint was an amazing visionary! I love her work and find it great that she finally gets the attention she deserves,' said KAWS, the platform's Artist Advisor. 'During her lifetime the audience wasn't ready but today we are. She painted for the future. She painted for us!'
Pharrell Williams. © Andrew White.
This is the third project released on GODA following collections by painters Nina Chanel Abney and Todd James.
In addition to listing NFTs on GODA, Pharrell made headlines this month by selling items from his personal collection on his own auction site, Joopiter.
With over 40 hours left to bid, a gold Blackberry had been bid up to US $14,000, diamond-encrusted Oakley sunglasses to US $46,000, and a necklace by Jacob & Co to US $980,000. —[O]