News | Artists
Leelee Chan Awarded BMW Art Journey 2020
Pandemic permitting, the Hong Kong artist will visit destinations in Europe, Japan and the Americas to explore the past, present and future of materials.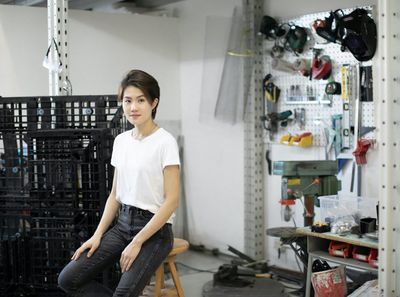 Artist Leelee Chan in her studio. Courtesy the artist. Photo; Janelle Chiang.
Leelee Chan will take the next BMW Art Journey, a prize enabling a contemporary artist to travel as part of their art practice. The prize is awarded to artists who show in emerging galleries at Art Basel Miami Beach and Art Basel Hong Kong, which this year took place online.
In a project entitled 'Tokens From Time', Chan plans to visit ancient crystal caves in Mexico, marble workshops in Italy and synthetic quartz factories in Japan, among other sites, to study traditional and emerging ways to manipulate materials.
'Material objects have always been at the core of my practice,' said Chan, whose sculptures incorporate urban detritus such as asphalt and polystyrene. 'The journey will allow me to dig much deeper by discovering new processes, by encountering the people who work with them in their everyday lives, and, thereby, to make them meaningful for me as a sculptor working in this current uncertain moment.'
Leelee Chan, Sunset Capsule (2019). Site-specific sculptural installation, construction: lights, metal stands, crystal pieces from a scavenged chandelier, concrete, fiberglass, metal hardware, gel filters. Courtesy the artist and Capsule Shanghai. Photo: UCCA Dune.
Other artists shortlisted for the award were Jes Fan, represented by Empty Gallery, Hong Kong, and artist duo Amy Lien and Enzo Camacho, represented by 47 Canal, New York.
Born in 1984, Chan has a BFA from the Art Institute of Chicago and an MFA in painting from the Rhode Island School of Design. She is represented by Capsule Shanghai, and has recently taken part in group shows at Tai Kwun Contemporary in Hong Kong and UCCA Dune, a few hours from Beijing.
'We were impressed by how Leelee Chan engages with materials that are charged with needs, values and ideas, to ask what it means to be a sculptor working today and tomorrow,' said the jury who selected Chan. The jury consisted of Claire Hsu, Director, Asia Art Archive; Matthias Mühling, Director, Städtische Galerie im Lenbachhaus und Kunstbau; Patrizia Sandretto Re Rebaudengo, President, Fondazione Sandretto Re Rebaudengo; Philip Tinari, Director, UCCA Center for Contemporary Art; and Samson Young, artist and winner of the inaugural BMW Art Journey in 2015. Young also won this year's Sigg prize.
Other previous winners of the BMW Art Journey are Hennin Fehr and Philipp Rühr, Abigail Reynolds, Max Hooper Schneider, Astha Butail, Jamal Cyrus, Zac Langdon-Pole, and Lu Yang. —[O]
Send art news, announcements, and tips to [email protected]