News | Artists
Samson Young Wins HK $500,000 Sigg Prize
The prize recognises outstanding artistic practice in Greater China, including Mainland China, Hong Kong and Taiwan.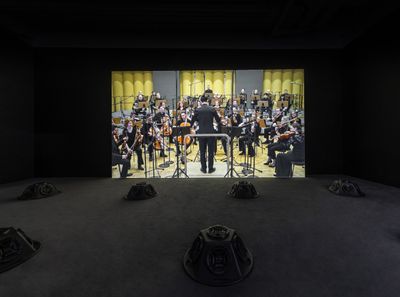 Samson Young, Muted Situations #22: Muted Tchaikovsky's 5th (2018). HD video, eight-channel sound installation, and carpet. Installation view (2019) by Winnie Yeung, iMAGE28. Courtesy the artist and M+, Hong Kong.
Artist Samson Young was announced the winner of the inaugural Sigg Prize today. He was applauded for his installation Muted Situations #22: Muted Tchaikovsky's 5th (2018), in which he muted the melody of an orchestral performance, bringing peripheral sounds to the fore.
'By silencing the dominant sound, the work mirrors elements of current political dynamics,' said the prize jury in a statement.
Young was one of six artists shortlisted for the HK $500,000 (US $64,000) prize. The other nominees—Hu Xiaoyuan, Liang Shuo, Lin Yilin, Shen Xin, and Tao Hui—will receive HK $100,000 (US $13,000) each.
Artists were nominated based on their practice over the past two years. The Sigg Prize exhibition featuring works by all of the finalists opened at the M+ Pavilion in December 2019, and was curated by Pi Li, Sigg Senior Curator, Visual Art at M+.
The Sigg Prize programme was established in 2018 by Hong Kong's M+, a museum dedicated to 20th and 21st century visual culture. The biennial prize is an evolution of the Chinese Contemporary Art Award (CCAA), which was founded in 1997 by Dr Sigg. Winners of the CCAA for best artist include Cao Fei (2016), Kan Xuan (2014), and Pak Sheung Chuen (2012).
The Sigg Prize jury consists of: Tate director Maria Balshaw; Bernard Blistène, director of the Musée national d'art moderne Centre Pompidou in Paris; Gong Yan, director of Shanghai's Power Station of Art; Museum director of M+ Suhanya Raffel; Taipei-based curator Lai Hsiangling; Beijing-based artist Xu Bing; and collector and M+ board member Dr Uli Sigg, who gives the prize its name.
Independent curator Yang Zi was concurrently announced the recipient of the inaugural Sigg Fellowship for Chinese Art Research, adapted from the CCAA Art Critic Prize, founded by Uli Sigg in 2007. A grant of HK $200,000 will support Yang's research into artists' engagement with folk art in 20th century China. —[O]