News | Market
London Auction Sales Down Despite $30m Hockney Splash
The third highest price ever fetched by Hockney at auction helped boost modest winter sales in the British capital.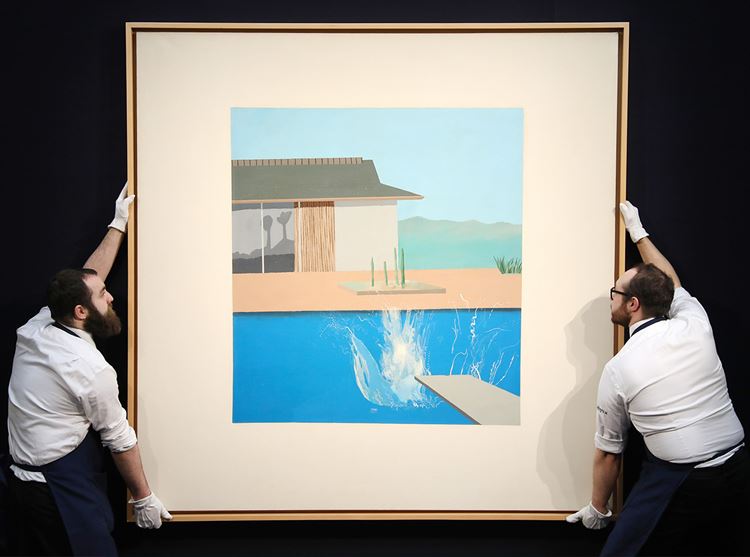 Sotheby's Contemporary Art Evening Auction, 11 February 2020. Lot 16. David Hockney, The Splash (1966). Courtesy Sotheby's.
More than half a billion dollars of modern and contemporary art was auctioned off in London over the past fortnight. While there were several notable sales, total revenues fell 'nearly a quarter' from a similar round of auctions held in London in winter 2019, according to The Wall Street Journal.
The highest price tags were seen at the Sotheby's Contemporary Art Evening Auction on 11 February, which brought in over US $120 million, with 93.5 percent of works sold by lot. The result was slightly down from last year's auction, which brought in over US $121 million.
David Hockney's iconic painting The Splash (1966) sold to an uncontested bidder for nearly US $29.8 million. That's the third highest price Hockney has achieved at auction, after Portrait of an Artist (Pool with Two Figures) (1972) sold for US $90.3 million at Christie's in New York in 2018, and Henry Geldzahler and Christopher Scott (1969) sold at Christie's London for US $37.6 million last year.
Other notable sales at Sotheby's included: Jean-Michel Basquiat's Rubber (1984) for US $9.7 million; Yves Klein's Untitled Anthropometry (ANT 132) (1960) for US $8 million; Adrian Ghenie's The Arrival (2014) for US $5 million; and Francis Bacon's Turning Figure (1963) for US $9 million.
Christie's Post-War and Contemporary Art Evening Sale on Wednesday 12 February raised US $72.7 million, with every work but one selling (98 percent by lot). Despite the number of sales, that was Christie's lowest tally for the event since 2010, with sales down 16 percent on 2019, according to Artnet News.
Andy Warhol's Muhammad Ali (1977) fetched the highest price at the Christie's auction, selling for US $6.5 million. Basquiat and Hockney again appeared among top sales results, with the former's The Mosque (1982) selling for US $5.1 million and the latter's Walnut Trees (2006) selling for US $4.2 million.
Third placed auction house Phillips saw an even sharper decline on last year's result, with revenues from its 20th Century & Contemporary Art Evening Sale on 13 February falling 43 percent on last year's result. The auction fetched US $27 million, with 32 of 37 lots sold (and four others withdrawn before auction).
The highest prices were paid for Ed Ruscha's God Knows Where (2014), which sold for US $4,407,750, and Keith Haring's Untitled (1981), which went for US $4,187,036, followed by Damien Hirst's pharmaceutical cabinet Bodies (1989), which sold for US $1,787,392 and spot painting Antipyrylazo III (1994), which sold for US $1,665,150.
Two of the most noteworthy results at Phillips' evening sale were Ghana-born Amoako Boafo's The Lemon Bathing Suit (2019) for US $881,550, beating the high estimate more than ten times over, and Tschabalala Self's Princess (2017), which raked in US $568,110, a record for the 30 year old artist from Harlem.
When it comes to the leading city for art auctions, Big Ben lags behind the Big Apple, with 2019's top nine auction results all being achieved in New York. —[O]