News | Market
New York's Armory Show Overhauls Venue and Timing
After almost two decades on Manhattan's West Side piers, the fair will move to the Javits Center in September 2021.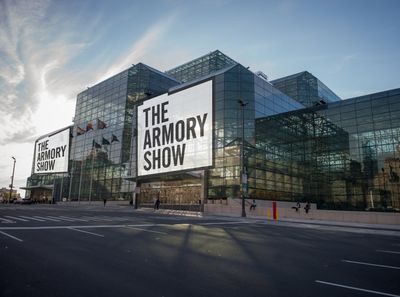 A rendering of the Armory Show at the Javits Center. Courtesy the Armory Show and the Javits Center.
The Armory Show announced over the weekend that it would abandon its current location on Piers 90 and 94. The fair has taken place on Manhattan's West Side piers since 2001 after starting out at the Gramercy Park Hotel in 1994.
The decision follows troubles with the venue that began last year. Just a week before the 2019 edition—meant to take place on Piers 92 and 94—city inspectors deemed Pier 92 structurally unsound, and last minute arrangements were made for 63 exhibitors to move to Pier 90. This year the fair again took place at Piers 90 and 94, leaving visitors with a chilly walk between the two locations.
'Having piers that aren't next to each other has been challenging,' Nicole Berry, executive director of The Armory Show, told The New York Times.
To remedy the situation, next year the fair will move ten blocks south to the Javits Center, a 70,000 square metre (760,000 square feet) convention centre located on 11th Avenue between West 34th and West 40th Street. The Javits Center opened in 1986 but recently completed a $1.5b expansion project.
In a press release, organisers of The Armory Show said the move would offer exhibitors and guests easier access, superior facilities, and proximity to The Highline, the Chelsea Arts District, and Hudson Yards.
In addition to changing locations, The Armory Show has also chosen a different page on the calendar. The next edition is scheduled for September 9-12, moving from spring, when most of the city's other major contemporary art fairs take place, including the ADAA's The Art Show, The Independent, Spring Break and Frieze New York.
'September is a great time of year to be in New York City, and we are eager to align with gallery openings to kick off the fall season,' Berry said. —[O]