Insight | Artworks
New York's Armory Show: Seven Artwork Highlights
Members of Ocula Magazine's editorial team, Stephanie Bailey and Tessa Moldan, along with Ocula Art Advisory director Rory Mitchell, share their selection of stand-out works to view at the storied New York art fair, which returns to the banks of the Hudson River from 5–8 March.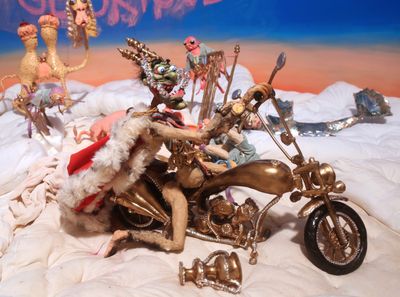 Nathalie Djurberg & Hans Berg, This is Heaven (2019). Stop motion animation. Courtesy the artist and Tanya Bonakdar Gallery, New York / Los Angeles.
Nathalie Djurberg and Hans Berg at Tanya Bonakdar Gallery
Nathalie Djurberg and Hans Berg's first exhibition with Tanya Bonakdar Gallery—and the pair's first solo show in New York City since 2013—premiered four new video works composed in characteristic claymation: One Last Trip to The Underworld, This is Heaven (pictured above), Damaged Goods and How to Slay a Demon. The exhibition, also entitled One Last Trip to The Underworld (1 November–20 December 2019), explored different facets of exploitation as an enduring human condition, from the cam girl posing alongside scenes of a female form assembling herself from animal and object limbs pulled from a wooden box in Damaged Goods to the women fighting off a chorus of clown-faced attackers in How to Slay a Demon. In This is Heaven a goblin wakes up in what seems to be heaven and hoards all the riches he can gather, his sense of entitlement making him oblivious to the death and destruction his pursuit creates.
— Stephanie Bailey, Editor in Chief
Luc Tuymans, In the End You're Just Dad (2010). Oil on canvas. © Studio Luc Tuymans, courtesy Zeno X Gallery, Antwerp.
Luc Tuymans at Zeno X Gallery
Luc Tuymans was honoured with a sublime survey at the Palazzo Grassi in Venice last year and this painting is a great example of his cropped portraits. Though the title alludes to other roles and responsibilities, the titular 'Dad' is transformed into little more than an anonymous grin emphasised by a set of shiny white teeth. Tuymans paints quickly, often using bleached-out tones, imbuing his works with a haunting atmosphere that encourages us to question our relationship to images and memories. Zeno X Gallery, which is displaying the work, is also showing Jack Whitten's excellent Miss Fancy Pants: For My Summer Kitty (2011), a work that utilises the tesserae mosaic technique developed towards the end of the artist's life to suggest outer space, planets, and black holes.
—Rory Mitchell, Director, Ocula Advisory
Su-Mei Tse, Moment (Rue du Pont-aux-Choux), 2019. Inkjet on fine art paper mounted on Dibond. Courtesy the artist and Peter Blum Gallery, New York.
Su-Mei Tse at Peter Blum Gallery
Luxembourgian artist Su-Mei Tse creates lyrical visual fields, often incorporating sonic elements in her videos, sculptures, and installations to explore the intangible realms of memory, time, music, and language. Trained as a classical cellist, Tse's works create psychological 'nests' for fleeting moments, as seen in her touring exhibition Nested, which travelled to Mudan Luxembourg, the Aargauer Kunsthaus, Taipei Fine Arts Museum, and the Yuz Museum in Shanghai between 2017 and 2019. Moment (Rue du Pont-aux-Choux) (2019) is exemplary of the subtlety of Tse's work, the inkjet print beautifully framing sparse autumn leaves and branches that reach out from the fog and brush against a pane of glass, a rustle almost audible.
— Tessa Moldan, Associate Editor
Weegee, Ocean Dancer Distortion (ca. 1950). Gelatin silver print. Courtesy the artist and Caviar20, Toronto.
Weegee at Caviar20
A master of the decisive moment, Weegee's images, at once sharply focused, witty, and sensitive, capture life in New York City with pathos and grit, from the sight of a woman throwing her head back in laughter in Harlem (Woman Laughing, Harlem, 1945) to that of a drunk slumped at a table, as in Allstars (Drunk) (c.1940). His 'Distortion' series, which he began working on after moving to Hollywood in 1947, demonstrate a playful eye for composition. Ocean Dancer Distortion (ca. 1950) seems to offer an updated rendition of the Vitruvian Man, here rendered a woman; while the exaggerated eyebrows in Jackie Kennedy Distortion, created circa 1960, are characteristic of the portraits he created for this body of work, with other subjects including Mao, Nixon, and Castro.
— Stephanie Bailey, Editor in Chief
Moshekwa Langa, Rikisha (Ramokone) (2016). Mixed media on paper. Courtesy the artist and Andrew Kreps Gallery, New York.
Moshekwa Langa at Andrew Kreps Gallery
Moshekwa Langa's practice is multi-disciplinary and avoids categorisation, in part due to his peripatetic life, moving between European cities after arriving from his birthplace in Limpopo, South Africa. This abstract work on paper is rich in colour and full of gestural energy but blurry edges and bright spots induce an almost hallucinatory, dreamlike sensation. Langa enjoyed a significant degree of institutional support in the US and Europe in the late '90s and early 2000s, and only recently began showing with Andrew Kreps in New York.
— Rory Mitchell, Director, Ocula Advisory
Marcia Kure, Shifters and Monarchs. The Series: VIII (2018). Courtesy the artist and Officine dell'Immagine, Milan.
Marcia Kure at Officine dell'Immagine
Marcia Kure is an alumnus of the art school at the University of Nigeria, Nsukka, where artists like El Anatsui and Obiora Udechukwu, as well as curators like Olu Oguibe and Ugochukwu-Smooth Nzewi, trained. A key figure in this school's history was the modern pioneer Uche Okeke, who encouraged both teachers and students to draw from contextual visual cultures, including Igbo arts and performances, and nsibidi, a graphic writing system indigenous to southeastern Nigeria. Such influences feed into Kure's collages, as is evident in the 'Shifters and Monarchs' series, in which the existential and hybrid conditions of postcoloniality—as well as the lived experience of women through time—are expressed in figures whose forms are an amalgamation of imagery and materials that span histories, genres, and traditions.
—Stephanie Bailey, Editor in Chief
Jacqueline de Jong, Gardez-vous à gauche (Série Noire) (1981). Oil on canvas. Courtesy the artist and Pippy Houldsworth Gallery, London. Photograph by Gert Jan van Rooij.
Jacqueline de Jong at Pippy Houldsworth Gallery
Now in her eighties, Dutch painter Jacqueline de Jong was closely involved with anarchic avant-garde movement Situationist International in the 1960s. The Stedelijk Museum in Amsterdam presented a retrospective of her work last year alongside their major Maria Lassnig exhibition. Her 'Noir Series' works from the 1980s are particularly impressive as several scenes are often merged into one composition, prompting the viewer to take on the role of a detective piecing clues together. Objects, interiors and clothing are given equal status in her compositions, contributing to an evocation of the period as unique as any prestige TV show known for its wardrobe and set design.
— Rory Mitchell, Director, Ocula Advisory —[O]