News | Artists
Noguchi Museum Swears No Relationship With Melania
The First Lady unveiled a sculpture by Isamu Noguchi at the White House last week.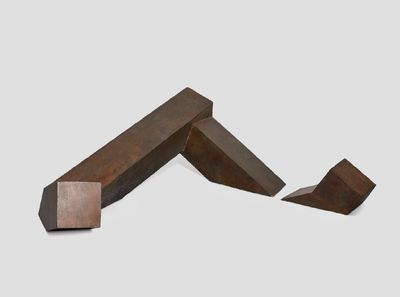 Isamu Noguchi, Floor Frame (1962). Bronze, in two parts. Courtesy Sotheby's.
First Lady Melania Trump revealed the addition of Isamu Noguchi's Floor Frame (1962) to the White House Rose Garden on November 20. Noguchi is the first Asian American to be included in the White House Collection.
The director of the Noguchi Foundation and Garden Museum, New York, which consulted on the acquisition, told Ocula Magazine the First Lady had little to do with the selection.
'Everyone thinks that Melania Trump has chosen this, that the Trumps decided Noguchi is somehow an artist that represents their values,' said the Museum's director Brett Littman. 'That's not what the story is. It went through a very rigorous process. It was chosen by [White House curator Lydia Tederick], and Melania Trump as the First Lady had the opportunity to unveil it.'
The White House Collection sought advice on the work from the Noguchi Museum early in 2020. With the approval of the Committee for the Preservation of the White House, it was purchased at a Sotheby's auction on March 6 for US $125,000, towards the low end of its estimate of $120,000–180,000. It was then donated to the White House Collection, which does not itself purchase art.
Asked if Melania or Donald Trump had any awareness of Noguchi's work prior to the acquisition, Littman said, 'my assumption would be no'.
He added that 'the Museum has no relationship to Melania Trump, she has no influence in our museum, we've never spoken to her, and it's not a relationship that we plan to pursue.'
First Lady Melania Trump cuts the ribbon at the White House's reveal of Floor Flame. Courtesy @FLOTUS twitter.
Floor Frame was mounted on purpose-built pavers beneath a sycamore tree, becoming the only White House Collection artwork to be installed outdoors. Littman said he was happy with the location, near the White House's West Wing, where the President sits.
'It surely would be a place where maybe a future president might want to go out and contemplate things,' he said. 'It's a quite meditative sculpture, very minimal but very expressive in what it shows.'
Noguchi, who was born in Los Angeles in 1904 and died in 1988, viewed the two-part bronze sculpture as the intersection of a tree and the ground, with roots disappearing into the earth and reappearing again.
'There's a part of the sculpture that you have to think about, that doesn't exist,' Littman said. 'And since it's placed under a tree, I think it's like the cosmic roots.'
In addition to his sculptures, Noguchi is well known for the furniture he designed. The Noguchi Museum's finances have held up better than many art museums during the pandemic thanks to its sales of items such as the Noguchi Table and Akari lamps made of washi paper and bamboo. Beginning in 1952, Noguchi created over 200 Akari designs for which the museum now holds the copyright.
'Because people have been home and thinking about redecorating, Akari sales have been incredibly strong throughout the pandemic, much stronger than we'd expected,' Littman said.
Asked whether other museums could pivot towards a similar model, he said the Noguchi Museum was in a unique position, representing just one artist who was himself quite entrepreneurial and knew the museum would not survive on donations alone.
FUTURA2000 with Akari UF4-L6. Photo: Miss Wangy.
Closed from March to September, the Noguchi Museum is now open to visitors again. Its current exhibition, Futura Akari, is a collaboration with Leonard Hilton McGurr, also known as Futura2000, who made his name painting graffiti in the New York subway.
The graffiti artist was invited to paint directly on Noguchi's Akari lanterns.
'Lenny was very concerned about using the washi paper,' Littman said. 'He's a spray artist and generally does not work with a brush. He had to think about using acrylic versus oil, what the washi paper could take.'
Littman argued that the mix of tradition and innovation was in keeping with Noguchi's own practice. It was Noguchi, after all, who introduced electric bulbs to traditional Japanese lamps, or chōchin.
The exhibition, which continues until February 28 2021, is located in the Museum's former shop, which has been moved and expanded to facilitate social distancing. —[O]