News | Exhibitions
Nominees Announced for New Zealand's Walters Prize
The works include a 14m-tall rope weaving, remixed footage from WWII, and video of newspapers being bleached.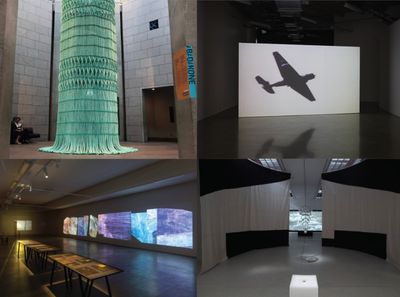 Clockwise from top left: Mata Aho, AKA (2019); Fiona Amundsen, A Body That Lives (2018), Sriwhana Spong, Now Spectral, Now Animal (2019/2020); Sonya Lacey, Weekend (2018).
Auckland Art Gallery Toi o Tāmaki announced the artworks nominated for New Zealand's preeminent contemporary art prize yesterday.
The four artworks selected for the tenth Walters Prize are: Aka (2019), a weaving of marine rope by Māori art collective Mata Aho; A body That Lives (2018), a video installation incorporating footage from WWII by Fiona Amundsen; Weekend (2018) by Sonya Lacey, a mixed media installation that saw the artist bleach sheets of weekend newspapers; and Now Spectral, Now Animal (2019/2020) by Sriwhana Spong, a mixed media and video installation that takes inspiration from St Teresa of Ávila.
The works were selected for their outstanding contributions to contemporary art in New Zealand over the past two years.
'The work of this year's finalists addresses how histories are experienced, recounted and kept alive in the present, intergenerational and ethical relationships, and the circulation of information through various media,' the prize jury said in a statement.
The jury is comprised of Allan Smith, freelance curator, writer and senior lecturer, Elam School of Fine Arts, University of Auckland; Nathan Pohio, artist, assistant curator, Christchurch Art Gallery Te Puna o Waiwhetū; Melanie Oliver, curator, Christchurch Art Gallery Te Puna o Waiwhetū; and Charlotte Huddleston, director, ST PAUL ST Gallery, Auckland University of Technology.
The artists behind the nominated works are invited to exhibit either the works for which they were nominated or new works at a prize exhibition at Auckland Art Gallery. The winner of the NZ $50,000 prize is then selected from the prize exhibition.
With the gallery currently closed due to the pandemic, the dates of the prize exhibition have not yet been announced. The organisers are hoping it will take place by the end of this year.
Past winners of the Walters Prize, which takes its name from pioneering modernist painter Gordon Walters, include Ruth Buchanan (2018), Shannon Te Ao (2016), Luke Willis Thompson (2014), and Kate Newby (2012).
'In 2020, the prize continues to provide visibility to artists who have demonstrated outstanding achievements in their practice within a single body of work, this time with a group of entirely women artists,' said Natasha Conland, Auckland Art Gallery Curator, Contemporary Art. 'We are delighted to draw attention to these nominated works, which demonstrate unique engagements with Indigenous culture and historical enquiry.' —[O]