News | Galleries
Photo London 2022 Celebrates Life From Queens to Kharkiv
Several galleries will present photography from Ukrainian cities Kharkiv and Odessa to raise funds for Ukrainian artists, their families, and their communities.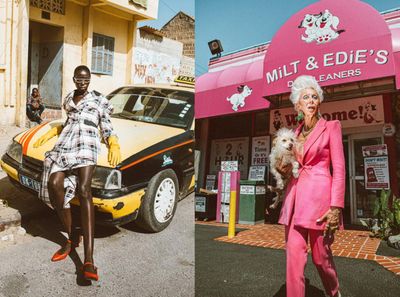 Lou Escobar, Granny (2021). Courtesy the artist and Nil Gallery.
Photo London returns to Somerset House from 11 to 15 May, bringing with it over 100 exhibitors from 35 Cities.
In the spotlight this year is Kharkiv in Eastern Ukraine, a city now on the front lines in the war between Russia and Ukraine.
Thandiwe Muriu, Camo 33 (2021). Courtesy the artist and 193 Gallery.
Alexandra de Viveiros (Paris) and Ilex Gallery (Warsaw) will present works by artists from the Kharkiv School of Photography dating back to the 1970s. Kharkiv School photographers defied the repressive convention of socialist realism and suffocating censorship to forge a new iconography based on the aesthetics of the individual.
Brothers Viktor and Sergiy Kochetov, for instance, purposefully captured 'non-decisive' moments which they then hand coloured. Meanwhile, Roman Pyatkovka shot erotic portraits behind the closed doors of Kharkiv's kommunalkas (community apartments) in the 1980s.
Roman Pyatkovka, Untitled 3 (1988) from the Witches Sabbat series.Silver gelatin print. 30 x 40cm. Courtesy the artist and Alexandra de Viveiros Gallery.
Both galleries are raising money to support the artists, their families and charities supporting Ukrainians in the city.
Additionally, Sprüth Magers and David Zwirner will show photos Philip-Lorca diCorcia shot during his time in Odessa in the late '90s. Funds raised from these works will go to grass-roots charities addressing the humanitarian crisis.
This year's Talks Programme, curated by William A. Ewing, will feature artists Anastasia Samoylova and Melanie Manchot, and Scottish documentary photographer Polly Braden.
A full list of this year's exhibitors at this year's Photo London can be found here. —[O]