News | Artists
Ukraine's Venice Biennale Pavilion in Doubt, Russia's Abandoned Due to War
Marina Abramović, Pussy Riot, and institutions in both countries spoke out against the Russian invasion.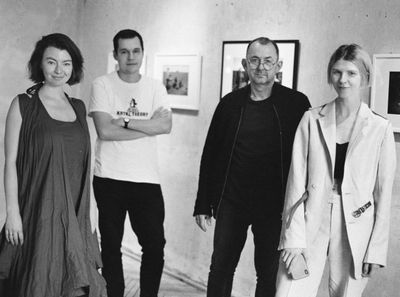 (Left to right) Ukraine Pavilion team members Lizaveta German, Borys Filonenko, Pavlo Makov, and Maria Lankro. Courtesy the Ukrainian Pavilion at the 59th International Art Exhibition La Biennale di Venezia.
The team behind Ukraine's Venice Biennale pavilion—artist Pavlo Makov and curators Lizaveta German, Maria Lanko, and Borys Filonenko—said they are unable to continue working on the project due to the danger posed by the Russian invasion that began on 24 February.
Commercial flights in and out of Ukraine have been cancelled, and travel within the country is risky, they said in a statement shared on Twitter on 25 February.
'If the situation changes, and it is safe to continue our work and travel, we will be in Venice,' they said. 'We can not confirm yet that our project will be completed, but we can promise that we will do everything possible to save unique artwork produced by Pavlo Makov and our big team specially for the upcoming biennial during the past five months.'
The Ukraine Pavilion would feature Makov's work Fountain of Exhaustion, a system of funnels that divides water again and again until only a few drops remain. The work was inspired by life in post-Soviet Kharkiv during the '90s, when public infrastructure was badly neglected and the water supply was frequently disrupted.
Pavlo Makov, Fountain of Exhaustion at the exhibition On the edge. Ukrainian art 1985-2004, PinchukArtCentre, 2015. Courtesy of PinchukArtCentre.
Makov is currently sheltering with his family in Kharkiv, Ukraine's second largest city. The 63-year-old artist told Artnet News, 'I am not running from my home, though I cannot really fight and I do not know how to do it. You need to be trained. Let's see what will come next. Russia won't stop just like that. They will continue to fight. But so will we.'
Makov, who was born in Saint Petersburg, said he stopped working with connections in Russia when the Russo-Ukrainian War began in 2014.
'It is impossible to work with another country that is openly and aggressively attacking your country, and that is taking your territory,' he said.
Russia Cancels Venice Biennale 2022 Pavilion
The artists representing Russia at the 2022 Venice Biennale have withdrawn from the event in response to the invasion.
'There is no place for art when civilians are dying under the fire of missiles, when citizens of Ukraine are hiding in shelters, when Russian protesters are getting silenced,' wrote Alexandra Sukhareva in a post written with Kirill Savchenkov and shared on Facebook on Sunday. 'As a Russian-born I won't be presenting my work at Russian pavilion at Venice Biennale,' she said.
The organisers of the pavilion confirmed via Instagram that Sukhareva, Savchenkov, and curator Raimundas Malašauskas have all withdrawn from the pavilion, and that 'consequently the Russian Pavilion will remain closed'.
'The Russian Pavilion is a home for artists, art and creatives,' they wrote. 'We have worked closely with the artists and curator from day one on this project and have waited for their independent decisions, which we respect and support above all.'
In their own statement, the Venice Biennale said it 'stands by all those who are suffering as a result of the Russian attack on Ukraine'.
'We invoke peace and firmly reject all forms of warfare and violence, confirming that La Biennale remains a place of dialogue between institutions, artists and citizens of every country, language, ethnicity and religion,' they said.
The Russian Federation Pavilion at the Venice Giardini, Photo: Marco Cappelletti.
Artists and Institutions Speak Out Against Russian Invasion
Kyiv's Mystetskyi Arsenal National Art and Culture Museum Complex, led by director general Olesia Ostrovska-Liuta, wrote in a statement published on their website that 'we should be preparing now the Book Arsenal to be held in May, exhibitions, and cross-sectoral projects. Instead our team focuses the efforts to ensure the safety of our staff, our families, as well as to guard our collection, museum objects ... and the Old Arsenal building, which is a historical and architectural monument of national importance.'
The museum has called for a boycott of Russian cultural institutions, including the suspension of Russian participation in international art events, an end to collaborations with Russian artists who do not openly oppose Putin's regime, and the refusal of funding from Russian organisations.
Moscow's Garage Museum of Contemporary Art announced on 26 February that they have 'decided to stop work on all exhibitions until the human and political tragedy that is unfolding in Ukraine has ceased. We cannot support the illusion of normality when such events are taking place.'
Pussy Riot co-founder Nadya Tolokonnikov and others formed a decentralised autonomous organisation called Ukraine DAO to raise funds for Ukrainian charity Come Back Alive. With two and a half days remaining in the auction, 1,855 bids have committed over US $3.3 million towards a single edition NFT of the Ukrainian flag.
And Marina Abramović posted her support for Ukraine on Instagram.
'Last year I worked in Ukraine, and I got to know the people there. They're proud, they're strong, and they're dignified. I have full solidarity with them in this impossible day. An attack on Ukraine is an attack on all of us, is an attack on humanity. It has to be stopped,' she said. —[O]