News | Artists
Which Artists Are Showing at Venice Biennale 2022?
Australia is the latest country to confirm the artist and curator who will present work at the world's most famous biennial.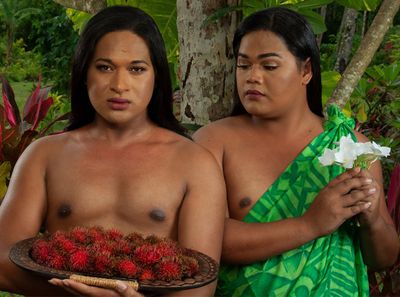 Yuki Kihara, Two Faʻafafine (After Gauguin) (2020) (detail). From the series Paradise Camp. Image courtesy of Yuki Kihara and Milford Galleries, Aotearoa New Zealand.
Noise artist Marco Fusinato will represent Australia at the Venice Biennale in 2022, the Australia Council for the Arts announced on Thursday.
His presentation will be staged in the Australian Pavilion in the Giardini and curated by Alexie Glass-Kantor, executive director of Artspace in Sydney and curator of the Encounters sector at Art Basel Hong Kong.
A long list of participants in the 59th Venice Biennale, which takes place from 23 April to 27 November 2022, is forming. We'll continue to update this list as more announcements are made.
Australia
Artist: Marco Fusinato
Curator: Alexie Glass-Kantor
Argentina
Artist: Mónica Heller
Curator: Alejo Ponce de León
Austria
Artists: Jakob Lena Knebl and Ashley Hans Scheirl
Curator: Karola Kraus, director of the Museum moderner Kunst Stiftung Ludwig WienBelgiumArtist: Francis AlÿsCurator: Hilde Teerlinck
Belgium
Artist: Francis Alÿs
Curator: Hilde Teerlinck
Canada
Artist: Stan Douglas
Curator: Reid Shier
Catalonia
Artist: Lara Fluxà
Curator: Oriol Fontdevila
Chile
Collective Project: Turba Tol Hol-Hol Tol
Curator: Camila Marambio
Denmark
Artist: Uffe Isolotto
Curator: Jacob Lillemose
Estonia
Artists: Kristina Norman and Bita Razavi, based on the story and works of Emilie Rosalie Saal
Curator: Corina Apostol
Finland
Artist: Pilvi Takala
Curator: Christina Li
France
Artist: Zineb Sedira
Curators: Yasmina Reggad, Sam Bardaouil, and Till Fellrath
Germany
Artist: Maria Eichhorn
Curator: Yilmaz Dziewior
Great Britain
Artist: Sonia Boyce
Curator: Emma Ridgway
Greece
Artist: Loukia Alavanou
Curators: Heinz Peter Schwerfel and Giannis Arvanitis
Grenada
Artists: Cypher Art Collective of Grenada
Curator: Daniele Radini Tedeschi
Hong Kong
Artist: Angela Su
Curator: Freya Chou
Hungary
Artist: Zsófia Keresztes
Curator: Mónika Zsikla
Iceland
Artist: Sigurður Guðjónsson
Curator: Mónica Bello
Ireland
Artist: Niamh O'Malley
Curators: Clíodhna Shaffrey and Michael Hill
Israel
Artist: Ilit Azoulay
Curator: Shelley Harten
Lebanon
Artists: Danielle Arbid and Ayman Baalbaki
Curator: Nada Ghandour
Luxembourg
Artist: Tina Gillen
Curator: Christophe Gallois, assisted by Ilaria Fagone
Malta
Artists: Arcangelo Sassolino, Giuseppe Schembri Bonaci, and Brian Schembri
Curators: Keith Sciberras and Jeffrey Uslip
Mexico
Artists: Mariana Castillo Deball, Naomi Rincón Gallardo, Fernando Palma Rodríguez, and Santiago Borja Charles
Curators: Catalina Lozano and Mauricio Marcin
The Netherlands
Artist: Melanie Bonajo
Curators: Maaike Gouwenberg, Geir Haraldseth, and Soraya Pol
New Zealand
Artist: Yuki Kihara
Curator: Natalie King
Nordic Pavilion – Sámi Pavilion
Sámi Artists: Pauliina Feodoroff, Máret Ánne Sara, and Anders Sunna
Curators: Liisa-Rávná Finbog, Beaska Niillas, and Katya García-Antón
Oman
Artists: Anwar Sonya, Hassan Meer, Budoor Al Riyami, Radhika Khimji, and Raiya Al Rawahi
Curator: Aisha Stoby
The Philippines
Artists: Gerardo Tan, Felicidad Prudente, and Sammy Buhle
Curators: Yael Buencamino Borromeo and Arvin Jason Flores
Poland
Artist: Małgorzata Mirga-Tas
Curators: Wojciech Szymański and Joanna Warsza
Romania
Artist: Adina Pintilie
Curators: Cosmin Costinaș and Viktor Neumann
Russia (participation withdrawn due to invasion of Ukraine)
Artists: Alexandra Sukhareva, Kirill Savchenkov
Curator: Raimundas Malašauskas
Scotland
Artist: Alberta Whittle
Curator: Glasgow International
Singapore
Artist: Shubigi Rao
Curator: Ute Meta Bauer
Slovenia
Artist: Marko Jakše
Curator: Robert Simonišek
South Korea
Artist: Yunchul Kim
Curator: Lee Young-chul
Spain
Artist: Ignasi Aballí
Curator: Beatriz Espejo
Switzerland
Artist: Latifa Echakhch in collaboration with composer Alexandre Babel
Curator: Francesco Stocchi
Taiwan
Artist: Sakuliu Pavavaljung was cut from Venice after sexual assault allegations. A new exhibition is still in development.
Curator: Patrick D. Flores
Turkey
Artist: Füsun Onur
Curator: Bige Örer
Uganda
Artists: Acaye Kerunen and Collin Sekajugo
Curator: Shaheen Merali
Ukraine
Artist: Pavlo Makov
Curators: Lizaveta German, Maria Lanko, and Borys Filonenko
United Arab Emirates
Artist: Mohammed Ahmed Ibrahim
Curator: Maya Allison
Uruguay
Artist: Gerardo Goldwasser
Curators: Laura Malosetti Costa and Pablo Uribe
USA
Artist: Simone Leigh
Curators: Jill Medvedow and Eva Respini
Uzbekistan
Artists: Abror Zufarov and Charli Tapp.
Curators: Space Caviar (Joseph Grima, Camilo Oliveira, Sofia Pia Belenky, Francesco Lupia) and Sheida Ghomashchi.
Zimbabwe
Artists: Ronald Muchatuta, Kresiah Mukwazhi, Terrence Musekiwa, and Wallen Mapondera
Curator: Fadzai Veronica Muchemwa. —[O]