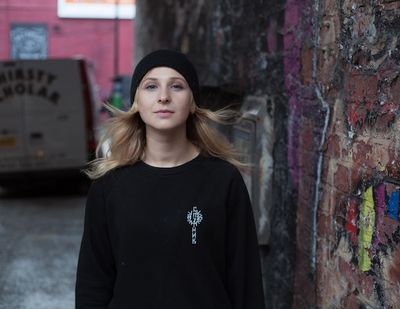 Maria Alyokhina. Photo: Alexander Sofeev.
Formed in 2011, Russian protest art collective Pussy Riot is known for organising unauthorised and provocative guerrilla punk rock performances in unconventional public places, which are transformed into music videos and posted on the internet. Most notorious of these was a February 2012 staging of the song 'Punk Prayer' at Moscow's Cathedral of Christ the Saviour, whose lyrics—which include 'Mother Mary, please drive Putin away'—resulted in the arrest of three members of the group: Maria Alyokhina, Nadezhda Tolokonnikova and Yekaterina Samutsevich. In August 2012, the women were sentenced to two years imprisonment, with Samutsevich receiving a suspended sentence after further appeal. Alyokhina and Tolokonnikova were released in December 2013, two months earlier than planned as part of a government amnesty marking the anniversary of Russia's adoption of a post-Communist constitution in 1993. Shortly after, Alyokhina and several other Pussy Riot members travelled to the 2014 Winter Olympics in Sochi to perform the song 'Putin Will Teach You to Love the Motherland', where they were attacked by Cossack militiamen and plain-clothes security guards for the games.
On 1 August 2017, Maria Alyokhina, a founding member of Pussy Riot, traversed the streets of Moscow at night while being interviewed by Natalie King via Skype. During this conversation, which is excerpted here, Alyokhina reflected on the power and politics of language and activism, and discussed Riot Days, an ensemble piece she has referred to as a live version of her forthcoming book of the same name (due for release in September 2017), which offers an account of Pussy Riot's 2012 arrest, trial and imprisonment. Riot Days will be performed as part of the three-day contemporary performance festival Supersense: Festival of the Ecstatic, presented by Arts Centre Melbourne and Bank of Melbourne in association with curator Sophia Brous (18–20 August 2017). Since her release, Alyokhina has worked on a number of projects that reflect on experiences of oppression, including the production Burning Doors in collaboration with Natalia Kaliada and Belarus Free Theatre, which focuses on the incarceration of Ukrainian film director Oleg Sentsov and Russian performance artist Petr Pavlensky by the Russian State. In fact, just one day after this interview took place, Alyokhina was arrested in eastern Siberia alongside fellow Pussy Riot member, Olga Borisova, while protesting Sentsov's imprisonment.
Belarus Free Theatre, Burning Doors. Kiryl Kantstantsinau, Marina Yurevich, Maria Alyokhina. Photo: Alex Brenner.
NK

Could you share some reflections on your upbringing and whether there were moments of dissent or non-conformity as a child?

MAI was a problem teenager and actually I still am a problem teenager. When I was in fifth grade in Russia at the age of eleven or twelve years old, I remember we had labour lessons where you would learn about so-called labour. That was the first moment when the class was divided into boys and girls, and boys were taught how to cover chairs and do things with electricity, for example, and girls were taught to sew and cook. I totally didn't get the point as to why I should learn sewing because firstly, I hated sewing and secondly, I just did not see any sense in it. I started to ask questions—why are you teaching girls sewing?—and I didn't get any answers.

All interesting situations start with questions because without questions we don't have any way forward. So I like questions. That's how I think my story started.
NK

In your biography, I read that you were a volunteer at a children's psychiatric hospital in Moscow. Why were you interested in helping children with psychiatric problems?

MAIn Russia, psychiatric clinics don't operate like those in the West. For example, about 85 or 90 percent of teenage girls are there not because something is wrong with them; they are just problematic children like I was. It's not that they are sick. I went there to talk with them and write with them, and give them books because I believe that there is no wall between us.

I think there is a big problem with the normalisation of people because I don't believe in this fucking norm, since every person is unique. Every person has a voice. Society has a responsibility to hear these voices and not put them into psychiatric clinics or prisons or kill them.

Pussy Riot Theatre. Photo: Alexander Sofeev.
NK

Is there an analogy with psychiatric wards and your experience of being detained in prison and removed from society?

MAThe problem with Russian institutions is that they all exist on one basis whereby the government relates to the person as part of the state mechanism, not like an individual. Unfortunately, prisons just mirror this relationship and that's why our prisons are so similar to schools and to psychiatric clinics, because they are all governmental institutions. That's one reason why our country's president is a former KGB agent.
NK

In 2012, you were arrested for performing 'Punk Prayer' inside Moscow's Cathedral of Christ the Saviour: an unauthorised and provocative guerrilla punk rock action. Subsequently you were charged with 'hooliganism motivated by religious hatred'. At the time, you were a fourth year student at the Institute of Journalism and Creative Writing as well as a published poet. What is the role of language and words in your work?

MAI believe in the power of words. The Russian poet, Nikolay Gumilev, wrote that 'one word could fully stop the rain'. I believe that we are living in a world that is changed by the actions of people. For example, we have democracy because people base their lives on these words, on their importance, and without this power words lose their meaning. If words lose their meaning, we risk living in an empty world.

One of the main statements of my forthcoming book Riot Days is that freedom does not exist if you are not fighting for it every day. Without your own fight, the word 'freedom' loses its sense.
NK

What do you think about Alexander Solzhenitsyn's phrase 'words will break cement', as quoted by Nadezhda Tolokonnikova in her closing statement to the court during your trial?

MAThis is a famous statement of Solzhenitsyn's, who was one of the dissidents of Russia, and yes I believe in it. But I love Gumilev more than Solzhenitsyn, probably because I really love his poems. Solzhenitsyn, however, is incredibly important for understanding Russian history.

In our schools Russian teachers say that Stalin was one of the main figures in Russian history, and we do not read Solzhenitsyn. For me, education is one of many problems. In the main Russian university, Moscow State University, which is the biggest university in the whole country, we do not even have Gender Studies. Many people ask me about the situation of feminism in Russia, but how can we discuss feminism if we don't even have a basic education? We need to be serious about sexual education at schools.

Some members of the Orthodox Church are crazy and say that it is a sin to have sexual education at school. I mean it's the 21st century. It's not the Middle Ages. They are saying that using condoms is a sin. Last year there was a big scandal because some politicians said that Russia should ban abortion by law. Usually, a woman who is pregnant and having a child in our country receives about 50 dollars per month from the government for this child. This money is totally not enough even for food. So this is the situation. This is not a part of European feminist discourse, but is closer to the Middle East.
NK

In your interview with Judith Butler and Rosi Braidotti, you describe the history of feminism in Russia. I didn't realise that Russian women got the right to vote before US women. Could you elucidate on the legacy of Russian feminism and the genealogy of women's rights?

MAWe were one of the first countries who gave women the right to vote. That was the very beginning, but unfortunately during the Stalinist period all these initiatives were shot, like the people who created them.
NK

How has Pussy Riot become a complicated project? It is a human rights group, an independent media outlet, a producer of songs and music videos. How do all these elements come together under the rubric of Pussy Riot?

MAWell, we are a punk collective. It's not a group of people. In the beginning, it was a group of girls, and not only girls from Moscow. Since our trial Pussy Riot became much more than just a protest group because we were continuing our actions during the trial, having strange theatre dialogues with all the people who were involved in it, and after that in the penal colony, in prison, we were fighting with prison guards using totally different combat methods. After we were released, we started MediaZona, which is an independent media outlet: a totally new field for us.
NK

Can you elaborate on how MediaZona is an extension of Pussy Riot?

MAIt's a part of the prison reform for which we are fighting. MediaZona is an independent Russian media outlet that covers topics about freedom in Russia. So it's a political mechanism against our opposition, such as police and prison violence. It has become one of the most popular Russian news media outlets: one of the top ten in the Russian internet sphere, because there is almost no one in the opposition who doesn't have a court case against him or her. For me, MediaZona is a true picture of Russia, which we need because, as you know, all the official media belongs to Putin's friends and is total propaganda. There is no objective perspective at all.

We like to experiment with different forms of political art. Last year, I made my first collaborative project with Belarus Free Theatre called Burning Doors. Beforehand, I didn't know much about political theatre and it has been a very strong and important experience for me to overcome my own limits. Burning Doors is a physical theatre and it's orientated on Artaud's Theatre of Cruelty. The show is part of a freedom campaign for Ukrainian film director, Oleg Sentsov, who is a political prisoner. He got 20 years in prison and is now in East Siberia in Yakutsk, one of the coldest regions in Russia where temperatures reach minus 52 degrees Celsius in the winter.

Tomorrow, we are going to see his penal colony and talk with prison guards and tell the world about his situation, because this artist is totally not a criminal. He didn't do anything illegal. I think his problem is that he is a citizen of Crimea. Since Putin decided that Crimea is Russian territory, he started to put people in prison who do not agree with his position.

Belarus Free Theatre, Burning Doors. Maryia Sazonava and Maria Alyokhina. Photo: Alex Brenner.
NK

When you first performed 'Punk Prayer' it was a public activist stunt and now you are performing in theatres that are very controlled environments. Could you talk about transitioning from these confrontational forms of public assembly to more confined theatre environments, and the improvised versus the non-improvised? I am also interested in the role of risk and danger in your work.

MAWe are doing different things including MediaZona, theatre, and I wrote a book called Riot Days. For me it was very hard because reflection sometimes can be difficult. Riot Days is also our [Pussy Riot's] performance: it is actually a live book. It's my way of telling the story by saying those words again.

We didn't do any performances, like actions, in the West before and I'm not doing them now. I do not promise that we will never do them, but not now. Of course, we are expressing ourselves on Western platforms, telling our story to the world; the first year after our detention in the penal colony, we were giving lectures and all the money went to MediaZona.

After the Crimea crisis, all independent media was crushed and all the journalists who were not in agreement with Putin's position about Crimea were fired. It's not just journalists. I think about 80 percent of intellectuals left the country because they didn't know how they would find a place in this so-called new world. I'm proud of the people who stayed. I'm proud of knowing them and I'm proud of my opportunity to help them at some point, because this is the only way to show that another Russia exists. We do not own weapons, we do not own a White House, we do not own the Kremlin, but at least we own ourselves and we should speak up.
NK

I wanted to ask you about the use of the balaclava and how it relates to the idea of covering up and anonymity. Is there a link with the Guerrilla Girls, who are also masked feminists?

MAYes, the Guerrilla Girls were a main inspiration. I met one of the girls at the end of 2015 and she gave me, as a present, one of their works and it was a great experience. I'm inspired by them, and we started to wear balaclavas for the same reason.
NK

If you're influenced by Guerrilla Girls, I'm interested to know what other feminist ideologies or groups you align yourself with?

MAIt's a big question. I love the first wave feminists. I really love the suffragette movement and I have read a lot about Great Britain during that period. For Pussy Riot, the band Bikini Kill was one of the musical inspirations in terms of ideology and music. Tobi Vail, who used to be the drummer for Bikini Kill, was one of the first artists who supported us when we were arrested. She is an important figure; an artist and a great person. I met her several times in the United States after we were released. I think she had an amazing experience with protest art. Marina Abramović is also a very important artist.
NK

Is your interest in Marina Abramović to do with being fearless?

MAYes, but we also have a common history because the Balkans and Russia have a similar relationship to the church and Marina Abramović has worked with this topic.
NK

Last year Pussy Riot released the song 'Straight Outta Vagina', with the lyrics: 'If your vagina lands in prison, then the world is gonna listen to make sure Trump remembers where he comes from'. There is an element of humour to these words.

MAWithout humour we will die. Humour is one of our main weapons, because they can take everything from you but they cannot take your smile.

Pussy Riot Theatre. Photo: Alexander Sofeev.
NK

Riot Days will be presented in Melbourne at the end of August. It was first premiered at Moscow's largest art squat—Elektrozavod, a former soviet electricity factory—for an invite-only performance staged just one time to avoid unwanted attention from Russian authorities. Could you tell me about the performative elements of Riot Days, which incorporates video footage, live music and spoken word as a way to bring to life the book you have written? What was it like performing this new work, which you have referred to as 'Pussy Riot Theatre', for the first time in Moscow?

MAThe idea of Riot Days is to bring the riot back: actions, Pussy Riot songs, running from the police, court carnival and dark prison beauty. Other elements include Nastya, one of the Pussy Riot girls, on saxophone, and Max playing electro punk. Both are from the music duo AWOTT (Asian Women on the Telephone).

After our first performance in Moscow, the theatre [Transformator, the space used by the alternative theatre company Teatr.Doc] was closed, but we knew how to do things underground. It involved mammoth preparation. If you want something, you'll do it and find a way. It's our small way of making an impact and changing the situation, because State propaganda calls us enemies of the State and enemies of the people. This is my way of trying to show that we are not enemies by doing all that we can: underground performances, street demonstrations, independent media, political theatre; everything that we can to make a change.

This is not only about me or Pussy Riot or anybody. It's about every person. Because we talk a lot about revolution in Russia, I want to be specific that the word 'revolution' was originally used in astronomy. It means a 'turning' and it can be internal—it is the basis for a political or cultural revolution.—[O]