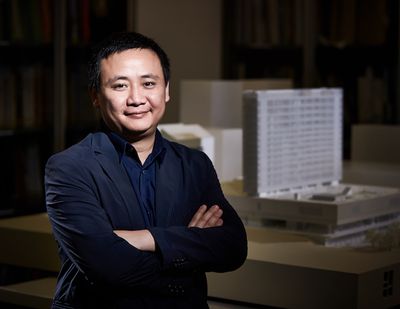 Pi Li. Courtesy West Kowloon Cultural District Authority.
In 2003, Hou Hanru staged an exhibition as part of the 50th Venice Biennale, Z.O.U.—Zone of Urgency. The show included a project called Canton Express, which consisted of works and installations by 14 artists and art spaces from the Pearl River Delta region—'the first major presentation of contemporary art from the Pearl River Delta region on the international stage.' With participants including Big Tail Elephant Group and Vitamin Creative Space, Canton Express is regarded as 'a major showcase of works by artists and non-profit cultural institutions active in the Pearl River Delta since the end of the 20th-Century'. The historical importance of the project was recognised in 2017 when M+ launched its fourth exhibition at the M+ Pavilion in Hong Kong, Canton Express: Art of the Pearl River Delta (Canton Express): a restaging of the original 2003 project, with a curatorial team led by Dr Pi Li, Sigg Senior Curator of M+, Visual Art, with Isabella Tam and Ethan Cheng, Assistant Curators, Visual Art, M+.
Xu Tan, Biennale.dog (2003). Digital print on vinyl banner. Exhibition view: Canton Express: Art of the Pearl River Delta, M+, Hong Kong (23 June–10 September 2017). Gift of Guan Yi (2013). Courtesy M+, Hong Kong.
According to an M+ statement, this contemporary presentation of 'Canton Express demonstrates the extensive research, conservation efforts and the museum's commitment in preserving contemporary artwork produced for a specific condition, unfolding the fascinating stories on communities and support behind the original exhibition.' Original works were shown alongside archival documentation and research. Pieces on view were taken from the collection of Guan Yi, donated to M+ in 2013, and includes the complete work list of the 2003 project. (The collection covers developments in Chinese art, from the '85 New Wave to the Stars Group and the trajectory of conceptual art, starting from the late 1970s to the present.) Canton Express is the second exhibition by M+ that showcases the donation of art from China to the museum by a collector. In 2016, the Uli Sigg collection, donated to M+ in 2012, was presented in the UK and in Hong Kong as part of an exhibition presenting more than 50 artists, including Fang Lijun and Cao Fei. Titled M+ Sigg Collection: Four Decades of Chinese Contemporary Art, the show was feted as 'the first-ever chronological exhibition about the emergence of Chinese contemporary art', showing 'both the development of Chinese contemporary art and a glimpse of the collection that will be on display when the M+ building opens in 2019.'
In this conversation, Dr Pi Li discusses Canton Express with artist Leung Chi Wo, touching on the challenges he faced staging a historical project like this today within the context of M+ and the city of Hong Kong. A leading curator, scholar and writer in China, Pi Li was deputy executive director of the art administration department at the Central Academy of Fine Arts (CAFA) and co-founder and director of Boers-Li Gallery in Beijing before he joined WKCDA in 2012.
Exhibition view: Canton Express: Art of the Pearl River Delta, M+, Hong Kong (23 June–10 September 2017). Courtesy M+, Hong Kong.
LW

Canton Express was originally part of the exhibition Zone of Urgency, which was curated by Hou Hanru for the 50th Venice Biennale in 2003. Did you see the exhibition back then in person? What was your personal impression back then?

PLI saw Canton Express at the 2003 Venice Biennale in person that year, as well as the Canton Express tour to Beijing.

My personal experience at that time was that it was very hot—it was one of the hottest summers in Europe. But back to the exhibition, I saw a very strong, noisy and chaotic show, which reflected the reality of high-speed urbanisation in Asia. While it was hard to stay focused on individual works, there was a very strong texture to this exhibition of having been curated.
LW

Artists in the show were all from Guangdong Province in Southern China, as the title suggested. Obviously, this was not only about showing a group of artists from Southern China, but also articulating a unique cultural identity that cannot be simplified as Chinese. Could you elaborate on what that identity is, and how it was reflected in the works in the exhibition?

PLIn most circumstances, the identity of the artist is reflected in the methodologies. Throughout the 1990s, the majority of Chinese artists responded to abstract political ideals through realism, and thus became overly dependent on figurative style and political symbolism. Canton Express featured a new language in art that was developing far from the political centre. The Pearl River Delta, situated at the frontline of Deng's reform, was in the midst of rapid globalisation and urbanisation. Artists there eschewed political and commercial iconography in favour of a skeptical, critical attitude towards society. They instead employed multimedia practices to address the impact of globalisation, with its mixture of city landscapes, daily life, and the mental and emotional complexities of its residents. U-thèque utilised film to focus on life in urban villages, and Liu Heng's video installation, The Abandoned (2003), closely followed a small town as it was transformed by urbanisation. Aside from these clear views of the urban landscape, Canton Express also probed the inner world of the region's inhabitants. Lin Yilin's performance work 100 Pieces and 1000 Pieces (1993) and Jiang Zhi's installation Sucker (1997) both pointed towards the material greed of consumer society. Zheng Guogu's Sample Room (2003) showed the link between Yangjiang as a manufacturing hub and the globalised market. Chen Shaoxiong's Figure Anti-Terrorism (2003) combined international political events with lived experience, and Xu Tan, Jin Jiangbo, and Vitamin Creative Space's original programmes used live internet broadcasts to connect local art events together with international exhibitions. This was the first time Chinese artists responded to the dynamic relationship between global and local; they were not satisfied with the label 'Chinese artist', but instead considered themselves members of a global network.

Jiang Zhi, Sucker (1997). Inkjet print, sound, chromogenic digital print wallpaper, art books, metallic glitter, feathers, revolving illuminated pillar. Exhibition view: Canton Express: Art of the Pearl River Delta, M+, Hong Kong (23 June–10 September 2017). Gift of Guan Yi (2013). Courtesy M+, Hong Kong.
LW

What was the importance of Canton Express in the context of contemporary Chinese art 14 years ago?

PLProjects like Canton Express signified how the Pearl River Delta played a pivotal role in the early 2000s in reorienting Chinese art to conceptualism as a way to react to globalisation and urbanisation at the turn of the century. The Pearl River Delta was at the forefront of urbanisation when Socialist China opened up for economic reform in the late 1970s. Since then, the region underwent rapid transformation and has now grown into the largest city region in the world with a population of 66 million. The Pearl River Delta is the birthplace of a new economic model. It introduces new everyday urban experiences that stimulate unorthodox art practices and nurture ecologies different from the mainstream of Chinese art. Such a distinct urban phenomenon attracts the attention of forward-looking art and architectural practitioners. Twenty years ago, Rem Koolhaas/OMA, in collaboration with Harvard Graduate School of Design, conducted a field investigation on the modernisation of the Pearl River Delta, as a cluster of five cities into a megalopolis, between 1996 and 1997. It resulted in the publication Great Leap Forward: Harvard Design School Project on the City (2002), which provided the most comprehensive and insightful study of the Pearl River Delta, making the region a model and a hotbed for architects and urban planners to theorise on, and experiment with new urban models at the turn of the century. Simultaneously, Hou Hanru and Hans Ulrich Obrist included the art of the Pearl River Delta in the seminal project Cities on the Move (1997–2000).
LW

And has its significance changed now?

PLNow the world has just witnessed Brexit in the United Kingdom and Trumpism in the United States. These incidents indicate conservatism and localism are being advocated and are on the rise as a set of political values contending against liberalism, which globalisation embraces. At the same time, urbanisation faces a number of dilemmas, pertaining to anything from identity politics to ecological issues. The optimism surrounding globalisation and urbanisation 20 years ago is now facing immense challenges and skepticisms. This is also an interesting angle for us to review Canton Express and its changing context.

Zheng Guogu, Sample Room (2003). Kitchenware, suspended racks, wooden slatwall panels, text. Exhibition view: Canton Express: Art of the Pearl River Delta, M+, Hong Kong (23 June–10 September 2017). Gift of Guan Yi (2013). Courtesy M+, Hong Kong.
LW

What could we learn from Canton Express today, particularly when thinking about events currently unfolding throughout the world?

PLI cannot say for sure that we can definitely learn something from Canton Express. But it can certainly give us the opportunity to review those days as a reference for today. As Hanru and I talked about in the 1990s, people were optimistic about globalisation, urbanisation and so-called related universal values. For example, among many things, people believed that the internet, which offered an open, free and sharing resource at that time, would play an important role. However, today we can clearly see that the internet is the extension of the capitalist network and is controlled by capitalism, as is social media, which now encourages localism and even populism. The results are totally different from what people imagined. Before we can learn something from Canton Express, maybe we should begin to think about what has happened since then, and why.
LW

To re-stage such an exhibition, I suppose you had to respect not only the authorship of many artists but also that of the original curator. How would you describe your curatorial approach to this project? What challenges did you face?

PLFor the exhibition itself, I followed the authorship of artists and curator. But I positioned myself more on contextualising Canton Express through documentation, interviews and research, which are presented in the publication, the mind map, and later discussions. The major challenge for the exhibition was that its contemporary installation unavoidably looked too clean in the M+ Pavilion, a white-cube space, for the people who had seen the project at the Arsenale in Venice in 2003. To reduce that clean feeling, I left the windows uncovered, so the project could be in conversation with the construction site and skyscrapers that surround the building.

Chen Shaoxiong, Figure Anti-Terrorism (2003). Carved wooden chess pieces, furniture, two-channel video. Exhibition view: Canton Express: Art of the Pearl River Delta, M+, Hong Kong (23 June–10 September 2017). Gift of Guan Yi (2013). Courtesy M+, Hong Kong.

Nevertheless, there is a fact that we can't change: Canton Express has been changed from an artists' project to a solid museum collection. Through research and conservation efforts undertaken by M+, these preserved works are on display for the first time after a decade, re-presenting a pivotal moment in the history of contemporary Chinese art and its link with the Pearl River Delta and Hong Kong. Although in the past, there was a lack of suitable temporary exhibition spaces and material resources in mainland China, the system of contemporary art has entirely changed. Canton Express embraced forms and concepts in art that were new at the time, such as site-specific installation and live broadcast, and showed distinct characteristics of 'anti-art', which no longer followed the standard pursuit of making art objects that are inherently definitive but emphasised the flexibility and variability of art at different exhibitions.

The reinstallation of Canton Express was riddled with challenges. How can the tactile and textural qualities of art practices that rejected canonisation and embraced fluidity and site-specificity be exhibited according to the museum standards of collection, conservation, research, and display?
LW

This sounds like a very intriguing balance or a mission impossible—to institutionalise something that was not meant to be institutional. Would you consider this a dilemma for curators?

PLYes, this absolutely is a dilemma for curators, especially for institution curators. It not only appears in collection exhibitions but in all kinds of activities. How can we make a museum 'a safe place for unsafe ideas'? This is also a fascinating issue for me.

Duan Jianyu, Artistic Chicken (2003). Fibreglass, resin, acrylic paint, steel armature. Exhibition view: Canton Express: Art of the Pearl River Delta, M+, Hong Kong (23 June–10 September 2017). Gift of Guan Yi (2013). Courtesy M+, Hong Kong.
LW

Canton Express is the second exhibition you have curated for M+, your first being the M+ Sigg Collection: Four Decades of Chinese Contemporary Art exhibition (23 February–5 April 2016). Both shows were based on particular collections donated to M+, although they were staged on very different scales. How would you compare your experience of these two projects you worked on?

PLGuan Yi and Uli Sigg are two different collectors with different collections. For the Sigg Collection exhibition last year, there was some criticism that Hong Kong was absent from the discourse of Chinese art at M+, although people overlooked the difference between the M+ and M+ Sigg collection. As a curator, you can never be right. And the question is not as easy as whether we should include Hong Kong artists in a Chinese art exhibition or not. For the Canton Express exhibition, the aim is not only show an aspect of the M+ collection that is different from the M+ Sigg Collection, but also to emphasise the connection between Hong Kong and Guangdong in the history of Chinese art. We can see from the artworks themselves, as well as the mind map and interviews included in the exhibition, that Hong Kong has offered visual experiences and imaginations of urbanisation to most Guangdong artists, and also mediated the discussion of many aspects such as civic society, art institution and self-organisation, since the end of the 1990s.
LW

Personally, I think it's really the Cantonese language that connects Hong Kong to Guangdong. How do you see the language issue in this exhibition?

PLI totally agree that language, although most of the time it operates in unconscious way, did and can play an important role in the context of the Pearl River Delta. However, for the Canton Express project, it was originally curated to be presented in the international context of the Venice Biennale, so the language issue had not yet been considered in depth.

Lin Yilin, Hotbed (2003). Steel frame bunk bed, bricks, six-channel video. Exhibition view: Canton Express: Art of the Pearl River Delta, M+, Hong Kong (23 June–10 September 2017). Gift of Guan Yi (2013). Courtesy M+, Hong Kong.
LW

But did you consider this language issue when you restaged the project in Hong Kong?

PLYes we did. For example, the works in the exhibition have not involved much Cantonese themselves, but in the interviews with artists and curators that were also presented in the exhibition, we spoke Cantonese as much as we could, while we also elaborated more about the connection between the Pearl River Delta and Hong Kong at that time.
LW

These days, the latest controversy in Hong Kong is around the proposal for a juxtaposed border control in the future West Kowloon Station, the Hong Kong terminus of the Guangzhou-Shenzhen-Hong Kong Express Rail Link, which is right next to the M+ Pavilion where the Canton Express exhibition was held. When it comes to the debates surrounding this proposed border control, the show has been regarded by some members of the community engaged in the discussion with some irony. What do you think about this?

PLThe completion of Hong Kong-Zhuhai-Macao Bridge and the Guangzhou-Shenzhen-Hong Kong Express Rail Link Hong Kong Section indicate that the Pearl River Delta is advancing into a Greater Bay Area: a strategic cluster that unavoidably means smarter economic cooperation and infrastructural development. Hence there is an urgent need to reevaluate the Pearl River Delta in current global and regional contexts. Together with the M+ Matters symposium, 'Between Past and Future—Art of the Pearl River Delta', which was held on 7 September 2017, the exhibition aimed to survey the circumstances and evolution of curatorial strategies and art research in the Pearl River Delta from the late 1990s to the present.

The Pearl River Delta is a city-region encompassing nine Guangdong cities, as well as Hong Kong and Macao, and each has individual cultural history. It is also a global facing region. Through examining the interconnections between art, architecture and literature, we want to unpack the Pearl River Delta not just as a geographical and economic entity, but as a concept that celebrates individuality and diversity in today's cultural topography. We hope that through this exhibition and conference, we can work together to probe the proposition of the Pearl River Delta as a changing concept, an evolving model, in dialogue with global reality in the 21st century. —[O]