News | Art Market
S.E.A. Focus to Include Virtual Studio Visits and Online Talks
Among the highlights of the fair are peeks into Korakrit Arunanondchai's studio in Bangkok and Melissa Tan's studio in Singapore.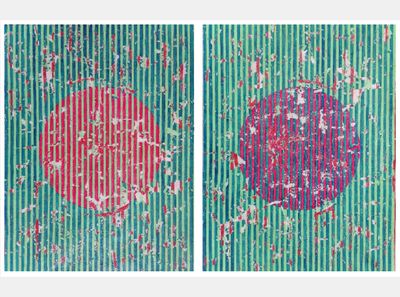 Kristoffer Ardeña, Ghost Painting (Cracked Category): National Bookstore, (2020). Elastomeric paint on canvas, 176 x 306 cm. Photo courtesy the artist and Tropical Futures.
The third edition of Singapore art fair S.E.A. Focus will gather 27 galleries in person and online from 22-31 January. Lehmann Maupin (New York) and Edouard Malingue Gallery (Hong Kong) are among the galleries taking part for the first time.
The event will take place both as a physical exhibition, entitled hyper-horizon, and online. The hybrid format that has become de rigueur for fairs still able to hold in-person events as the pandemic continues.
'In such a critical time, I am truly grateful that we have been able to organise the third edition of S.E.A. Focus in this meaningful hybrid format,' said Emi Eu, Project Director of S.E.A. Focus and Executive Director of STPI Creative Workshop and Gallery.
VIPs will have access to the fair from 20 January. They'll be able to take part in virtual studio visits to Faris Nakamura and Melissa Tan's studios in Singapore, and Korakrit Arunanondchai's studio in Bangkok, as well as guided tours of at spaces including CosmicWander at Tanjong Pagar Distripark, Singapore, the Museum of Contemporary Art and Design Manila, and Museum MACAN in Jakarta.
Mulyana, Coral Island Harmony #5 (2016). Synthetic yarn, synthetic cotton, plastic web. 200 x 200 x 38cm. Courtesy the artist and Art Porters Gallery.
The public programme includes the S.E.A.Spotlight talks series, whose talks have titles such as 'Bye-Bye Biennial?' and 'How Much for That Banana Duct-Taped to the Wall?' It will feature contributions from artists such as Eugene Soh, collectors such as Don and Mera Rubell, and exhibition makers such as Apinan Poshyananda, Chief Executive and Artistic Director of the Bangkok Art Biennale, among others.
Among the works showing at the venue include Rirkrit Tiravanija's tapestry installation, untitled 2016 (nothing), Ho Tzu Nyen's video The Critical Dictionary of Southeast Asia (2016), PHUNK's silkscreen painting Control Chaos (2003-2020), Iwan Effendi's 12-puppet installation The Visitor (2019-2020), and Mulyana's textile Coral Island Harmony #5 (2016), pictured above.
The full list of participating galleries is included below.
A+ Works of Art (Kuala Lumpur)
Art Porters (Singapore)
Art Seasons (Singapore, Beijing)
Artinformal Gallery (Manila)
Baik Art (Los Angeles, Seoul)
Bangkok CityCity Gallery (Bangkok)
CUC Gallery (Hanoi)
Edouard Malingue (Hong Kong, Shanghai)
FOST Gallery (Singapore)
Gajah Gallery (Singapore)
Gallery Side 2 (Tokyo)
Lehmann Maupin (New York, Hong Kong, Seoul, London)
Mizuma Gallery (Tokyo, Singapore, New York)
neugerriemschneider (Berlin)
Nova Contemporary (Bangkok)
Ota Fine Arts (Tokyo, Singapore, Shanghai)
Richard Koh Fine Art (Kuala Lumpur, Singapore)
ROH Projects (Jakarta)
Silverlens (Manila)
STPI (Singapore)
Sullivan+Strumpf (Sydney, Singapore)
The Columns Gallery (Seoul, Singapore)
The Drawing Room (Manila)
Tropical Futures Institute (Cebu)
Wei-Ling Gallery (Kuala Lumpur)
Yavuz Gallery (Singapore, Sydney)
Yeo Workshop (Singapore) —[O]