News | Exhibitions
Venice Biennale Adds Palestinian Org to Collateral Events
Artists and Allies of Hebron is one of 30 institutions that admitted to present exhibitions alongside the International Exhibition and the national pavilions.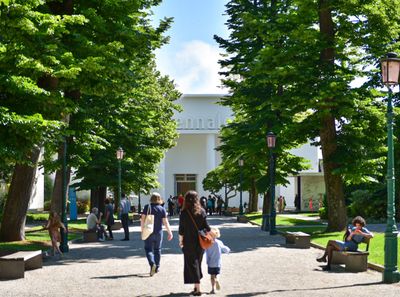 The Giardini in 2019. Courtesy La Biennale di Venezia. Photo: Andrea Avezzu.
The Venice Biennale yesterday announced 30 officially sanctioned Collateral Events admitted to take part in the 60th International Art Exhibition curated by Adriano Pedrosa.
While a proposal from the Palestine Museum US was reportedly rejected, Artists and Allies of Hebron, an organisation based in the West Bank and Berlin, has been chosen as one of the Collateral Events.
Artists and Allies of Hebron (often stylised as 'Artists + Allies x Hebron') was co-founded by Berlin-based South African photographer Adam Broomberg and Hebron-based Palestinian activist Issa Amro.
They plan to present an exhibition with the working title Anchor in the Landscape, which refers to photographs of Palestinian olive trees shot by Broomberg and Rafael Gonzalez.
'Since 1967, a total of 800,000 Palestinian olive trees (many of which are over 1,000 years old) have been destroyed by Israeli authorities and settlers,' the organisation writes on Broomberg's website.
'The olive tree performs the totemic role for the Palestinian identity, of culture, resistance, agrarian sovereignty and intergenerational tradition. It also symbolises the unwavering resilience of the Palestinian people in their ongoing resistance against their living struggle under Israel's military oppression.'
Broomberg and Amro did not immediately respond to a request for comment.
Other Collateral Events from politically charged territories include a Trevor Yeung exhibition presented by several Hong Kong arts organisations and a Yuan Goang-Ming exhibition presented by the Taipei Fine Arts Museum of Taiwan.
The full list of Collateral Events can be viewed on the Biennale's website. —[O]