News | Artists
Vincent Namatjira Wins $100,000 Archibald Prize 2020
Namatjira is the first Aboriginal Australian to win the prize in its 99-year history.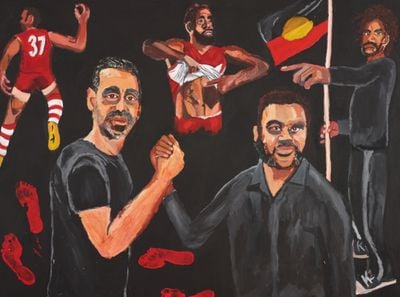 Vincent Namatjira, Stand Strong for Who You Are. Acrylic on linen, 152 x 198 cm. Courtesy the artist. Photo: AGNSW, Mim Stirling.
The Art Gallery of New South Wales in Sydney has awarded Vincent Namatjira the 2020 Archibald Prize, Australia's premiere prize for portraiture. Namatjira, who has been a finalist for four years running, is the first Aboriginal artist to win the AUD $100,000 prize.
'I'm so proud to be the winner of the Archibald Prize, and to be the first Aboriginal artist to win is really special,' Namatjira said during a press conference that was live-streamed on the Gallery's website. 'I feel like this is a very important moment in Australian art. It's an honour to be the first, but I also want to acknowledge all of the Indigenous finalists and Indigenous sitters for the Archibald this year and in past years.'
Namatjira's painting, entitled Stand Strong for Who You Are, depicts champion Aussie Rules player Adam Goodes, who the artist contacted after hearing about the racism he experienced in the sport.
'When I saw the documentary The Final Quarter (2019) about Adam's final season of AFL, my guts were churning as I relived Adam's experiences of relentless racism on and off the field,' Namatjira said. 'Memories of my own experiences were stirred up and I wanted to reach out and reconnect with Adam.'
The gallery's board of trustees named Namatjira as the winner of the prize after 55 finalists were selected from a record 1,068 entries. Board president David Gonski said, 'We were impressed by the large number this year of excellent entries, but the winning entry drew us all towards it and was compelling. The decision was a unanimous one.'
Previous winners of the prize include: Tony Costa (2019), Yvette Coppersmith (2018), Mitch Cairns (2017), Louise Hearman (2016), Del Kathryn Barton (2013), Ben Quilty (2011), John Olsen (2005) Wendy Sharpe (1996), and Brett Whiteley (1976).
The Art Gallery of New South Wales also announced the winners of the $50,000 Wynne Prize, which went to Hubert Pareroultja for his landscape painting Tjorita (Western MacDonnell Ranges, NT), and the $40,000 Sulman Prize, which went to Filipino-Australian artist Marikit Santiago for her work The Divine.
The exhibition for the prizes opens 26 September and continues at the gallery until 10 January. It was originally scheduled to open in May, but artists were given three extra months to work on their entries due to delays caused by the coronavirus.
'It is an absolute honour to win the Sulman Prize especially since I wouldn't have made the original pre-covid submission date,' admitted Santiago. —[O]