News | Galleries
West Bund Art & Design Expands to West Bund Dome
Mainland China's leading contemporary art fair announced a packed programme this week as the Chinese art world bounces back.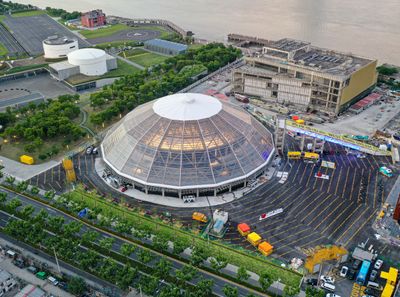 The West Bund Dome. Courtesy West Bund Art & Design.
The eighth edition of West Bund Art & Design will expand to a new venue when it takes place in Shanghai from 11 to 14 November.
Over 120 galleries, institutions and design brands will show in the West Bund Art Center's Halls A and B, and, for the first time, the West Bund Dome. The dome, which resembles a glass and steel circus tent, was Asia's largest cement plant when it was built in 1920. It was redeveloped in a partnership that included DreamWorks before the animation studio pulled out in 2017.
West Bund Art & Design's expansion to the West Bund Dome, along with strong applications to ART021 Shanghai Contemporary Art Fair, which takes place on the same dates, marks a major resurgence in art world activity in China. Many of the world's leading galleries are attending the fair, including Hauser & Wirth, Pace Gallery, ShanghART, and White Cube, all of whom have participated every year since the fair's first edition in 2014, when it had just 20 galleries.
Ugo Rondinone, east china sea (2021). Blue glass 82.9 x 125.2 x 30.2 cm. © Ugo Rondinone, courtesy Sadie Coles HQ, London. Photo Eva Herzog.
Others returning this year include Gagosian, Gladstone Gallery, Lehmann Maupin, Lisson Gallery, neugerriemschneider, Perrotin, Sadie Coles HQ, Tang Contemporary Art, and Thaddaeus Ropac.
First time attendees this year include Fergus McCaffrey, Galerie Jocelyn Wolff, KennaXu, and Lévy Gorvy, along with three galleries that opened new spaces in Shanghai this year—Bluerider ART, Christine Park Gallery, and CoBrA Gallery.
West Bund's curated section of large-scale projects, xiàn chăng, will showcase 14 paintings, installations and sculptures spread between the three exhibition spaces. They include an AR project by DATALAVA, Sun Xun's woodcut painting Magic of Atlas—Parade of Sweet Dream Festival, and Qiao Xiaodao's Nomad Wanderer 2, an 'outer space wagon' assembled from recycled junk.
Hiroyuki Matsuura, Little Girl Blue (2021). Acrylic on canvas 91 x 116cm. © TOKYO Gallery + BTAP.
Eighteen artists are exhibiting in the fair's Video Section, which includes the debut of works by Chen Zhou and Wu Maonan commissioned by the M Art Foundation.
Institutions will also show in the Perspectives Section, which includes presentations by Bonhams, Raiden INST, and the Shanghai consulates of France and Spain.
The full list of participating galleries and institutions follows below. —[O]
West Bund Art & Design Gallery Section
A Lighthouse called Kanata (Tokyo)
A2Z Art Gallery (Hong Kong, Paris)
AIKE (Shanghai)
Arario Gallery (Seoul, Shanghai, Cheonan)
ArtCN Gallery (Shanghai)
Art Granary (Beijing)
Bluerider ART (Shanghai, Taipei, London)
Ben Brown Fine Arts (Hong Kong, London, Palm Beach)
Canton Gallery (Guangzhou)
Capsule Shanghai (Shanghai)
CLC Gallery Venture (Beijing)
CoBrA GALLERY (Shanghai)
Sadie Coles HQ (London)
GALLERIA CONTINUA (San Gimignano, Beijing, Les Moulins, Habana, Rome, São Paulo, Paris)
Crossing Art (New York)
MASSIMODECARLO (Milan, London, Hong Kong, Paris MDC PIÈCE UNIQUE)
Don Gallery (Shanghai)
DUMONTEIL (Paris, Shanghai)
FeeFan's Art (Beijing)
Barry Friedman Ltd. (New York)
Stephen Friedman Gallery (London)
Gagosian (New York, Los Angeles, London, Paris, Geneva, Basel, Rome, Athens, Hong Kong)
Gene (Shanghai)
Ginkgo Space (Beijing)
Gladstone Gallery (New York, Brussels)
Han Space (Shanghai)
Hanyang Art Gallery (Hangzhou)
Hauser & Wirth (Zurich, Hong Kong, London, New York, Los Angeles, Somerset, Gstaad, St. Moritz, Monaco,Menorca)
HdM GALLERY (Beijing, London)
HENI (Beijing, London, Shanghai)
Hive Center for Contemporary Art (Beijing)
Hua International (Beijing, Berlin)
Xavier Hufkens (Brussels)
INK studio (Beijing)
INNA ART SPACE (Hangzhou, New York)
JIAXI (Shanghai)
Pearl Lam Galleries (Hong Kong, Shanghai)
Lehmann Maupin (New York, London, Seoul, Hong Kong)
Leo Gallery (Hong Kong, Shanghai)
Lévy Gorvy (Hong Kong, London, New York, Paris, Palm Beach)
Liang Project (Shanghai)
Line Gallery (Beijing, Shanghai)
Lisson Gallery (London, New York, Shanghai)
Matthew Liu Fine Arts (Shanghai)
M Art Center (Shanghai)
MAKI Gallery (Tokyo)
Galerie MARGUERITE (Beijing, Paris)
Fergus McCaffrey (New York, St. Barth, Tokyo)
MINE PROJECT (Hong Kong)
neugerriemschneider (Berlin)
KOTARO NUKAGA (Tokyo)
Ota Fine Arts (Shanghai, Singapore, Tokyo)
Pace Gallery (East Hampton, Geneva, Hong Kong, London, New York, Palm Beach, Palo Alto, Seoul)
CHRISTINE PARK GALLERY (New York, Shanghai)
Perrotin (Paris, Hong Kong, New York, Seoul, Tokyo, Shanghai)
Platform China Contemporary Art Institute (Beijing)
Almine Rech (Paris, Brussels, London, New York, Shanghai)
RIGHTWAY ART SPACE (Shanghai)
Thaddaeus Ropac (London, Paris, Salzburg, Seoul)
Salon 94 (New York)
ShanghART Gallery (Beijing, Shanghai, Singapore)
Shengling Art Gallery (Shanghai)
SHIBUNKAKU (Kyoto, Tokyo)
Simard Bilodeau Contemporary (Los Angeles, Shanghai)
SPURS Gallery (Beijing)
Star Gallery (Beijing)
TANG CONTEMPORARY ART (Bangkok, Beijing, Hong Kong)
GALLERY TARGET (Tokyo)
Timothy Taylor (London, New York)
TING TING ART SPACE (Taipei)
Tokyo Gallery + BTAP (Tokyo, Beijing)
Useless Space (Hangzhou, Milan, Shanghai)
Axel Vervoordt Gallery (Antwerp, Hong Kong)
White Cube (Hong Kong, London)
WHITE SPACE (Beijing)
Whitestone Gallery (Hong Kong, Tokyo, Taipei, Karuizawa)
Galerie Jocelyn Wolff (Paris)
X Contemporary Art (Changsha)
KennaXu Gallery (Shenzhen)
Yavuz Gallery (Singapore, Sydney)
Yibo Gallery (Shanghai)
Yve YANG (New York)

Abdul Abdullah, Waiting for something good (2021). Oil on linen. 240 x 180 cm. Courtesy of the artist and Yavuz Gallery.
Xiànchǎng Section
Alice Chen | Positive Art Research Center
DATALAVA
Han Mengyun | Capsule Shanghai
He Xiangyu | WHITE SPACE
Yuichi Hirako | KORARO NUKAGA
Li Nu | SPURS Gallery
Ni Zhiqi | Pearl Lam Galleries
Qiao Xiaodao
Sun Xun | ShanghART Gallery
Tomas Vu & Rirkrit Tiravanija | Hua International
Wang Ziquan | MadeIn Gallery
Yan Lei | Kenna Xu Gallery
Ying Jingjing | J'S AARTIST STUDIO
Zhao Gang | RoseArts
Video AI PLAZA
Chen Zhou | M Art Foundation
Marianne Halter & Mario Marchisella | Pro Helvetia Shanghai, Swiss Art Council
Jiang Tianlan
Till Langschied | Pro Helvetia Shanghai, Swiss Art Council
Liang Yanqi
Lin Ke | BANK
Mao Haonan | M Art Foundation
Lianqi Qiu & france_lion
semicolon C
Shi Zheng | AIKE
Wang Tuo | White Space
Wang Ziquan | MadeIn Gallery
Xia Mu
Xue Haoze | M Art Center
Yang Yang | Canton Gallery
Zhao Rundong
Perspective Section
The French Consulate General in Shanghai
Biblioteca Miguel de Cervantes – Cultural Section of the Consulate of Spain in Shanghai
Raiden INSTBonhams
Xart + Uma