News | Artists
Who Won Australia's 2021 Archibald Prize for Portraiture?
The 2021 winners of the Wynne and Sulman Prizes were also announced at the Art Gallery of New South Wales today.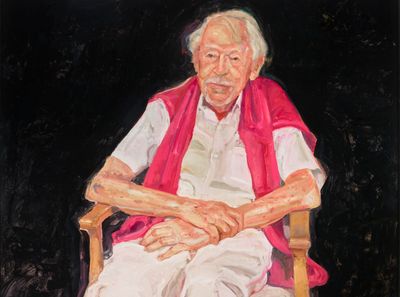 Peter Wegner, Portrait of Guy Warren at 100 (2021). Oil on canvas. 120.5 x 151.5cm. Courtesy the artist. Photo: AGNSW, Jenni Carter. Sitter: Guy Warren.
Melbourne artist Peter Wegner was announced the winner of the 100th Archibald Prize at the Art Gallery of New South Wales (AGNSW) today. Wegner beat 51 other finalists from 938 entries, down slightly from 1,068 entries last year.
Wegner won by unanimous decision for his portrait Guy Warren at 100. Warren is an Australian painter who won the prize himself in 1985 for his work Flugelman with Wingman.
'Guy has a great face and was a great model,' said Wegner, who was a finalist for the prize in 2020, 2016, 2011, 2004, and 2000.
Wegner has drawn and painted over 90 centenarians over the past seven years.
'It's extraordinary to live on this planet for over 100 years and still have a sense of purpose and curiosity,' he said.
'It's a good painting. It looks like me,' said Warren. 'I think I'm getting almost as much pleasure out of this as if I'd won the damn thing myself,' he said.
Nyapanyapa Yunupiŋu, Garak – night sky (2021). Earth pigments on board. 244.2 x 244.2cm. Courtesy the artist. Photo: AGNSW, Mim Stirling.
The winners of both the Archibald and Wynn Prizes were chosen by the AGNSW's board of trustees.
'The quality was high and the opinions of the trustees strong,' said David Gonski, chairman of the board. For that reason, two artists were highly commended: Jude Rae for her self portrait Inside Out and Brisbane artist Pat Hoffie for her portrait of her daughter Visaya in a C-collar.
Last year, Vincent Namatjira became the first Aboriginal Australian to win the Archibald with his painting Stand Strong for Who You Are, a portrait of champion Aussie Rules player Adam Goodes, who spoke out against the racism he experienced in the sport.
Other previous winners include Yvette Coppersmith (2018), Mitch Cairns (2017), Louise Hearman (2016), Del Kathryn Barton (2013), Ben Quilty (2011), and John Olsen (2005).
Georgia Spain, Getting down or falling up (2021). Acrylic on canvas. 180.6 x 187.5 cm. Courtesy the artist Photo: AGNSW, Mim Stirling.
The Wynne and Sulman Prize Winners
The $50,000 Wynne Prize for the best landscape painting of Australian scenery or figurative sculpture was won by aboriginal Australian artist Nyapanyapa Yunupiŋu who lives and works in Yirrkala, in north-eastern Arnhem Land.
Yunupiŋu won for her painting Garak – Night Sky, which depicts the star formation the Seven Sisters, also known as the Pleiades or Djulpan.
There were 660 entries in the Wynne Prize, which is even older than the Archibald, having been established in 1897.
The $40,000 Sulman Prize for best subject, genre painting, or mural was won by Tasmania-born artist Georgia Spain for her painting Getting Down or Falling Up. Spain's work was selected from 546 entries by a guest judge, Australian painter Elizabeth Cummings.
An exhibition of finalists from all three prizes will show at AGNSW  from 5 June to 26 September, alongside the exhibition Archie 100: A Century of the Archibald Prize. It will then tour six venues in New South Wales and Victoria, pandemic permitting.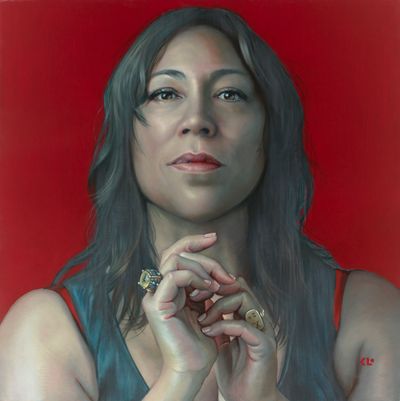 Kathrin Longhurst,
Kate
(2021). Oil on linen. 122 x 122 cm. Winner of the Packing Room Prize 2021. Copyright the artist. Photo: AGNSW, Jenni Carter. Sitter: Kate Ceberano.
The Archibald Packing Room Prize Winner
Last week, Kathrin Longhurst was awarded the 30th Archibald Packing Room Prize for her portrait of singer-song writer Kate Ceberano. The $3,000 prize is awarded by AGNSW staff who receive, unpack, and hang the entries.
'Kathrin's work fits my criteria,' said the gallery's head packer, Brett Cuthbertson. 'It's a portrait of a well-known celebrity and it looks like her!'
'I met Kate Ceberano many years ago and Kathrin has really captured her likeness,' he said.
Due to the arcane politics of the packing room, after 40 years working at the gallery Cuthbertson holds a whopping 52 percent of the vote for the Packing Room Prize.
German-born, Sydney-based artist Longhurst was a finalist for the Archibald Prize in 2018 and the Sulman Prize in 2012. —[O]