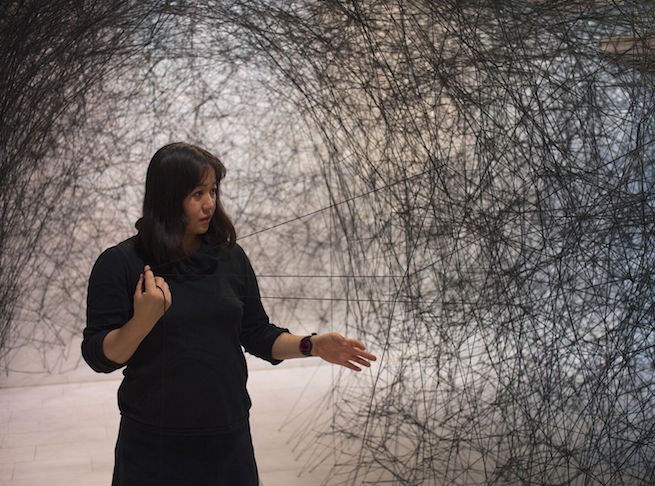 Chiharu Shiota. Courtesy the artist and Anna Schwartz Gallery. Photo: Sunhi Mang.
Chiharu Shiota is a Japanese-born Berlin-based artist best known for her installations of entangled webs of yarn that, coupled with objects, transform the gallery into a liminal space. Representing Japan in the 56th Venice Biennale, her work A Key in the Hand (2015), comprised of wooden boats and suspended threads dotted with keys, was one of the biennale's most Instagrammed works.

Shiota's approach to art making is highly personal, and traverses themes of the body, relationships, memory, identity, and home. The webs of thread that she weaves seem both an extension of her body and of the art object itself. Through their immersive presence, the viewer is directly implicated in the work. The result is a constant oscillation between the corporal, emotive, and immaterial: between the physical body and what is beyond.

Chiharu Shiota has a long-standing relationship with Australia dating back to her time as an exchange student at the Australia National University of Canberra, School of Art, from 1993 to 1994, where she created her seminal work Becoming Painting (1994), which marked her transition to a performance-and installation-based practice. More recently, Shiota created the major installations In Silence (2011) at the Detached Space, Hobart, in 2011; and Conscious Sleep (2016), for the 20th Biennale of Sydney at Cockatoo Island in 2016.

Absent Bodies, her inaugural show at Anna Schwartz Gallery in Melbourne, is on show from 6 October to 5 November 2016, while the installation The Home Within is showing as part of the Melbourne Festival (6–23 October 2016). The Home Within travels through emblematic locations in the city for the duration of the festival, beginning at Federation Square and ending at the Melbourne Town Hall for the festival finale on 23 October. In this conversation Chiharu Shiota talks about these exhibitions, why she uses objects in her work, and how the experience of art should be led by feeling.
ZS

I thought we could begin with discussing your exhibition that we are sitting in front of, which is showing at Anna Schwartz Gallery.
CSThe title of this exhibition is Absent Bodies. There are two chairs at the back of the installation, and while no one is present, there is the feeling that someone could be sitting there. There is absence, but also an existence. The chairs are placed at the end of a tunnel that has been formed where the yarn is less tightly threaded. When people come to see the exhibition they might look through the tunnel and feel like they are looking into the past.


Exhibition view: Chiharu Shiota: Absent Bodies, Anna Schwartz Gallery, Melbourne (6 October–5 November 2016). Courtesy the artist and Anna Schwartz Gallery.
ZS

I read that the idea of memory is a big part of your work. Looking through the tunnel could be read as being similar to the process of accessing memories.

CSYes. It is like looking through the memory. You cannot physically go there but you can gain access to these memories.
ZS

And the idea of absence and presence …

CSYes. No one is there now but someone was there previously. This is the theme of my work. Someone is here and nobody is here. And traces of the person who previously owned and used these objects is present.
ZS

Can you talk about why you use knots and thread in your practice and what were the initial thoughts behind the use of this material.

CSI wanted to be a painter but I felt like I couldn't paint anymore. So I started using string to make three-dimensional lines. For me, it's making a drawing in the air. I can make lines in space like I would in drawings on paper.
ZS

You still make drawings, is that correct?

CSYes I still draw but I really like yarn as a material. It is soft and I use it like a mirror of my feelings. So when I have a bad feeling, it's tangled. Yarn has tension like a human relationship. A relationship might be tight but it can be tangled and is connected by feeling. That's why I use yarn and string in my work.
ZS

You work a lot with the colour red. It is such a powerful and loaded colour, with its connotation of blood, and it really resonates as being of the body, which is a central part of your work. I read that you view blood as containing the essential information of a person's identity, and also as connecting us to relationships and family.

CSRed is, of course, the colour of blood, and also in Japan there is a fable that a red string links people though time to their destiny. The legend says that a thin vein connects the heart to the pinky finger. And a red thread then connects from your pinky finger to your future lover. The red string may become tangled, postponing the meeting point, but it can never break. It's to do with fate and about the strength of human relationships. Other Asian cultures have similar legends.


Exhibition view: Chiharu Shiota: Absent Bodies, Anna Schwartz Gallery, Melbourne (6 October–5 November 2016). Courtesy the artist and Anna Schwartz Gallery.
ZS

Do you think that there is a particular Japanese influence in your practice?

CSWhen I'm making art I'm not strongly thinking about being Japanese. Making art for me is always about looking for my identity. I'm doing this because I feel a need to do so. But of course my Japanese heritage is there in the background.
ZS

You often use objects in your practice such as keys and boats, which lend themselves to a symbolic reading. Are they symbolic objects?

CSI collect objects that people use every day, such as keys, so they are connected to human life. The chair is also an everyday object. Boats are not, but the boats I use in A Key in the Hand are the gondolas of Venice, and are therefore connected to an everyday life particular to Venice.

I never use new materials. I use something that someone has used before because it has a story. A memory. The key—it's kind of a story. I never met the person who used this key or chair, but their memory comes through the object. It is a link to their existence …
ZS

Can we talk about these works behind us, State of Being? There are three cube forms bound with your red webs. One contains keys and the other two feature miniature books. It is similar to Absent Bodies, but we are standing outside of it and it's shrunk down in a sort of Alice-in-Wonderland way.

CSIt's also a story. In the tunnel of Absent Bodies there is an implied story. Maybe the two people on the chairs are speaking to each other. And in these books there are real stories. I found them in a shop and I find them very beautiful.
ZS

When you were an exchange student in Canberra in 1993 and 1994 you did a performance called Becoming Painting (1994) where you wrapped yourself in white canvas cloth and stood in front of a wall also covered in canvas. Paint was then poured on you and the canvas behind you, immersing you with your material surroundings. Could you talk about this work?

CSAt that time painting for me was just colour on the canvas and I couldn't connect my life to it. It was very hard to paint. I wanted to find another material that I could call my own. Then I had a chance to come to Australia as an exchange student. I had a dream that I was inside a painting and I began thinking about how I could improve this painting. So from this dream I made a painting and put myself in the work.
ZS

You also have another exhibition running at the moment, The Home Within, which is part of the Melbourne Festival. It comprises an installation that will travel to different places in the city. I feel that this ties into another re-occurring theme in your work—that of the home.

CSFor this work, I am making a big house with red string that people can walk through. As the string weaves inside and outside, so people can weave inside and outside of the house. Human beings leave home but always come back. Home is where the heart is.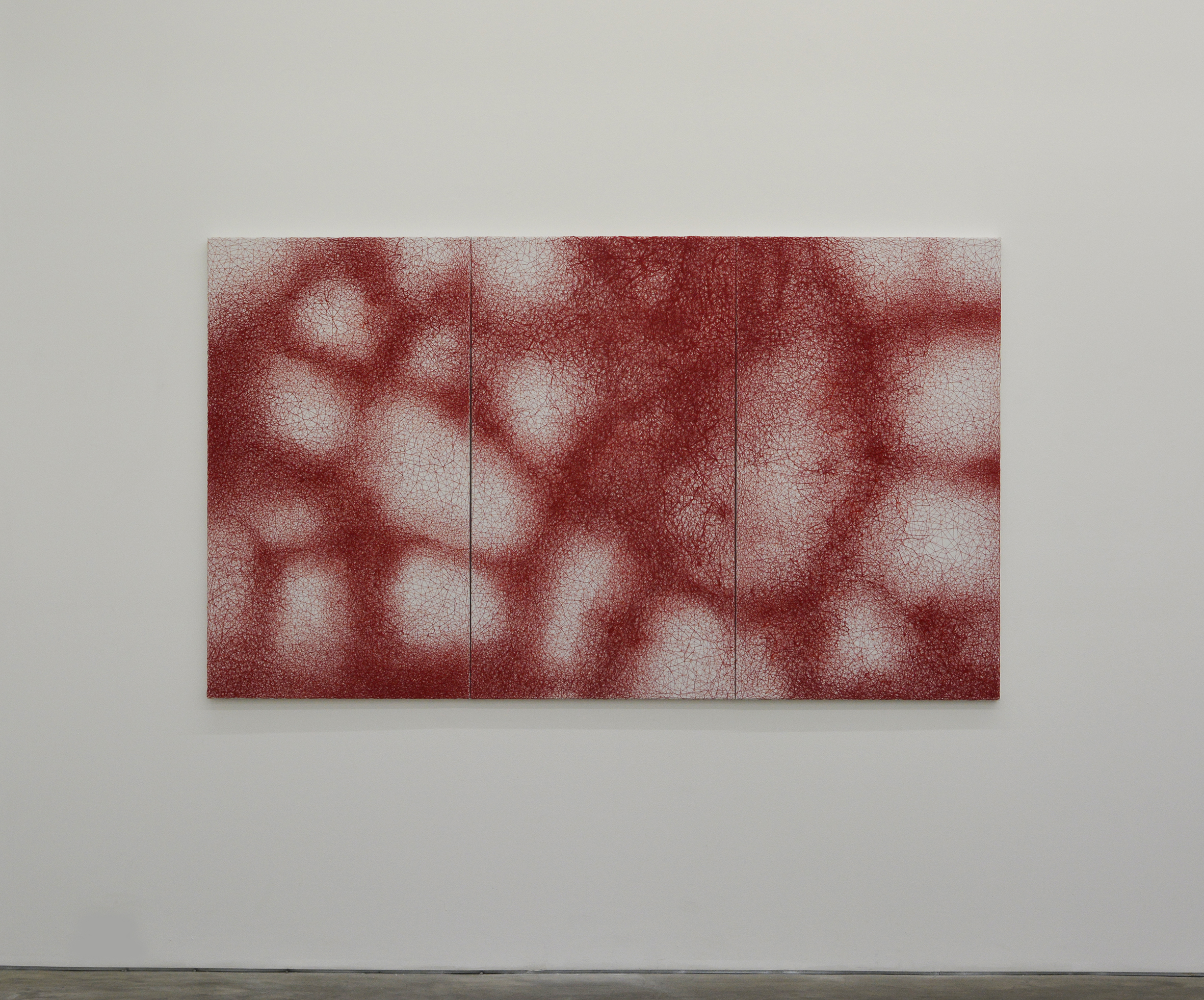 Chiharu Shiota, Skin (2016). Red thread on canvas. Triptych. 140 x 80 cm each. Exhibition view: Chiharu Shiota: Absent Bodies, Anna Schwartz Gallery, Melbourne (6 October–5 November 2016). © Chiharu Shiota. Courtesy the artist and Anna Schwartz Gallery.
ZS

What is the reason for the work being in multiple venues, as opposed to one space?

CSI think it is nice that it's moving. People are also moving and it is appropriate that the house is also in different spaces.
ZS

When you were in Germany in 1996 you were a student of Marina Abramović. Can you talk about this?

CSThat was a good experience. We (the group of students) fasted: just drinking water. There was no eating or speaking for one week. The reason for this was so we could access what is the most important thing inside of us.
ZS

What did you find?

CSIt was 5am in the morning and everyone was sleeping. And Marina, she woke me up and gave me a piece of paper and asked me to write one word. Just one word. As I hadn't eaten anything for one week, everything did not appear clear. But one word was coming and it was 'Japan'. Maybe I wanted to go home.
ZS

And then you made the performance work Try and Go Home (1998) where you dug a shallow cave in the side of a cliff, which you tried to lie in but continuously fell out of. Do you think there are parallel ideas with The Home Within?

CSYes, yes.
ZS

The Home Within is comparatively peaceful …

CSIt's not about myself. It's more global.
ZS

So you are thinking about everyone in the world as opposed to your personal experience?

CSYes
ZS

Emotions and senses are a strong part of your practice …

CSYes emotions and moving and feeling are important. I think it is the job of art to move and change feeling. So to convey a kind of feeling. I think art is primarily about the eye. It is important to see art, and then have feelings, and then see meaning. Not come up with the meaning first. —[O]