Feature
'The future is already here – it's just not evenly distributed': A report on the 20th Biennale of Sydney.
Mella Jaarsma, Dogwalk, 2015–16. Textile, leather, iron, stainless steel, stuffed animals dimensions variable, 12 costumes, approximately 200 x 100 x 100 cm each. Installation view of the 20th Biennale of Sydney (2016). Courtesy the artist and ARNDT Fine Art Created for the 20th Biennale of Sydney. Photograph: Leïla Joy.
Stephanie Rosenthal, Artistic Director of the 20th Biennale of Sydney is interested in thinking about what defines us today. Taking cue from science-fiction writer William Gibson, the title of the biennale suggests that technology has already surpassed our idea of what the future could be. Rosenthal wants us to interrogate our physical and virtual experiences of the world, and the potential tensions and connections formed between these individual and collective experiences.
Rosenthal is aware that a conversation surrounding technology is based on privilege and is therefore not possible to be presented as a universal conversation. Instead of shying away from this discomfort, she desires to antagonise this idea further, to the point where the disparity itself becomes central to the conversation. She recognises that access to the Internet, and a great deal of other basic resources are still not realities for all in the world. Indeed, in her catalogue essay she notes that access to these resources are pre-determined by historical and current geopolitics and economic power structures. She says: "I always feel that if I say 'we' I shouldn't forget that I am very privileged and that there are still so many people that don't have access to Internet." She is right, less than half the world's population today has regular access to internet, and this, like much else in our neo-liberal context, is not evenly distributed.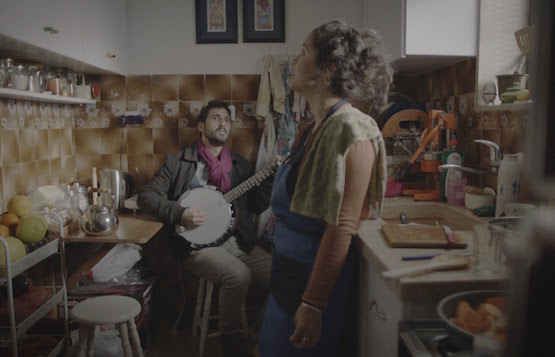 Jumana Manna, A magical substance flows into me, 2015 (video still). HD video, 70 mins. Co-commissioned by the Sharjah Art Foundation and Chisenhale Gallery with Malmo Konsthall and the Biennale of Sydney. Courtesy of the artist and CRG Gallery, New York.
These questions of evenness and distribution come into play throughout the exhibition by way of curatorial propositions, realised as 'embassies of thought'. The work Rosenthal commissioned in these spaces were largely performative, ephemeral or digital in nature, drawing us back to the politics within her curatorial theme. Here Rosenthal has adopted a fictional diplomatic logic, as a sort of curatorial framework for re-imagining the sites of the biennale. This decision was activated through renaming biennale sites, for example, for the duration of the biennale the Museum of Contemporary Art instead becomes the Embassy of Translation. This curatorial decision resonates closely with a work by prominent Australian artist Richard Bell, and his work: Aboriginal Tent Embassy. The work features in the biennale, and is reflective of the conversation Rosenthal wants us to have about privilege. Bell's work is a re-staging of the original Aboriginal Tent Embassy, and pays homage to the worlds longest running protest. The original embassy was first formed by indigenous activists on the lawn of Parliament House, Canberra in 1972, and continues to be a powerful catalyst in fostering indigenous activism.
Richard Bell, Embassy, 2013. Exhibition view (2013) at the 5th Moscow Biennale, Moscow. Courtesy Moscow Biennale Art Foundation, Moscow. Photograph: Yackov Petchenin.
All of the offsite projects of the biennale have strong site-specific connections. An excellent example of this was a project by Brisbane-based Indigenous artist, Archie Moore installed in the Royal Botanical Garden. Moore's work: A Home Away From Home (Bennelong/Vera's Hut), is an re-enactment of a historical monument built by Captain Phillip for the early Indigenous diplomat, Woollarawarre Bennelong. The work is installed on Tubowgulle on Gadigal land, and an area that is commonly known as Bennelong's Lawns, it is a quiet, grassy area between the Government House, and the Opera House, facing out to incredible Sydney Harbour views. Moore's work intelligently interweaves personal and collective histories.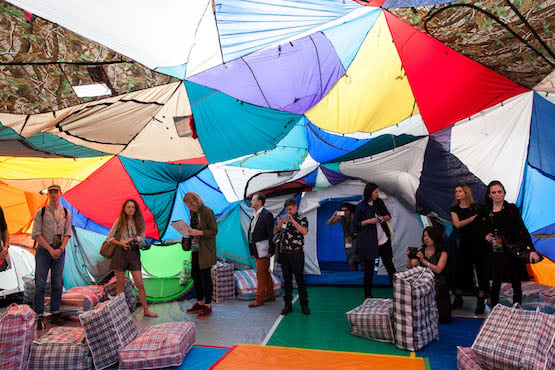 Keg de Souza, We Built This City, 2016. Tents, tarps, hessian sacks, piping, plaid laundry bags, various found and recycled materials, dialogue, tour program, dimensions variable. Exhibition view of the 20th Biennale of Sydney (2016). Courtesy the artist. Created for the 20th Biennale of Sydney.
Keg de Souza's work at Redfern Community Centre, was another highlight. Public and private are here put to play, with the tent-like structure referencing displacement and temporary communities. The work also acts as a hub for an engaging public program schedule focused on fostering direct participation between biennale audiences and the Redfern community. The Redfern School of Displacement is a stream of programs engaged with important topics including; gentrification, housing-crisis, homelessness, dispossession, displacement and forced migration. Further towards The Block in Redfern is Daniel Boyd's mirrored installation: What Remains. The work is hundreds of mirrored dots, dispersed across the surface of a wall. This intervention encourages us to at once critically examine ourselves, both collectively and individually; this activity has particular resonance in Redfern, a region that is rapidly facing the realities of corporate gentrification.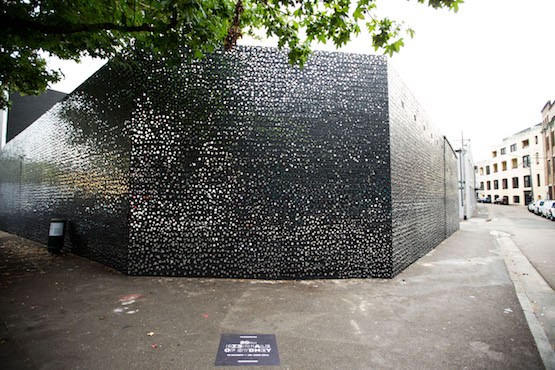 Daniel Boyd, What Remains, 2016. Site-specific installation, mirrored disks, synthetic polymer paint, dimensions variable. Exhibition view of the 20th Biennale of Sydney (2016) at Redfern Wall. Courtesy the artist, Roslyn Oxley9 Gallery, Sydney; and Station Gallery, Melbourne. Created for the 20th Biennale of Sydney.
Noteworthy artistic contributions from the biennale more widely include Turkish artist Nilmar Güres, who explores the politics behind uneven distribution of technology and infrastructure in her video work: Open Phone Booth. The work is set within small village in the region of Bingöl, Turkey, a contested area between Kurdistan and the Republic of Turkey which has faced ongoing conflict, and contestation of resources. Singaporean-based artist Heman Chong explores notions of exchange, value and power structures, but also the dissemination of publishing more widely in his Mobile Bookstall work. His Embassy of Stanislaw Lem pays homage to the Polish science-fiction author, who Chong believes should be re-read and re-considered within our current context. The international artist and curatorial collective and exhibition project: Don't Follow The Wind, presents new work at Carriageworks. Their work explores the radioactive evacuative area surrounding the Fukushima Dai-ichi Nuclear Power Plant, owned by TEPCO. Their work connects politics from Japan, to Australia, evoking a heightened awareness of the energy-based issues we face here, locally.
The Art Gallery of New South Wales presents the strongest institutional space, re-named as the Embassy of Spirits for the biennale. The space engages with work referencing ideologies from Buddhism, radical Islam, neo-conservative Christianity or animism and nature-based belief systems, artists in this space explore how different believe structures relate to power structures and have redeployed for other purposes. Engaging work from this embassy includes contributions by Dutch born, Yogyakarta based, Mella Jaarsma, Palestinian artist Jumana Manna, and Japanese artist Taro Shinoda, all of which who actively problematised the the embassy theme.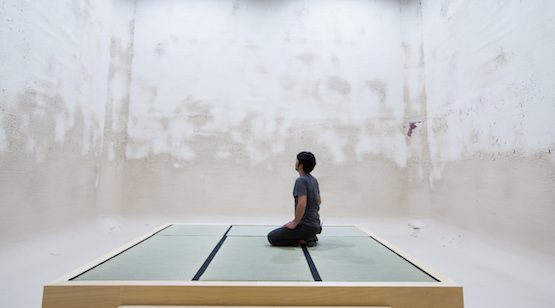 Taro Shinoda, Abstraction of Confusion, 2016. Clay, pigment, ochre, tatami mats, dimensions variable. Exhibition view of the 20th Biennale of Sydney (2016) at the Art Gallery of New South Wales. Courtesy the artist. Created for the 20th Biennale of Sydney.
The 20th Biennale of Sydney was a success due to strong, timely and engaging work by artists, and is on the most part, a curatorially coherent exhibition. However the biennale did not completely realise its intention of the embassies functioning as spaces for inclusive, neutral and non-discriminatory exchange and reflection. The curatorial team chose to adopt certain diplomatic and governmental language, but this decision was inadequate because it overlooked, and downplayed certain elements of the language it chose to employ. This use of language was problematic because in fact, an embassy is representative of a single nation-state, within another nation-state. Embassies do not represent multiple nation-state entities. So, far from a universal safe-zone, in fact embassies privilege some over others, depending on whom, and what the embassy is for.
One's entry and treatment within an embassy is determined by one's own country of origin, and this unevenness is not an ideal context for an international art exhibition, with viewers from many different countries and backgrounds. Precisely, here the biennale's embassies slip into representing the current power systems of international geopolitics more widely. Perhaps Rosenthal was hoping to circumnavigate this particular reading of an embassy. However, when the language is so ingrained within our reading of international geopolitics, the curatorial team could have done better to articulate the unevenness that exists within the very fiction they chose to adopt. —[O]