Michael Elmgreen & Ingar Dragset. Image: Sang Tae Kim / PLATEAU, Samsung Museum of Art, Seoul, Korea
Subversive humor is at the heart of Michael Elmgreen and Ingar Dragset's widely divergent contemporary works that often include the transformation of architectural spaces and sculpture. The Scandinavian duo met in the mid-nineties at a nightclub in Copenhagen, lived together for a decade, and still collaborate today from their respective homes in London and Berlin.

Their surreal and provocative works range widely in scale and content from creating an apartment inhabited by a fictional unsuccessful retired architect at London's Victora and Albert Museum, to setting up a fully stocked fake Prada store in the middle of the desert town of Marfa, in Texas. And for the Fourth Plinth commission selected by the City of London in 2012, they installed a bronze statue of a young golden boy urging his rocking horse forward at Trafalgar Square in London.

The artists' success lies in an inimitable blend of thought provoking socio-political critique and theatrical performance without deviating into self-indulgence—a tricky path to tread when setting out to question the authority and structures of society, politics and the art market itself.

In the first of a two part Ocula Conversation, Michael Elmgreen and Ingar Dragset discuss how their latest project transforms PLATEAU, Samsung Museum of Art into an airport, how it offers visitors an opportunity to travel in their own minds, and why intrinsic beauty bores them.
What made you first think of an airport within a museum?
When we first visited the venue in Seoul, we both thought that the architecture reminded us somehow of a micro-scaled airport. The curved, giant glass panes, the steel columns, the entrance and the stone flooring. This part of the Samsung Museum, which is used for temporary exhibitions, is called PLATEAU. This is how Deleuze and Guattari's "Mille Plateaux" sprang to our minds—the endless possibilities presented in the book seemed to mirror those created by the infrastructure of airports—the rhizomatic character. That inspired us to title the show: Aéroport Mille Plateaux.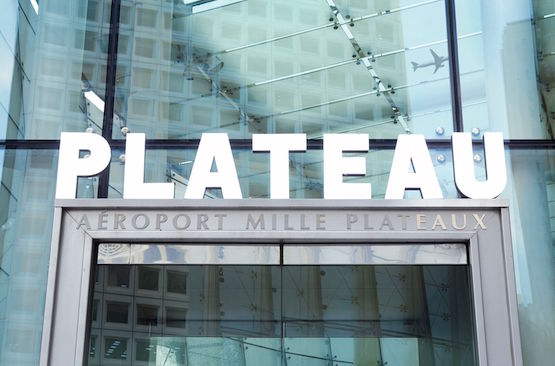 PLATEAU Entrance. Image: Sang Tae Kim / PLATEAU, Samsung Museum of Art, Seoul, Korea
The details are extraordinary and meticulously recreated. How long did it take to create?
An exhibition like this is under preparation for a few years—from the point when the curator first addresses us until everything is up and finished and we have the opening. The actual installation took about a month and we probably spent a year or so on various fabrications and shipping. Some parts of the show are designed to be site-specific and were produced on location, whereas other parts were made in different workshops in Korea. Some works were fabricated in Berlin and some parts of the exhibition consist of already existing artworks, which are on loan from various collections.
Do you see an art gallery and an airport as similar in any way?
We started to think about the definition of transitional spaces and the similarities between airports and other public institutions, like museums. And the idea of non-places played a role as well, as defined by Marc Augé. There are some similarities between art galleries and airports that made us ask: why do such places look the same all over the world and why do people always seem to behave in the same way in these places —stripped of their identities within these settings? We have previously been interested in revealing the control mechanisms embedded in public designs, so in that way, our fictional airport can be seen as a natural continuation of these investigations.
What role do your own artworks play in the space? Do they change in a new context bringing a new narrative?
It is important for us to generate new meanings in the existing works by letting them become part of different contexts and groupings. With Aéroport Mille Plateaux, the exhibition format itself becomes an artwork and the singular works become its material. Such a method is of course very far from any idea of the "masterpiece" or even the autonomy of the artwork. Shifting the setting from a gallery to an airport allows each work to be seen and approached with a new perspective. For example, He (Black) seems to be filled with even more longing for the outside world when positioned gazing out the windows of the departures lounge, and the work also becomes a comment on the instrumental use of public sculptures in places like an airport.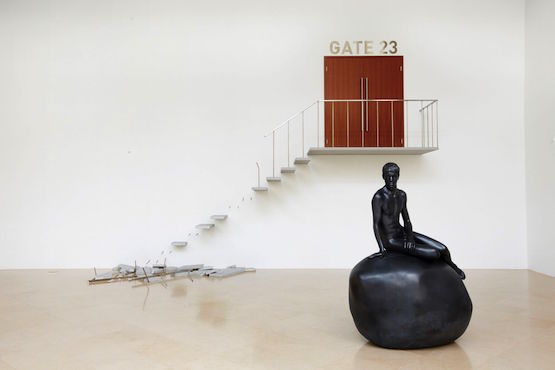 Exhibition view, Elmgreen & Dragset, Aeroport Mille Plateaux, 2015. (L-R) Gate 23, 2015. Aluminum, teak, styroloam, iron, concrete, profile lettering. Doors: 220 x 180 x 8.5cm. Stairs: 355 x 6775 x 120cm. Courtesy the artists; He (Black), 2013. Epoxy resin, polyurethane cast, metal lacquer (copper), black patina. 190 x 160 x 120cm. Unique (series of 5 unique versions, 1AP). Courtesy Galerie Perrotin. Image: Sang Tae Kim / PLATEAU, Samsung Museum of Art, Seoul, Korea
Do you see this work as pure criticism or is there a positive message there too?
There is no specific storyline or intended message at play, but there is a general feeling of abandonment and loneliness that usurps the experience. The service points are unmanned, the destination board never changes, the check-in counters seem to stay closed, the bar counter is turned inside out so the two bar stools look imprisoned, and there is only one bag spinning on the luggage belt, never to be picked up.
You often work with institutionalised spaces; is this exhibition a continuation or evolution of the theme?
Yes, we've dealt with the constraints of institutionalised space since the beginning of our collaboration. We first addressed this in our performance 12 Hours of White Paint/Powerless Structures Fig. 15 from 1997, when we painted a white cube gallery space with white paint over and over again, from 12 noon until 12 midnight, occasionally spraying down the last layer of paint with a high-pressure water hose. Sometimes, a structure collapses, just by adding more of the material that constitutes it. Several times now, and also with this exhibition in Seoul, we have shown how easily the look of one particular institutional architecture can be substituted with another, just by adding or subtracting a few key elements. We did that at the Serpentine Gallery in London with our Welfare Show and also when we transformed the Bohen Foundation in New York into a subway station. What we have done at PLATEAU is actually not such a big transformation. It's not rebuilding rooms to change the whole architecture. It's just adding a few elements to the existing architecture that actually make it quite a lot like an airport.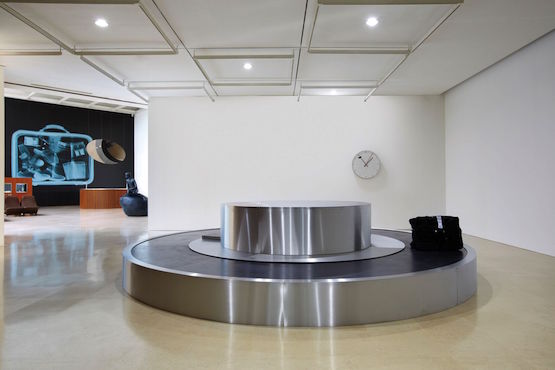 Exhibition view, Uncollected, 2005. Aluminum, wood, rubber, travel bag, flight tag. 500 (diameter) x 100cm. Edition 3 of 3. Courtesy Galleria Massimo De Carlo. Image: Sang Tae Kim / PLATEAU, Samsung Museum of Art, Seoul, Korea
Is airport security such a bad thing? Surely a holiday weekend is enough of a nightmare without a more ambiguous 'artistic' experience on one's travels?
We were drawn to doing an artistic take on the airport because it is an interesting entity in terms of its social functions, its status as a place where special laws apply. It is somewhat like a non-zone, a place that we only pass through in order to reach another destination. Also, the museum is a transitional space like the airport, a place where you are not meant to settle down or spend more than a couple of hours. Instead of traveling physically, the museum offers visitors a chance to travel in their minds.
Your projects often have the audience play a part in a sort of script. How does this work differently here where they seem to be more actively immersed?
Sometimes we work with an unwritten storyline, like in our exhibition The Collectors at the 2009 Venice Biennale, where we turned the Danish and Nordic Pavilions into the homes of wealthy art collectors, and the audience could make up a story based on the objects, artworks, and furnishings in the "houses." For Tomorrow at the V&A, we wrote an actual script to accompany the show, which was available for visitors to take away for free. In this setting in Seoul, sound plays a very important role in enhancing the airport environment. The endless announcements about delayed departures and boarding calls coming from the speakers really make you believe that you're stranded in an airport.
Must art have a social message to be relevant?
Intrinsic beauty bores us. That doesn't mean that a work of art has to be "ugly" if it implies a social message. It is important for us that the aesthetics and the message in a work come together in a way where they feed off each other, or contradict each other in a thrilling way. But art doesn't have to fulfill any special purpose, we think. In today's highly efficient western civilisation we need activities that don't justify themselves, don't lead to any specific results or benefits. That's the noblest role of art. To reject responsibility, to exist beyond any logic, to not just be reduced to becoming a reaction to something else.
Exhibition view, Elmgreen & Dragset, Aeroport Mille Plateaux, 2015, at PLATEAU. Image: Sang Tae Kim / PLATEAU, Samsung Museum of Art, Seoul, Korea
What do you enjoy about creating and re-creating immersive architectural spaces and why did you specifically choose the timing of the 1960s high modernism style?
We enjoy being able to work with the meaning of an entire space, considering all aspects: its location, its architecture and social structure, the desires and fears embedded in the interior design, the behavioral patterns it encourages, the associations it triggers, and to fill it with objects that give away clues to beautifully weird real life identities. Mid-20th-century design is still interesting to us, because it's a utopian relic from a time of optimism and belief in the future. It was a naive time in many ways, but one that is interesting to juxtapose with today's passive-aggressive paranoia.
What are you working on now?
Right now we're preparing two gallery shows, opening during Frieze in London this October. One at Victoria Miro's Mayfair gallery and one at Massimo De Carlo's, which is just around the corner from Miro's. Both shows deal with construction of identities, each in their own way. We have also already started production for our big exhibition in Beijing, which opens at the UCCA in the end of January. —[O]
Aéroport Mille Plateaux
PLATEAU, Samsung Museum of Art, Seoul
July 23-October 18, 2015