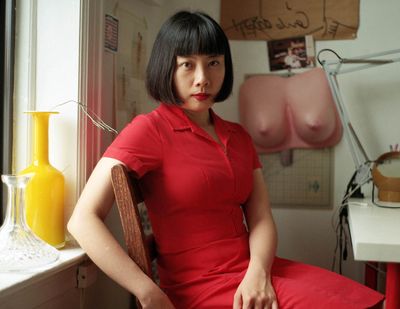 Pixy Liao. Courtesy the artist. Photo: Nathalie Guio.
In 2007, while still at university studying for her MFA in photography, Pixy Liao met her Japanese boyfriend, Moro. As Moro was five years her junior, they fell naturally into male submission/female domination roles, and their relationship sparked the ongoing series, 'Experimental Relationship' (2007–ongoing), which challenges gender roles. In photographs like Massage Time (tribute to my favorite album cover) (2015), Moro is seen massaging Liao as they both lock eyes with the camera; Moro, straight-faced, Liao, pleased. In Ass Drumming (2015), the artist holds her naked boyfriend over her lap; hand posed to slap his bare behind. It's Never Been Easy to Carry You (2013) sees Liao wearing Moro, draped over her shoulders, again locking eyes with the camera.
Born and raised in Shanghai, China, Liao's images reframe her early conservative conditioning that men should be more educated and older. Moro and Liao found this to be mirrored in Japanese culture, and principally throughout most societies. By using her own body throughout the series, Liao manipulates the documenting of women in 'innocent' or 'vulnerable' positions; instead, she holds the control, where Moro becomes the exposed subject. Such dynamics have continued in Liao's installations and sculptures, such as Soft Heeled Shoes (2013). This artwork saw the artist design a pair of high heels with a cast of her boyfriend's penis as the heel. The soft 3D heel means Liao has to walk on her toes, meaning she can never rely on the penis-shaped heel to support her.
Pixy Liao, Massage Time (tribute to my favorite album cover) (2015). Courtesy the artist.
Liao's time studying at the University of Memphis also inspired her work, developing a love of colour and light that flows throughout the photography series, as did her experience in graphic design using geometric forms. These components are seen in the active breakfast scene of Start your day with a good breakfast together (2009), where the pink of Liao's clothing contrasts the sharp orange from the papaya balancing on Moro's groin. The papaya, along with two slices of bread, a cup of juice, and half a grapefruit perched on the table, provide textual imagery that contextually pull the audience into the scene.
Pixy Liao, Start your day with a good breakfast together (2009). Courtesy the artist.
The couple live in Brooklyn, New York, where Liao has observed a social and political climate that has been affected by Donald Trump's administration. Liao's upcoming project, 'Evil Women Cult' (2019–ongoing), references Trump's 'nasty woman' statement about Hillary Clinton by looking at 'Evil Women' throughout history. The series includes the installation Temple for Her (2019) dedicated to Wu Zetian (624–705 CE), the only female emperor in the history of China. The work centres around red stairs, leading up from a woman-shaped pool filled with a blood-like substance; Liao remembers Wu Zetian's lonely path to the top in the shrine-like artwork, building towards an aesthetic religion.
Currently, Liao is exhibiting a two-room show of mixed photos from 'Experimental Relationship' and 'For Your Eyes Only' (2012–ongoing) at Les Rencontres d'Arles, in Arles, France (1 July–22 September 2019), and will show her sculpture and video piece Breast Spray (2015) in the group show, The Kind Stranger at the new UNArt Center in Shanghai (23 August–20 October 2019). On 7 September, she will stage a pop-up show at Chambers Fine Art in Beijing, China, which will include 12 photos, and will also perform with Moro as PIMO—a band made up of the two.
In this conversation, Liao discusses what drives her practice—framed continually from a viewpoint that disrupts what should be expected from her.
Pixy Liao, Temple for Her (2019). Exhibition view: Temple for Her, Flyweight, New York (20 January–1 March 2019). Courtesy the artist and Flyweight.
EW

Let's start from the beginning—when did you first begin practising art?

PLI consider my practice to have started after I graduated from my MFA in 2009. Before then, I was a student, so I don't think it really counts. I grew up in China and never studied art because it's not considered to be something worthwhile that kids should put their time into. After graduating from university in China, I very quickly found out that I didn't want to do an office job, so I became a self-taught, freelance graphic designer, so that I could work from home.

After working for a couple of years, I realised I didn't want to be a graphic designer, because I didn't have control over my own creativity. I wanted to do something else to change my career so that I could have more freedom and creativity. I decided to go to the United States so I could study photography in Memphis. It was very late—I didn't begin studying art until I was 25.
EW

How did you pick your university in the United States?

PLI went to Memphis, Tennessee, in the beginning. That was a random choice, because I didn't know much of the United States. I picked Memphis because of Elvis Presley; I thought that because he was from there, it must be a fascinating city with many musicians.

Pixy Liao, China Doll (2008). Courtesy the artist.
EW

That's an unusual way to pick a university! Is there still a big music scene there? Did Memphis inform your early works?

PLOh yeah. It's a significant city for blues music. A lot of legendary, touring musicians come from there, and then there are a lot of cool bars where you can listen to excellent blues music. In the beginning, I took landscape photography, and I think music did influence my work, but through the landscape—it just fits the feel of the place. The bars have this kind of old aesthetic, with very strong colours like blue and pink, combined with the vibe of the musicians playing. This tonal palette influenced my idea of photographing interiors; I realised I love colourful spaces.
EW

The love of colour is obvious in your series, 'Memphis, Tennessee' (2006–2008). Do you find yourself drawing back to those experiences in Memphis in your current artworks?

PLI developed my love for colour photography in Memphis. The light was usually abundant and sunny, which made images very colourful and helped establish my favourite style. I continued with the style of bright, colourful images after the 'Memphis, Tennessee' series.

Pixy Liao, Disco (2008). Courtesy the artist.
EW

How did the 'Experimental Relationship' series begin?

PLMy partner, Moro, and I started dating in the second year of university, and after we were together for one year, I began 'Experimental Relationship', in 2007. It was very natural in the beginning. I used photography as an excuse to get to know Moro by asking to take his photos. After he became my boyfriend, I always used him in my photo assignments as a model. I found I was treating his body as a prop in my photographs; I thought it was a very natural thing for me to do, and he always said yes. Then other people noticed that being photographed as a prop in a photograph is not something a boyfriend would usually agree to, and I realised that maybe the relationship itself is more interesting. So, I started to take pictures of us together.
EW

Something I've seen written about the project is how it subverts heteronormativity. Was that a conscious act for you?

PLI didn't really think that way initially, because I feel like our relationship was just naturally formed the way it was. For me, it's more of a way to explain how natural it is for us, rather than trying to support thinking based on a stereotype. I'm just trying to explain the relationship that I'm having right now.

Pixy Liao, Photographer and her muse (2014). Courtesy the artist.
EW

How has the reception to your work been?

PLFrom what I've seen, reception takes time. In the beginning, for a very long time, it was hard for people to understand what I was trying to do, because as an Asian couple in the United States, we are a minority. But, more women, especially younger women, are taking notice of my work. Those are the people who support my work and talk about it in many different ways. The work has slowly been recognised, especially in the United States, where we have had the Women's March and the #MeToo movement. People are paying more attention to women artists in general. I feel that in recent years, my work has had a lot more exposure than before, maybe because of how our society is changing.
EW

Do you feel like there's been quite a shift in the time that you've been practising?

PLOh yeah. Totally.
EW

You've talked about a link between the reception to 'Experimental Relationship' and being an Asian couple in the United States. Do you think race plays into these perceptions of relationships?

PLIt depends on who is looking at the photos, and their personal reception of the work. If the audience is not Asian, and if they want to distance this work from their real life, they will say, 'Oh this is an Asian thing.' But I don't think people overthink race in my work. For me, there is a lot of influence coming from the Chinese and Japanese cultural perspectives of our relationship.

Pixy Liao, Holding (2014). Courtesy the artist.
EW

Do you find that your photographs become a way of sharing your experience?

PLI think they talk more about my experiences as a woman in general.
EW

Throughout 'Experimental Relationship', your partner often holds the shutter release for the camera. Can you describe why you chose to do that?

PLWell, in the very beginning it was because I didn't have enough power to squeeze the bulb to release the shutter. I physically couldn't take the picture, so I would give it to my partner because he has 'manpower'. Very early on, I realised this is actually an extension of control. In one photo he presses the bulb, and the extension cable is coming out, so I feel like I'm manipulating him like a remote control.

There is a connection between the viewer and the image, through the extension cable. It provides a clue of how we work, because all the photographs are of just the two of us together, and he also has some control in the image-making by deciding on the exact moment to take the photo. It's just like a connection; it's like a line going through us.

Pixy Liao, How to build a relationship with layered meanings (2008). Courtesy the artist.
EW

The composition of each photograph is distinctive—how do you decide on the configuration?

PLI was influenced a lot by film because, at that time, I was also studying filmmaking in grad school. I'm very interested in all kinds of images, so a lot of the photographs reference pictures I've seen before. Sometimes it can be classical art paintings or popular images from mass media.

The composition is related to my early experience as a graphic designer. Composition is quite important, and I like particular types of structure with a lot of geometric shapes.
EW

Are there any artists in particular, or cultural theories that inform your work?

PLI like artists who make work based on their own lives. There are two female artists who do this, and who have influenced me a lot; one is Sophie Calle, and the other is a photographer called Elina Brotherus. When I see their art, I feel like I know the artists themselves and feel connected to them as human beings. Their work speaks to something in me.
EW

Why did you choose photography to begin with?

PLI thought it would be a good job for a good life. In the film Blow-Up, the main protagonist is a fashion photographer. When I first watched the film, I really liked the look of his lifestyle. He appears to have so much freedom, and make good money, so I decided I could do photography. I really didn't think too much about it.
EW

Do you still feel that way?

PL[laughs] No, it's just a film. I don't actually make a lot of money from it.

Pixy Liao, Golden Mouse (2014). Courtesy the artist.
EW

It's perplexing for me, being based in Australia, to think about the art climate in the U.S. What's the experience like being an artist there at the moment?

PLI live in New York, and there are just so many artists here. The art climate is very competitive. I think it is more challenging to get funding right now in the United States, maybe because of the Trump administration; but at the same time, it's uniting people. We are seeing a community of artists that are working hard trying to get more done. There is more power in the people.
EW

How does your practice relate back to your home country of China? Is there a dialogue between the two countries?

PLMy relationship with Moro is similar to the relationship between the two countries. We are so similar, but at the same time, we also think very differently. Sometimes we're very intimate, and sometimes we fight with each other.

What I'm trying to do with my photographs is to learn how to live together, and I hope this is something that can be the same for other countries too—how to just live peacefully with each other.

Pixy Liao, Exam of a Kiss (2015). Courtesy the artist.
EW

I guess that's the thing about relationships—there is an understanding that you're not always going to agree.

PLThe relationship is always changing. Sometimes it's good, and sometimes it's not.
EW

How does the art fit into your relationship with your partner?

PLI think it's very connected. For us, making art together is a very special thing that we do as a couple—we see the art-making as part of our lives. It's very similar to making food together. It's something we do very often.
EW

Why did you choose to include the body in your works?

PLI'm very interested in image storytelling, and after studying landscapes when I first started photography, I always felt like there were characters missing in the space. The human body is an essential element in the framing. I think when you see a human in the picture, you feel a lot more than when you see, say, fruit on the table. It's a very different feeling. I'm always interested in how the human body is represented in photographs or other art forms. It always invokes more of my emotions as a viewer.
EW

Have you been developing any other projects?

PLI'm thinking about making a more conceptual artwork from my perspective as a woman, that doesn't focus on relationships. I started the project 'Evil Woman Cult' after I realised there are many powerful queens in world history, but they tend to have bad names because they were ruthless women. I only recognised this much later. I wish I had accepted them as my role models from early on. So, I want to dedicate this project to these women, and create a religion for all the female leaders in history.

Pixy Liao, Temple for Her (2019). Exhibition view: Temple for Her, Flyweight, New York (20 January–1 March 2019). Courtesy the artist and Flyweight.
EW

Is that something you want to see in the future? For more women and girls to be able to look up to these women in the same way?

PLYes, I am thinking about when, as a teenager, I couldn't accept these powerful women as my role models because they were considered to be evil. I hope that little girls in the future will know who these women are and what they did and how powerful they were. I think many other women are thinking about the same things. It's time for a change.

On 5 September, I will have a performance lecture together with Moro, about three evil women of the past, present, and future, at UCCA Center for Contemporary Art in Beijing.
EW

How has your work been received in China?

PLIt depends on who is viewing the work, but I don't think there's much difference to the kind of reaction that I get in the Western world.

When I've had the chance to show my work in public—in a photo festival, for example—the younger audience, especially girls, are quite interested in it. For the older generation, it depends on how open their mind is; sometimes they question my work, or they don't understand it. They don't know what I'm doing, and sometimes they might get offended. It depends on who is seeing it.

Pixy Liao, Home-made Sushi (2011). Courtesy the artist.
EW

How does your family feel about your work?

PLMy parents actually really support me now. That wasn't the case when I first started making my work. They were very confused, and also quite worried about the bias that I would get if I showed my work to other people. They always encouraged me to do something else, but I've been doing this for over ten years now. They have changed their mind and have slowly started to accept my work, and now, I think my dad is actually a fan of my photographs. Sometimes he will ask that I send him certain photos so he can share them with his friends. It took time for them to accept it, but now they genuinely support me.
EW

I can imagine that your partner is very supportive, as well.

PLOh yes.—[O]