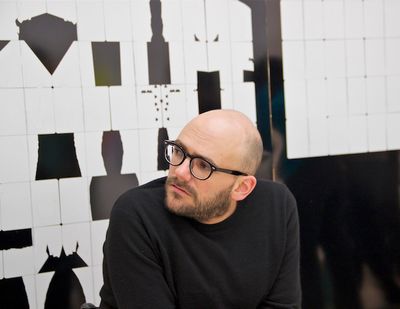 Ryan Gander. Courtesy the artist and STPI.

Constantly redefining his own practice and avoiding stylistic signature, Ryan Gander is a master of storytelling. Driven by investigation and questioning, he has worked across sculpture, film, writing, graphic design, installation and performance—his enigmatic environments resist clear interpretation, challenging the viewer and forcing us to re-examine our preconceptions.

The results of the artist's three-week residency at the Singapore Tyler Print Institute—the gallery and print workshop situated in Singapore—were recently the subject of a solo exhibition at STPI's exhibition space entitled, Portrait of a blind artist obscured by flowers
. Although bound by the medium of print, in typical Gander style the 32 works on display were incredibly diverse and covered a range of inspirations from artists like Gerhard Richter, Matisse and Hokusai, to his five year old daughter, police cars, to a stationery store in Singapore. Here Gander shares his experience of the residency, his views on the art market, the imagination, and conceptual art, revealing the complex processes and mechanisms at play in his work.
Some artists might find the collaborative nature of this residency testing but you are persistently working with new methods and are accustomed to working with a team of assistants. What drew you to the residency and what then were the challenges?
Richard Deacon did it in 2012, who is also with Lisson Gallery and was one of my tutors at art school. I didn't know what to make of the residency at first because I thought what would I do if it's all print? Exhibitions that I make work off a sort of bouncing effect, moving from one medium to another, one tense to another. Mixing all devices and mechanics to make you unsure of where you are. I thought what would it be like if you only had one element in the equation to control? I started out in the beginning thinking that I wasn't going to make all print but I ended up making everything in print, even though it doesn't look like it. The working methodology wasn't a challenge at all—it's exactly the way I work in my studio.
There was an interesting moment where I started thinking about import and export and about culturally significant things about this place and this country. I went to Tiong Bahru and started looking at the modernist housing estate and looked at Taoism and the way they burn paper. But I stopped and thought this is ridiculous—for an English guy to come to Singapore and make work about someone else's culture is just crazy.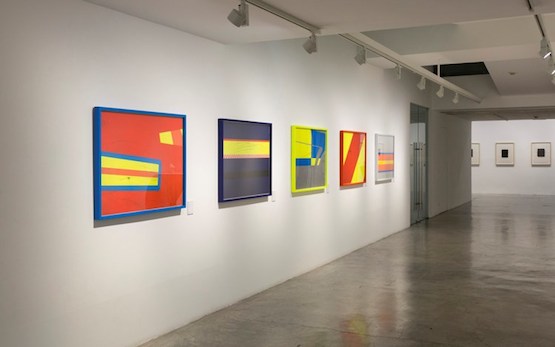 Exhibition view: Ryan Gander, Portrait of a blind artist obscured by flowers, STPI, Singapore (7 March–11 April 2015). Courtesy STPI.
After spending three weeks in the studio, the body of work you produced was then shown in a commercial exhibition. You are vocal about the art market and often use it as a trope in your work. What are your thoughts on the crossover between production and the gallery as a selling platform?
There are production places and there are research places. There always seems to be a bit of animosity around production places. I don't know why that is. It's like why everyone thinks that artists shouldn't go to art fairs and why the art market is disgusting. For me personally, I'd much rather engage with the art market and within that I can safeguard the legacy of my work by putting it in collections and earn my own money to produce more work. That's got to be better than applying for public money and lottery money with work that doesn't sell because no one actually wants to see it. The art market is a brilliant filter for the quality of art.
The works in your exhibition Portrait of a blind artist obscured by flowers draw inspiration from many sources yet the overriding concept is the history and mechanics of printmaking and the institution itself. Could you tell us about it?
There's only one place like this in the world that does all these different processes under one roof. If you look at the list of artists who have been here before—Robert Rauschenberg, Jasper Johns—it's pretty significant. But none of my work ever really has a subject. It's more about the framework and the way it is articulated—the delivery of it.
I wanted to make something that would be an archival process of the history of the institution. I would be like a librarian or a custodian, taking a supportive role that relates to the historic. It's also about the economics of printmaking. When we think about prints we think about the cost of the object and the size of the paper. Often, strangely, colour prints are more expensive than black and white. This work, for example, [Crooked finance... Gradient economy... Every colour left…] is 3,000 pounds because it has been screen printed 30 times. The first one has been screen printed once so it is only 100 pounds.
I also started thinking not only about the resources of materiality or size and scale but the geographical responsibility of shipping, labour force, the cost of work, and the value of specialism. A masterprinter has more knowledge than a junior printer, for example. There are about 20 amazing technicians that you get for the whole residency. I'd start something and then I'd say, 'can I see what that looks like as a screen print?' and they'd come back and it's done. In the meantime, I have started on another trajectory. Usually making work is very frustrating and Phil—who runs my studio—gets frustrated that I start a new work or project before the studio has produced. There are over one hundred works in production at any one time.
Exhibition view: Ryan Gander, Portrait of a blind artist obscured by flowers, STPI, Singapore (7 March–11 April 2015). Courtesy STPI.
Do you have a list of ideas that you constantly work from? Are there any projects that you will never be able to realise?
I have many lists of ideas at different stages. I have one on my studio wall in Suffolk that is about ten metres long and three metres high. There are hundreds of reasons why things can't be made though. In those lists are things you couldn't ever conceive; there are space projects, books, projects that would bankrupt me and projects that would mean I couldn't see my family for ten years.
You once commissioned a short advertisement appearing to have been made by the government Department of Business, Innovation and Skills to foster 'Imagineering,' encouraging adults to nurture their imaginations. Where does your strong sense of imagination come from?
I don't know. I spent a lot of time in hospital when I was younger. When you are physically stuck to a bed for years I guess there is a sort of escapism associated with imagineering isn't there? If you could train your imagination to be highly tuned and you could get it to a speed where it's like flash-fire thinking, then I think you can actually do anything. I think for every situation—world famine for example—there is a really good creative solution. It's just that the human brain is a really limited organ. Sometimes you see flashes of beautiful things happen with inventions or clarity in design, but if you could use the whole power of the brain you could creatively think yourself out of any situation.
You are often termed a conceptual artist yet in many cases there is a deep respect for materiality in your work, unlike the Conceptual art movement that favoured ideas over the visual component, for example. What does the notion of conceptual mean to you?
I wouldn't say it's conceptual art. I think in ten years all art will be conceptual art. We call it that now because there is still loads of crap art that doesn't have any meaning. If it's only retinal and doesn't play with the blood and the brain then it isn't art. The word conceptual should only be used to refer to this movement in the 1960s and 1970s and then maybe the early 1980s where the artwork remains in the concept and it can't escape it's own shadow. People use the word conceptual now to describe artists who think. The whole point of art is to deliver discomfort and to deliver you to a place where there is uncertainty, where there aren't answers. Everyone wants stylistic signature so they recognise who it is by. They want thematics, they want understandable content delivered quickly and with singularity.
Do you feel as though once an idea or artwork has been executed that it is finished so you move on to the next thing?
No, I've done lots of series of works that I carry on too but it is conceptually entangled in the work. The ballerina series plays around with Degas' ballerinas. He made 32 so I have 32 variations. I've made about ten and that work won't be finished for maybe ten or twenty years. There will be a work made in 2056 for the Pavilion of the Esprit Nouveau, which is a building from the 1920s that was replicated in Bologna. There's a time capsule in a vault in the basement of a bank in Rome that will be opened. I won't be here then and that will be my last work. There's always a reason why. There's a reason for everything. As an artist, if you haven't asked every question then I don't think you should have the liberty of doing the job. —[O]