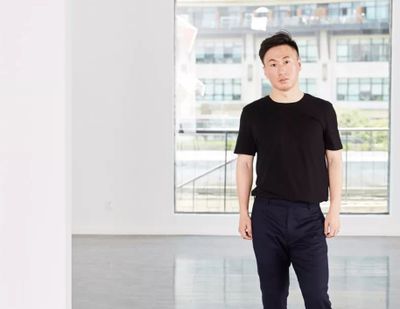 Simon Wang. ©️ Antenna Space.
In 2013, Simon Wang founded Antenna Space in Shanghai's M50 art district in response to a growing interest in contemporary art in his city. The diverse artists on the gallery's roster include Guan Xiao (known for her conceptual videos and installations), conceptual artist Nadim Abbas, and painters Allison Katz, Xinyi Cheng, and Cui Jie, among others. While their practices and backgrounds are varied, most of the artists are relatively young and are becoming increasingly well known in China and abroad.
On the occasion of its fifth anniversary, Antenna Space launched the group exhibition, Transcen-Dental Empathy (29 September–30 October 2018), featuring the works of 13 artists, including Guan Xiao, Cheng Xinyi, Li Ming, Zhou Siwei, and Nancy Lupo. Using aviation turbulence as a metaphor, the exhibition traced non-linear trends in art while acting as a memorial of sorts to the gallery's past exhibitions. Among the works included were Liu Ding's nude photographs, Experience and Ideology No. 8 (2010), and photographs by Dora Budor enclosed in custom leather frames.
In this Ocula Conversation, Simon Wang discusses the gallery's five-year history and the changes that have taken place over this time, as well as the tests and challenges it has faced thus far.
Exhibition view: Transcen-Dental Empathy, Antenna Space, Shanghai (29 September–30 October 2018). Courtesy Antenna Space.
LZ

What prompted you to found Antenna Space?

SWFive years ago, what I wanted to build was a platform for showing art, because I was good friends with many artists, but at the time I didn't have a clear idea about what to do. In fact, I also tried to do some other jobs, but none of them worked out very well. Finally, I decided to open the gallery to see how it would work. With the support of Kelly Ying, I found a space—she really helped me a lot. Also, the sponsorship of David Chau enabled me to host the gallery's first few exhibitions. Thanks to the help of this duo, I was able to open the gallery smoothly.
LZ

What difficulties have you faced so far in operating the gallery?

SWDifficulties have always been there. Mediating between art and the need for capital is the most common problem, and it is a dilemma faced by every gallerist. It's not always the case that a gallery will naturally have it easy after a period of time, because every gallery has its own difficulties at every stage of its development. I believe that even the most successful gallery owners nowadays have some difficulties.

Exhibition view: Cheng Xinyi, Harnessing the power of Wind, Antenna Space, Shanghai (8 June–30 July 2018). Courtesy Antenna Space.
LZ

How have your ideas about the gallery developed and changed over the years?

SWWe have developed most regarding our relationship with the artists we represent. In the beginning, our ideas were still immature, and sometimes I was too anxious. The relationship between the gallery and our artists has become more stable as we reach a state of mutual understanding. I have learned a lot from working with our artists.

It is important that there is trust between the gallery and the artists. In the beginning, there was a lot of anxiety in my mind; it wasn't anxiety about selling the work, but rather that when I proposed an exhibition to an artist, they might not believe in me. If an artist doesn't believe in you, it can be very stressful. This is the most worrying thing for gallerists.
LZ

Is the process of exhibition-making easier today compared to when you first launched?

SWFrankly, the first two years were quite difficult, but it became easier during the fourth and fifth years. New challenges have started to emerge, however. They have to emerge because I don't want the gallery's exhibition plans to be too predictable, and I hope to make things more diverse. This requires us to be more adventurous when it comes to discovering young talent and trying something different together, but it may bring new problems. The upcoming challenges might be to overcome these obstacles; to curate and reset the arrangements of exhibitions or further improve the gallery operation.

Exhibition view: Wang Shang, Dive Bomber, Antenna Space, Shanghai (4 August–16 September 2018). Courtesy Antenna Space.
LZ

How do you choose new artists to work with?

SWI have always thought that my feelings about people might be slightly more accurate than my feelings about art. At the same time, artworks and artists are all alike; sometimes it takes a while to know an artist in order to understand more about their artworks and capabilities. Also, the artist's creative output—especially in his or her early days—is not particularly stable in all aspects. It needs to go through a period of time to stabilise; it is common for some artists to do exceptionally well in one exhibition, and below average in another. However, as long as the artist is persistent and capable, he or she can still create awesome work. Therefore, I think that I still have to go through a learning curve of further understanding for which I need to check out more exhibitions, talk with more curators and artists, and learn more about every artist's situation. I also have to try not to be impatient; if we rush and fail to make the exhibition in the right way, it can jeopardise the development and expression of an artist.
LZ

Have your criteria for artist selection changed in recent years?

SWIt is not so much that I choose artists, but that artists choose me. Artists nowadays are smarter; they will judge their own works and then make a decision regarding which gallery suits them the most. This is a very natural process. The relationship between the artist and the gallery is sometimes a bit like that between lovers, and sometimes the gallerist is like a mother figure instead.

Exhibition view: Nancy Lupo, No Country For Old Men, Antenna Space, Shanghai (12 January–14 March 2018). Courtesy Antenna Space.
LZ

How do you define the responsibility of a gallery within the commercial art system? And how do you balance the interests of artists, collectors and institutions?

SWThe responsibility of the gallerist is to solve potential frictions, simplify things, and always try to do more. It is the artists who give power to the galleries; you have to think about how to help artists solve and simplify problems, so that they can fully concentrate on their creative output. As long as the artworks are good, the collectors, curators, and institutions will find them. As a matter of fact, I am not really very good at building relationships in a forceful way. I think that when the interests of the curator and the artist are aligned and with the help of social media, collectors, curators, and institutions will eventually notice the artist.
LZ

What advice do you have for some young artists who are currently anxious to create and participate in exhibitions?

SWRelax, do your best in the present exhibition, and make your own choices and judgements. Also, it is not a good thing to have too many exhibitions lined up, as this will easily lead to visual fatigue and reduce the significance of your average work output. I think one has to learn how to work actively and effectively. It is an awesome thing for an artist to have exhibitions continuously, but not to the point where they enter three group shows in a month or something like that—it misses the point completely; you are better off taking one step at a time.

Exhibition view: Li Ming, 1703, Antenna Space, Shanghai (23 March–4 May 2018). Courtesy Antenna Space.
LZ

Recently, you have featured young artists from abroad in your exhibition projects, including Wu Tsang, Nancy Lupo, and Dora Budor. Your current solo exhibition is for artist Allison Katz (Muse with a Short Fuse, 6 November 2018–9 January 2019).

SWThis direction does not imply that international artists are better than domestic artists. Overall, many good artists in China have already been represented by Chinese galleries. I suppose it is necessary to consider the project of working with outstanding artists from a purely artistic point of view. I don't care much about the artist's origin, nationality, gender or sexual orientation. Such matters do not mean anything to me or to a good gallery, nor can they define the quality of either the exhibition or the artist. When I look at an artist's work, I don't think about whether they are Chinese or foreign. Having said that, about 70 percent of our gallery exhibition plans relate to Chinese artists.

Exhibition view: Wu Tsang, Sustained Glass, Antenna Space, Shanghai (23 September–15 November 2017). Courtesy Atenna Space.
LZ

What do you think is the advantage of going to international art fairs like Art Basel and Frieze as a Chinese gallery?

SWOur gallery has participated in a number of international art fairs, including Art Basel in Switzerland and FIAC in France, and Frieze some years ago. Chinese galleries have no advantage, to be honest. First of all, the art systems of Western countries are almost seamlessly connected; it is very difficult to notice the differences between galleries from different nations. To participate in an international art fair as a Chinese gallery is quite difficult; it is hard to be heard in such a context.

At the end of the day, it is still the art itself that matters. Under the influence of globalisation and neoliberalism, China too has become somewhat less identifiable, so it is necessary to return to art itself.
LZ

What is your plan for upcoming exhibitions?

SWWe will launch the solo exhibitions of Cui Jie and Liu Chuang next year, along with a group show featuring Bruno Zhu and Evelyn Taocheng Wang, which is an exhibition about emotional narratives, co-curated by me and Alvin Li. There will be a solo show of James Richards, and then Zhou Siwei and Guan Xiao.

Exhibition view: Yu Honglei, Swallow Century, Antenna Space, Shanghai (8 July–5 September 2016). Courtesy Antenna Space.
LZ

Your exhibition projects maintain a state of freshness, and the artists you work with tend to be relatively young. What about your collectors—have you tried to educate young emerging collectors?

SWOur domestic collectors cover different age groups, but Chinese collectors have a common feature: no one wants to hear you lecture. Absolutely no way. All you can do is make your exhibitions impressive and work well with your artists. All other concerns are mostly superfluous and speculative. However, if the collectors ask you about works, it proves that people respect and like you, so you should carefully explain the story behind the work in question. It would be disrespectful to the artist and the collector if you didn't introduce the works well when asked. However, too much sales talk will make the collectors feel suspicious and uncomfortable, and they need space and enough time to think it over and come to their own decision, which may be positive. A collector will be happier if they chose the work, rather than if they were persuaded to buy it.—[O]