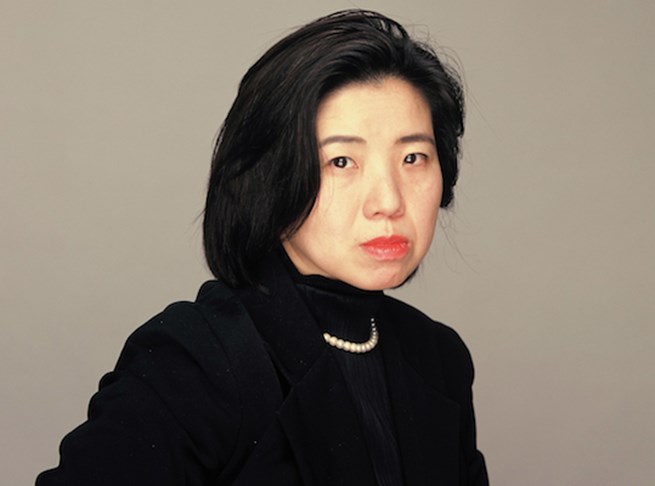 Yuko Hasegawa is Chief Curator of the Museum of Contemporary Art, Tokyo (2006–present) and is also a professor at Tama Art University, Tokyo, where she teaches curatorial and art theory. Last year Hasegawa curated the Sharjah Biennial 11, which opened to great acclaim. Previously, Hasegawa served as Chief Curator and Founding Artistic Director of the 21st Century Museum of Contemporary Art, Kanazawa (1996-2006). She was artistic advisor of the 12th Venice Architectural Biennale (2010) and co-curator of the 2006 Seoul International Media Art Biennale. In addition, to her involvement with the São Paulo Biennale (2010) and the Shanghai Biennale (2002) Hasegawa served as commissioner of the Japanese Pavilion at the 2003 Venice Biennale. Hasegawa has curated major thematic group exhibitions, and solo exhibitions by such artists as Matthew Barney, Marlene Dumas
, Rebecca Horn, and Atsuko Tanaka. She has served on advisory boards for the Guggenheim Museum and the Venice Biennale, and has authored curatorial essays in publications for museums including The Museum of Modern Art (MoMA). This year Hasegawa will again curate the Encounters Sector at Art Basel in Hong Kong. Anna Dickie caught up with to discuss how she became involved in contemporary art, how she has changed as a curator, and her approach to the Encounters Sector.
Was there a first piece of art that triggered your interest in contemporary art?
As a child, I enjoyed painting a lot. However my entry point into contemporary art was actually via Josef Beuys. I was a student studying the Italian Quattrocento and interested in classical painting; however, I received an invitation from a friend who told me that there was going to be a discussion forum with Josef Beuys at Tokyo University of Fine Arts and Music – it was the first time he had visited Japan. I was asked to help organize the forum because I spoke English, but I actually didn't know anything about Beuys at the time.
During the forum, Beuys made several drawings upon a blackboard owned by the University. After the forum, a curator from Seibu Museum approached me about buying the blackboard. Because of Beuys and his ideas, these everyday objects had become intellectually valuable (they of course also become economically valuable). I was fascinated by Beuys ability to draw out the connections between everyday objects and art and contemporary society. His artworks were evidence of something larger: his political position and important artistic concepts - I was very interested in this.
[In 1984, Beuys visited Japan and showed various works, including installations and performances, while also holding discussions with students and giving lectures. The first Beuys exhibition took place at the Seibu Museum in Tokyo that same year.]
How did your interest in contemporary art turn into curating contemporary art?
I became interested in the way a curator could engage and cooperate with an artist to make a new work. I was lucky enough to get a job at the Contemporary Art Centre, at Art Tower Mito. The Contemporary Art Gallery opened in 1989, and I became involved in curating a number of exhibitions there: for example with Christian Boltanski – a show which involved installation, photography, and objects in 1990-91; and I was also involved in curating group exhibitions – for example that included artists such as Anish Kapoor, Mark Rothko, Francesco Clemente and Hokusai – exhibitions that involved large installation works – works that were often site specific.
When you consider the curatorial approach you adopted while you were at Art Tower Mito, and then compare that to the projects you have been involved in more recently – for example your curatorial approach for the Sharjah Biennial, how have you changed as a curator?
Well first – I can see so much more artwork now. I am able to travel a lot more to see work, and also artists are now engaged with the Internet, and so the scope of work I can see has expanded.
In addition, the way I investigate and research has changed. In the beginning I was just dealing with artworks and how they looked visually, and I was exploring the ideas of the artists in relation to these works. Now I am more interested in exploring ideas through the artworks – looking at how ideas are visualized. I am particularly interested in the concept of how information is presented and shared, and knowledge acquired. For the 11th Sharjah Biennial, for example, ninty-nine works were selected that attempted to re-assess the western-centrism of knowledge in contemporary society, and the works related to various curatorial strands: for example, the production through art and architectural practices of new ways of knowing, thinking, and feeling.
Your curatorial style very much ignores the traditional boundaries between disciplines – between architecture and fine arts, for example?
In 1999, I began to work for the 21st Century Museum of Contemporary Art, Kanazawa, and consequently I became very interested in innovative and new ideas for what a museum could be. I worked closely with architects for over six years in relation to the Museum, and during this time I started to research architecture. I began working with architects on exhibitions, for example Kazuyo Seijima, and I became aware of the extent to which architecture overlaps with fine arts – both in terms of architects who are also artists, and artists who studied architecture. Then I became interested in the dissolution of borders between music, fine arts, design and architecture – because ultimately creative product is what matters. If you just focus on one discipline, you get stuck. We are here to exchange ideas, and I think it is important today to exchange the DNA between all disciplines, and to create new ways of thinking in doing so. My own curiosity drives this, and also my observation that it is necessary.
Another curatorial approach I have noticed is a propensity to work with curators from not only different disciplines, but also different geographies. You recently worked with Kristine Guzmán of, Museo de Arte Contemporáneo de Castilla y León in relation to the exhibition The Marvelous Real at The Museum of Contemporary Art Tokyo. Is this reflective of a collaborative process between institutions that you think is important to museums of the 21st Century?
Yes, it is very important.
We have a lot of restrictions in terms of collaborations with foreign institutions, but then Japan is very beaurocratic. However, when we can collaborate, we try to. An exhibition like The Marvelous Real related to Spanish artists, but we needed to ensure the cultural context could be relevant to our Japanese audience. We had to think about how Spanish artists would be received in Japan. What is the entry point? When the audience and location of an exhibition changes, we need to be flexible so that local audiences can relate to and understand the exhibition. There has to be a great deal of discussion. As curators, we need to understand each other very well. Working with curators from different geographies is a very interesting process, and I believe we should do this more. My colleagues are working with several curators from outside of Japan on shows that will happen this year.
You are the curator for the Encounters sector of Art Basel in Hong Kong, a sector dedicated to presenting large-scale sculpture and installation works by leading artists from around the world. What do you have in mind when conceptualizing your approach to this sector?
The venue makes curating the selection difficult. It is a huge open space. We cannot create walls, so certain works cannot be included for practical reasons, but the works nevertheless have to be very strong.
I read each proposal put forward for Encounters, and I consider their general directions and try to find an abstract theme. This time, we received many works that related to public space or shared consciousness. There are diverse forms and approaches to consciousness, and there are many different ways of approaching knowledge, histories, customs, habits and memories. I am interested in, and wanted to focus on, how these different approaches are visualized in contemporary art forms. I did this by thinking about both physical public spaces and shared psychological spaces. And with this in mind I selected the work that is included in the Encounters Sector.
The work to be shown in the Encounters Sector by German artist Tobias Rehberger is a good example of how a public space might operate as a place for the dissemination of knowledge?
Yes, this is a good example. The artist's work will present a re-creation and appropriation of Bar Oppenheimer, a bar in Frankfurt, which the artist frequents. Made entirely out of unglazed, open-pored bone china, the bar will consist of walls, shelves, a counter with overhead structure and lights, and traditional Chinese stools. It is the appropriation of an information point by an artist that raises questions about how public spaces are fundamental to how we share and disseminate knowledge. — [O]