Feature | Galleries
Art Basel Miami Beach 2022: Six Singular Galleries Introduce Their Booths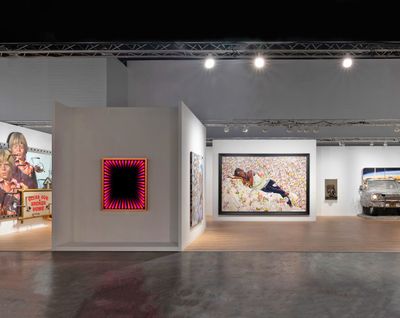 Templon's booth at Art Basel Miami Beach 2022. Courtesy Templon. Photo: Charles Roussel.
Art Basel Miami Beach 2022 opens to the public from 1 to 3 December this year. See what's showing in the booths of Thomas Erben, Galeria Nara Roesler, Galerie nächst St. Stephan Rosemarie Schwarzwälder, Templon, P21, and Perrotin.
Mike Cloud, Purple Circle Geometric Quilt (2007). Oil and clothes on canvas with stretcher bars. 104 x 101 inches. Courtesy the artist and Thomas Erben Gallery.
1. Thomas Erben, Founder of Thomas Erben Gallery, New York
Our booth presents a selection of the various positions that have defined the gallery's vision over the past 25 years. Works on display by Adrian Piper, Senga Nengudi, and Mike Cloud document the gallery's historical and continuing support of the African-American avant-garde.
Mike Cloud's Quilt Painting also serves as a bridge to a painting programme—also represented at the fair by Dona Nelson and Harriet Korman—that conceptually probes the medium through experiments in material, process, and form.
Harriet Korman, Untitled (Scrape Painting) (1973). Crayon and gesso on canvas. 60 x 84 inches. Courtesy the artist and Thomas Erben Gallery.
Two highlights I would like to point out are Mike Cloud's Purple Circle Geometric Quilt painting from 2007 and Harriet Korman's Untitled (Scrape Painting) from 1973. Though starkly opposite in their materiality, it is their authors' conceptual approach to painting that allows for a comparative reading.
The most outstanding feature in terms of how we present the works might be that we replaced one of the walls by a double-sided painting by Dona Nelson, which needs to be presented free-standing to be fully appreciated.
Raul Mourão, Empty Head. Courtesy the artist and Galeria Nara Roesler. Photo: Charles Roussel.
2. Daniel Roesler, Director at Galeria Nara Roesler, New York
We will present our artists' echoing yet different approaches to understanding the limits of abstraction, figuration, and dimensionality, offering a formal conversation between works. Our booth will show a concise selection of sculptures that will serve as a reflection on these formal investigations' extension into space.
Jonathas de Andrade, O Rebote do Bote (2022). Pinacoteca, Sao Paulo. Photo: Flavio Freire.
In the Meridians sector, we will present an installation by Jonathas de Andrade, who represented Brazil at this year's Venice Biennale. Achados e perdidos (Lost and Found) departs from a collection of swimming shorts forgotten in the changing rooms of swimming clubs in Recife and collected by the artist from 2010 to 2020.
In the first edition of the work, to model the shorts, the artist commissioned life-size fragments of bodies sculpted in clay by seven artisans from Tracunhaém in Brazil. This first set of sculptures unfolded into the present group of sculptures, created by artisans from Lisbon, Portugal, and Italy.
Jongsuk Yoon, Pink Mountain (2022). Oil on canvas. 205 x 335 cm. Photo: Markus Wörgötter. Courtesy Galerie nächst St. Stephan Rosemarie Schwarzwälder & the artist.
3. Rosemarie Schwarzwälder, Owner of Galerie nächst St. Stephan Rosemarie Schwarzwälder, Vienna
Paintings by Jongsuk Yoon fuse the traditions of Asian landscape painting with the Western canon of art that is defined by abstraction, translating these elements into abstract landscapes that consist of large, overlapping forms.
For the fair's KABINETT sector, which is dedicated to curated installations, we will present works by the polish artist Natasza Niedziółka. Her works are located at the crossroads of painting, drawing, and textile art, and are characterised by an incredible sensibility for colour. Textual, musical, and geographical references form the starting point for works that transform the canvas into a support for her abstract stitching.
Sheila Hicks, Untitled (2022). Synthetische Fasern, Baumwolle, Leinen, Wolle, Holz. 34 cm x 10 cm. Photo: Markus Wörgötter. Courtesy Galerie nächst St. Stephan Rosemarie Schwarzwälder & the artist.
Another highlight is the powerful installation of six works from the Ronds series that we just received from Sheila Hicks' studio. The admiration and recognition of her work is very high and she is present in many international collections including the Pérez Collection here in Miami.
Her works can be traced to the long history of weaving and her creations always surprise us in unexpected ways and draw us towards an immediate aesthetic experience.

Ed & Nancy Kienholz, Jody, Jody, Jody (1993–1994). Mixed media assemblage. 243.8 x 274.3 x 121.9 cm. Courtesy the artists and Templon.
4. Anne-Claudie Coric, Executive Director of Templon, Paris
We are presenting Ed Kienholz's last major installation Jody, Jody, Jody (1993–1994), a spectacular piece featuring an actual car and mannequins that reflects on violence against children.
As a response to his piece, we will present the latest painting by Robin Kid, It's All Your Fault, which considers school shootings. Finally, in the centre of the booth, a grandiose four-metre painting by Kehinde Wiley, from the series 'An Archaeology of Silence', which explores police violence and the call for action.
Robin Kid a.k.a The Kid, God Bless Our Broken Home (2022). Oil on canvas, cast aluminium, stainless steel, fiberglass, wood, various materials. 315 x 577 x 70 cm. Courtesy the artist and Templon.
All the artists we are presenting have in common an interest in pushing the boundaries of their medium while developing a subtle political critique.
Iván Navarro, for example, uses spyglass and electric energy as a way to reflect on domination and state violence, while Michael Ray Charles uses the language of advertising to create new narratives around the issues of ethnic, cultural, and social identities.

Keem Jiyoung, Drawing for Glowing Hour 22-07 (2022). Oil on paper. 45.5 x 53.5 cm. Courtesy the artist and P21.
5. Soo Choi, Founder of P21, Seoul
It's our very first participation at the fair, and in our opinion Keem Jiyoung's paintings of candle flames will resonate with the global audience. We have just finished her first exhibition with the gallery, which received a great response not only from the art community but also from the general audience.
Keem Jiyoung, Glowing Hour 20-03 (2020). Oil on canvas. 112.1 x 112.1 cm. Courtesy the artist and P21.
We will also present a combination of paintings and oil on paper works from her recent series 'Glowing Hour'. The works will be hung only on the centre wall of the booth, which will be filled with paintings.
MSCHF. ATM Leaderboard (2022). ATM (Hyosung Nautilus MX2800 SE), Steel, Foam, Digital display, Camera, Software. 209.6 x 41.9 x 59.1 cm. Photographer: Pauline Shapiro. Courtesy of the artist and Perrotin.
6. Peggy Leboeuf, Partner at Perrotin, New York
Acting as a centrepiece of the booth, Brooklyn-based artist collective MSCHF will make their debut at Art Basel with an interactive sculpture, concurrent to their first-ever exhibition, on view through 23 December at Perrotin New York. The work, titled ATM Leaderboard, is a functioning ATM that displays a leader board of the users with the highest bank balances.
We are pleased to present a selection of works by new artists to the gallery, including Henry Gunderson, Nikki Maloof, Sophia Narrett, and Danielle Orchard, who will have debut exhibitions at Perrotin New York this spring.
Daniel Arsham, Amalgamized Tête de l'Hermes d'Olympie (2022). Stainless Steel, Patinated Bronze, Polished Bronze, Wood. 100 x 60.4 x 80.9 cm Courtesy of the artist and Perrotin.
Gunderson will unveil a large-scale painting from his 'House' series, marking the gallery's first collaboration with the artist, while Maloof, Narrett, and Orchard will debut still life artworks.
Additionally, we will showcase a selection of sculptures by artists with projects around Miami. Daniel Arsham is debuting an architectural NFT in Miami's Design District, JR is shooting photographs for his participatory mural The Chronicles of Miami, and Kathia St. Hilaire's exhibition Immaterial Being is opening at NSU Art Museum Fort Lauderdale. —[O]