Guanlan Village. Image courtesy Sam Gaskin.
Connected by high-fiving metro systems, Shenzhen is a short commute from the leading city in Asia for trading art. While it has nothing to rival Hong Kong's Gagosian, White Cube, Art Basel, Sotheby's or Christie's commercially, it is rapidly improvising its own distinct art ecosystem, a mix of public and private institutions, small scale residencies, grand corporate sponsorships and one wonderful forgery factory.
Shenzhen's evolving art system is a small component of the city's explosive development in recent decades, which still carries with it a spark of utopianism. On my most recent visit, my taxi driver was too excited to offer his cosmopolitan, big city credentials—trying out greetings in English, French, Spanish and what he claimed was Russian—to keep up with surrounding traffic as we pulled away from the new airport terminal, a white latticework fuselage meant to resemble a manta ray, which opened in 2013. The taxi was an electric model made by Chinese company BYD, short for Build Your Dreams, founded in Shenzhen in 1995. The driver has been building his own, having moved to the city from Wuhan over a decade earlier to make a better life.
Almost everyone in Shenzhen comes from somewhere else. It was a town of just 30,000 before 1980, when Deng Xiaoping designated the city a special economic zone as part of China's policy of reform and opening. The foreign investment that then flowed in helped Shenzhen become one of the largest ports in the world, and lured 11 million people to the city, helping to make the Pearl River Delta the largest continuously urbanised area in the world.
Shenzhen stands out as an economic success story within the greater economic success story of China. Even as the country's economy ostensibly slows, Shenzhen flaunts its ambition. From the airport I was driven to the foot of the 600m, 115-storey Ping An International Finance Centre (PAFC), the fourth tallest building in the world behind the Burj Khalifa, the Shanghai Tower and Mecca's Abraj Al-bait Clock Tower.
Gu Wenda painting. Image courtesy Gu Wenda Studio.
Gu Wenda: A Story of Qinglu Shanshui
Shenzhen Convention and Exhibition Centre
Across the road from the PAFC in the Shenzhen Convention and Exhibition Centre, one of China's most celebrated contemporary artists, Gu Wenda, marshalled an army of 1,500 children, bussing them in to paint reams of rice paper with water tinted with algae. Children aged 5-12 held their noses as they painted with a slimy mixture they said smelt like 'mushrooms', 'soup' and 'stinky farts'.
Child painting. Image courtesy Sam Gaskin.
Gu has worked with more disgusting materials—including human hair, tampons, pads, placentas and sperm—but as he grows his practice to incorporate resources and permissions from corporations and government agencies, there are limits to what he can get away with. To placate nervous parents, he says the algae was food quality, grown in a lab.
Gu's project, A Story of Qinglu Shanshui connects the deep green of the rehydrated algae and the pale blue rinse that it leaves in water to 青绿山水, a colourful tradition in Chinese ink painting that began during the Tang dynasty. Gu created compound characters from the phrase, merging 绿 and 水 into one character and 青 and 山 into another, making a kind of Chinese portmanteau, long part of Gu's practice. The work questions our use of 'green' as synecdoche for 'environmentally friendly' when intensive farming and fertiliser runoff has led to rampant algal growth that, though lush, chokes out lakes and rivers.
Gu Wenda performance. Image courtesy Gu Wenda Studio.
Gu will use the children's paintings as materials in the creation of a massive work that will hang in the foyer of the PAFC, the new global headquarters of Chinese insurance behemoth Ping An, when it opens next year. He's also designed a gigantic Koi fish—its frame modelled on a wooden boat hull, each of its scales an LED screen—to install in the building's entrance hall, though this commission was yet to be confirmed when we spoke.
Invited to create a work for the PAFC, Gu says he wanted to use the sponsorship provided by Ping An to draw attention to an environmental issue—hijacking their resources the way real estate developers hijack artists to give their projects social relevance. Ping An also donated 1 million RMB to provide water filtration systems to remote schools in the area.
Gu says he enjoyed giving the kids an up close encounter with an environmental issue, though one wonders how much of an impact it made. Careful paintings of spaceships and butterflies had to compete with abstract expressionism brush flicks and even kicked over buckets of algae water. Some kids took to painting forcefields around their work to prevent it from being degraded by others, an early lesson in the tragedy of the commons.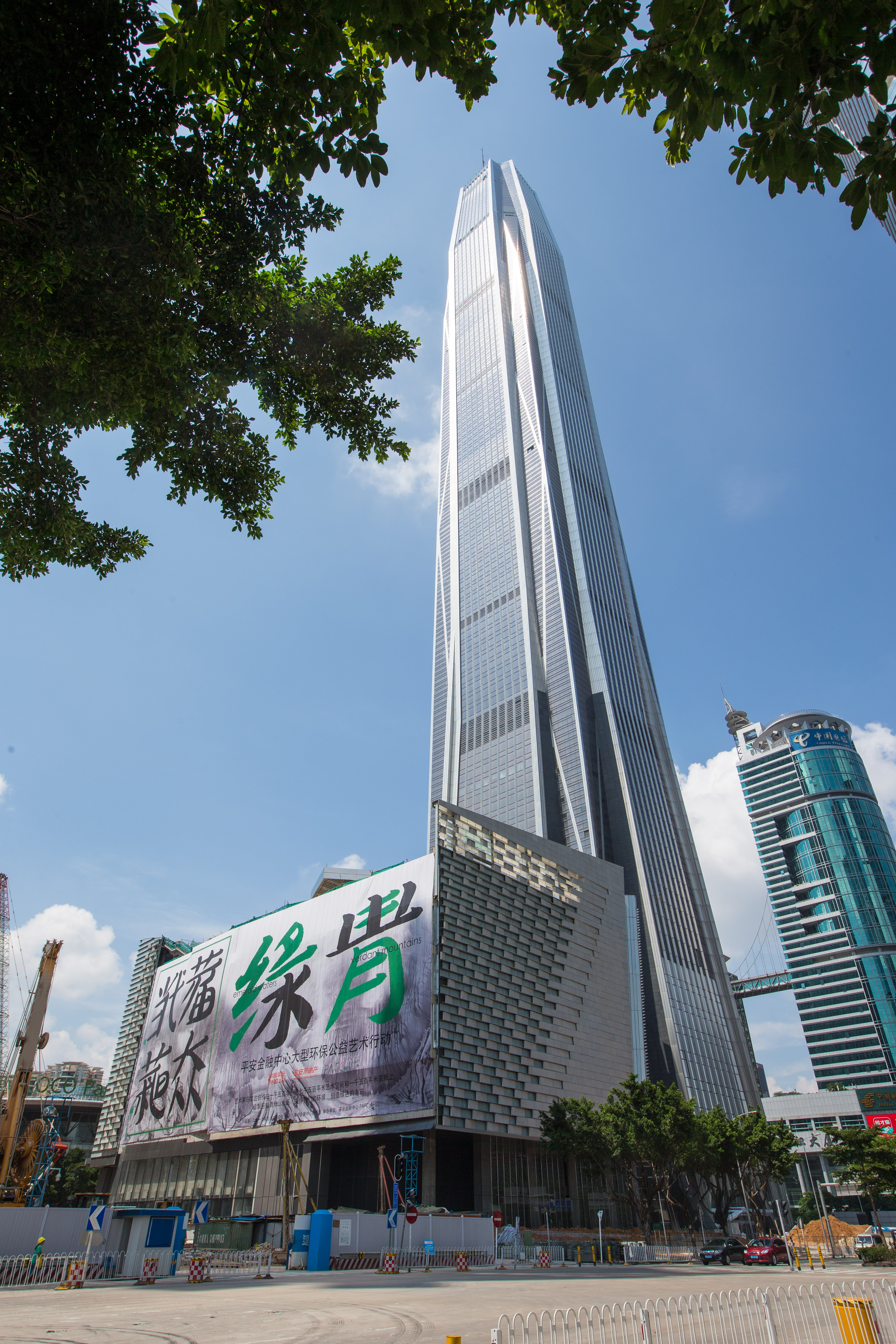 PAFC. Image courtesy Gu Wenda Studio.
The Shenzhen Museum of Contemporary Art and Planning Exhibition
Two days after the performance, Gu attended a ceremony celebrating the completion of the Shenzhen Museum of Contemporary Art and Planning Exhibition (MoCAPE), a seven storey building with a combined 80,000 square metres of floor space that will open in 2017. Contemporary art and city planning may seem like a strange pairing, but if there's anywhere it makes sense it's Shenzhen—the museum can serve as a brace after breakneck change, a way to immobilise the city long enough to contemplate and comment on lives lived there.
In fact, the building, designed by Austrian architects Coop Himmelb(l)au, contains two separate museums housed inside one superstructure, separated by a spacious auditorium and a chrome cloud that gives access to a cafe and museum store.
MoCAPE is just the third public museum with a major emphasis on contemporary art in China, after the Power Station of Art (PSA) in Shanghai and the Yinchuan Museum of Contemporary Art (MoCA). Its challenge will undoubtedly be finding quality work to fill all that floor space. Chinese public contemporary art museums don't have their own collections, and both the PSA and the Yinchuan MoCA have established biennales to help fill the museum with works from around the world for six months or so every couple of years.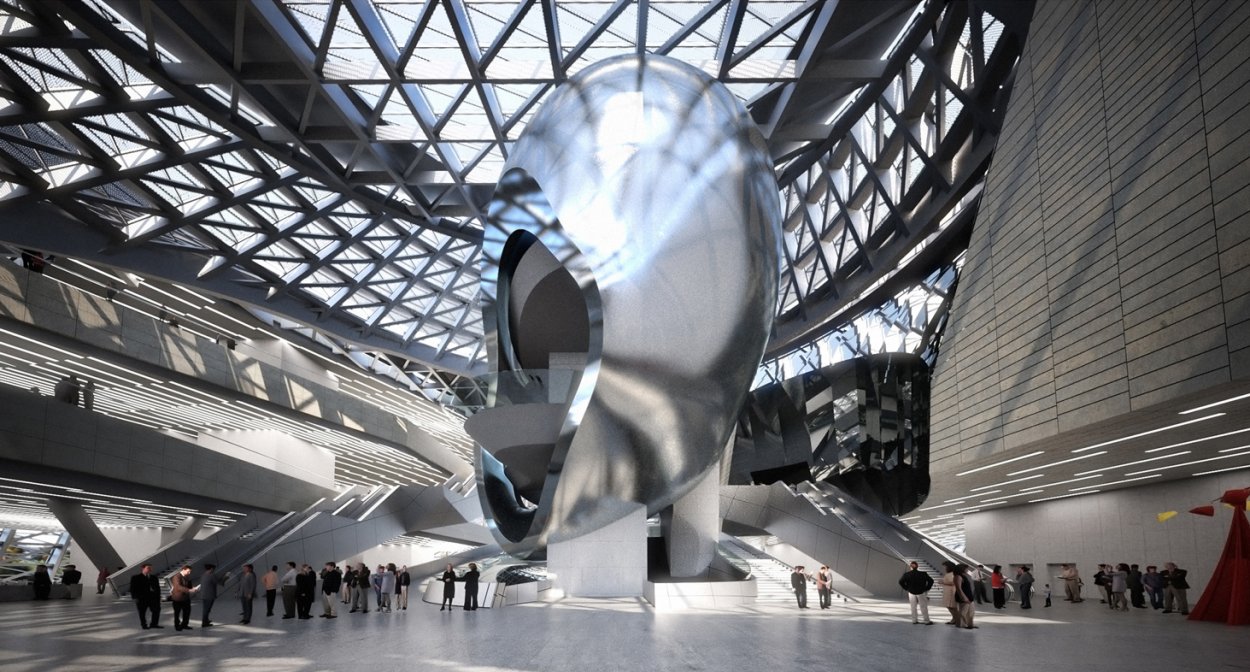 MoCAPE. Image courtesy Coop Himmel(b)lau.
Summer Triangle
OCAT Shenzhen
Meanwhile, the OCT Contemporary Art Terminal (OCAT), funded by the OCT property development group, has been creating worthy exhibitions in Shenzhen since 2005. They've since taken hold in Shanghai, where Zhang Peili oversees film and new media exhibitions, and Xi'an, with plans to expand to Beijing and Wuhan next.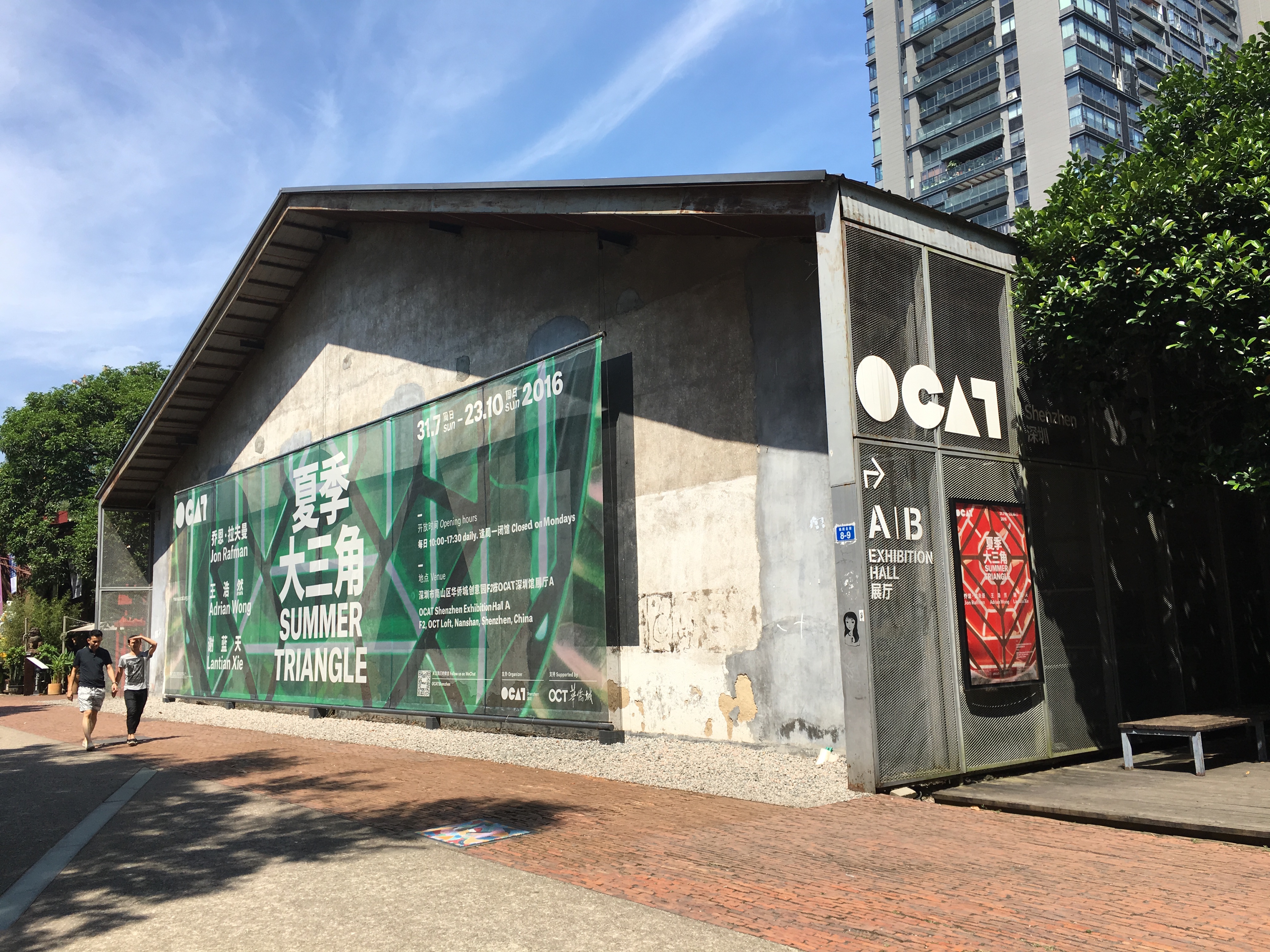 OCAT Summer Triangle. Image courtesy Sam Gaskin.
The current show at OCAT Shenzhen, entitled Summer Triangle, takes Hong Kong as its subject, a concession to the neighbouring city's creative energy. (Upcoming exhibitions at OCAT Shenzhen will bring in talent from further afield, including a solo show by New Zealander Simon Denny.) True to the geometry of its title, the show has three angles with works by Adrian Wong, Jon Rafman and Lantian Xie.
Wong scavenges aesthetic forms from the city, mounting representations of grates from Hong Kong-Macau Ferry Terminal and the Derrick Industrial Building on the wall, suggesting the decorative windows found in traditional Chinese gardens, and carving away layers of carpeting to create a palimpsest of urban interiors.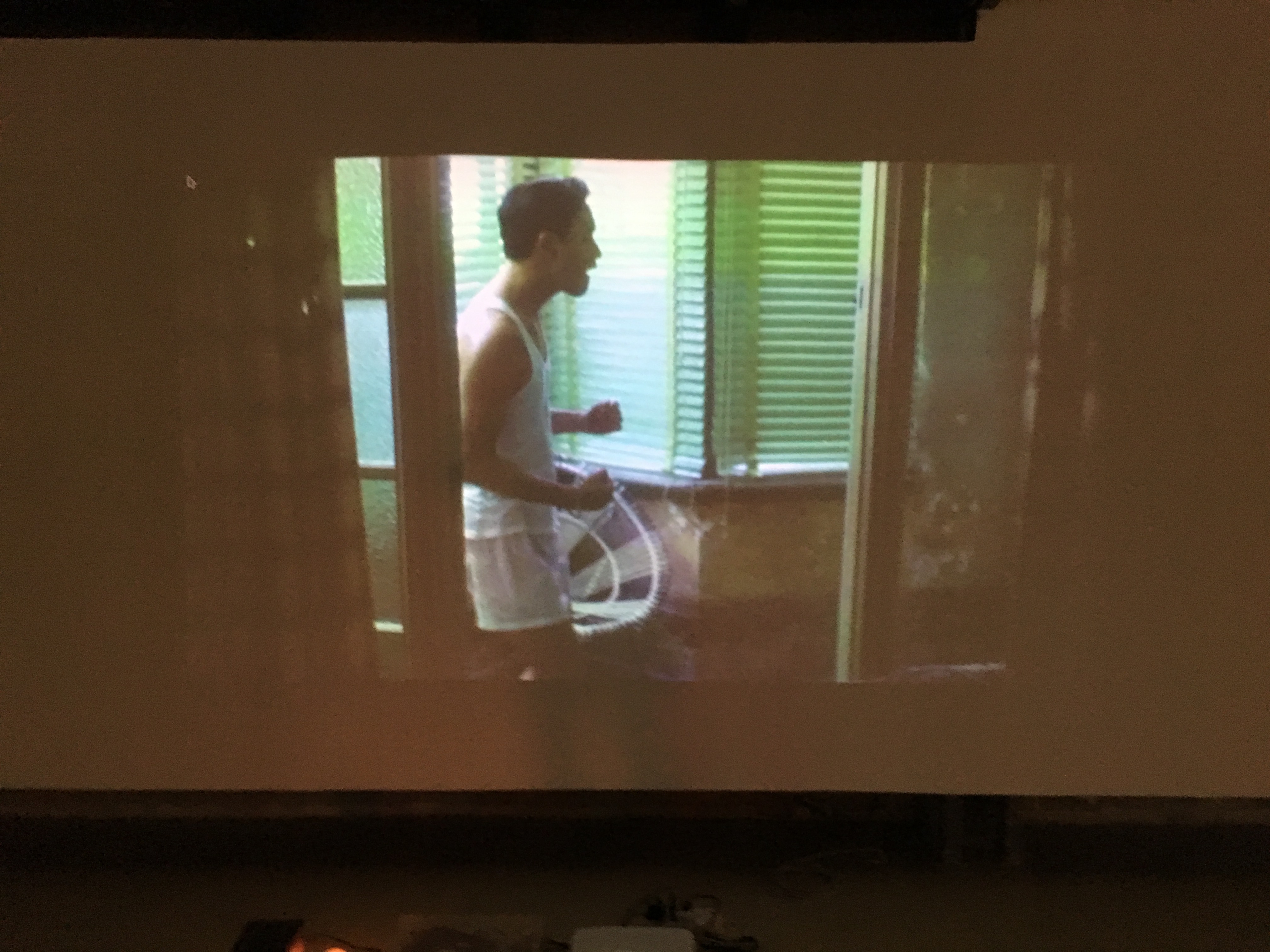 Lantian Xie_, 600569000_. Image courtesy Sam Gaskin.
In 600569000 (2014), Lantan Xie collects his materials from the city's culture, setting a clip of Leslie Cheung dancing in Wong Kar-wai's Days of Being Wild to the KFC home-delivery hold music, pressed to vinyl.
Rafman's vapourware videos Neon Parallel 1996 (2015) and Kool-Aid Man in Second Life (2008-2011), on the other hand, exist less in a geographical location with analogue specificities than a particular technological time. The resolution, modelling sophistication and aesthetics of Internet art—not to mention chatroom names 'ang3l' and 'sp1der_'—immediately date themselves, a sufficient condition for kitsch that Rafman exploits.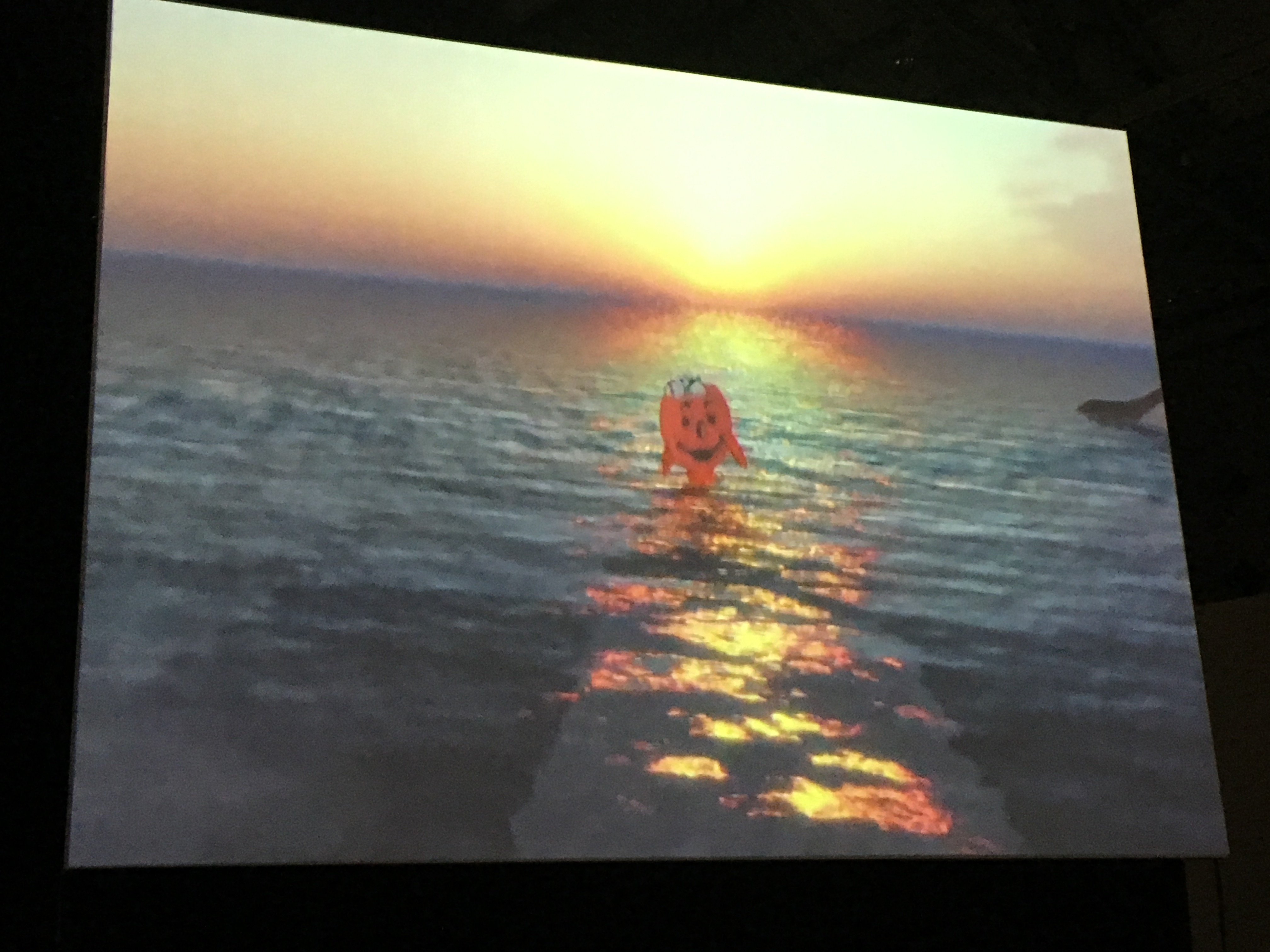 John Rafman, Kool-Aid Man in Second Life. Image courtesy Sam Gaskin.
OCAT occupies several buildings in OCT Loft, an arts district with cafes, restaurants, galleries and studios similar to Beijing's 798 and Shanghai's M50. In the northern block, the graduation show Denominating: Power & Game — Fresh Vision 2016 opened on September 24.
Wu Yue, The Forgotten Palace. Image courtesy Sam Gaskin.
Fresh Vision has taken place annually since 2004, and provides important connective tissue to developments in Chinese art around the country. Highlights of this year's edition included: Wu Yue's wall mounted works in cement The Forgotten Palace No. 3-5 (2015), Xu Zhenbang's Riverside (2016) paperboard collage, a overflow of pop culture imagery printed to jigsaw puzzle piece that cascade down a set of bleachers, and Cao Yu's Fountain (2015), a video that parallels Gu Wenda's questioning of body fluid taboos. In the video, Cao squirts geysers of breast milk into the air, reclaiming a natural phenomenon coopted by hentai to represent female orgasm. The exhibition continues until November 4.
Xu Zhenbang,Riverside. Image courtesy Sam Gaskin.
Art on the margins
Besides OCAT Shenzhen, other prominent art institutions include the He Xiangning Art Museum and the Shenzhen Art Museum. Named after the modernist painter, politician and feminist, the He Xiangning museum has exhibited modern and contemporary art since 1997, but has been closed for the past year for renovations. The Shenzhen Art Museum, like most state art museums in China, tends to focus on big name Chinese ink and oil painters and print makers, nothing more radical or contemporary than the cynical realists, oil painters whose names were made during China's '90s art boom, gilded at auction, and ultimately accepted into the state's official art canon.
Part of what makes Shenzhen exciting, though, is activity that sits outside the academy-gallery-fair-museum commercial-institutional complex. Mary Ann O'Donnell has conducted ethnographic research and art projects in Shenzhen since 1995. She helped establish the Handshake 302 art space, named after architecture separated by lanes so narrow that neighbours can reach across them out their windows to shake hands, in the urban village of Baishizhou. in July this year, Handshake 302 launched a residency that extends a vision that 'sees art as integral to community building'. Living in Shenzhen, O'Donnell says her favourite art activity is to visit the artist colonies in Wutong Mountain and Auhu Village.
Guanlan Village. Image courtesy Sam Gaskin
Another satellite art centre is Guanlan Village, a cluster of refurbished farm houses where artists in residence create woodcuts, screen prints, copper plate prints and lithography. While it's signposted for tourists, the print making facilities are locked away, as are the fortified towers once used to defend the village. To make a visit worthwhile, It's worth waiting for an exhibition opening, contacting the administrators in advance, or befriending one of the 50-100 print makers who stay in Guanlan each year.
Guanlan Village. Image courtesy Sam Gaskin
Shenzhen is also home to the unlikely Dafen Oil Painting Village, a block of hundreds of contract painters knocking off not only Van Gogh and Jacques-Louis David but the very artists you'll find at the Shenzhen Art Museum: Zhang Xiaogang, Yue Minjun and Fang Lijun. Located in the northeast of the city, Dafen also churns out original portraits of people's families and heroes. These are typically printed onto canvas and then painted over in a realistic but expressionless style by people in narrow alleys or under staircases, typically working from a jpg on an iPad or a desktop monitor.
Exemplary works can be found in the Four Seasons hotel, including paintings of Warren Buffet and Steve Jobs in the business centre, and what might be Ronaldo—naked but for a splash of water across his lower abdomen—in the fitness centre. Bright, splashy abstracts from Dafen have also made their way into Shangri-La hotels.
Dafen Oil Painter's Village. Image courtesy Sam Gaskin
Shenzhen's economic boom hasn't yet been matched by art world influence (or taste, in the dullest sense) to rival galleries in Beijing, museums in Shanghai or art academies in Hangzhou. The new contemporary art museum will raise its profile, but as is so often the case in China, local artists, curators, critics, and art educators are needed to activate the architecture. That takes time, but if there's one thing Shenzhen has proven, it's that it can catch up quick. —[O]