Feature
The slow train: Canton Express at M+ Pavilion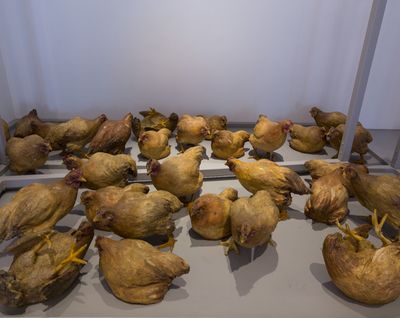 Duan Jianyu, Artistic Chicken (2003). Fibreglass, resin, acrylic paint, steel armature. Installation view: Canton Express: Art of the Pearl River Delta, M+, Hong Kong (23 June–10 September 2017). Gift of Guan Yi (2013). Courtesy M+, Hong Kong.
How do you restage a bookstore, a sample room, the remnants of villages left amid urbanised areas in China, or a live webcast, in the all-too-clean space of an art museum? M+ Pavilion tackled these questions by stepping back in time with a re-showing of Canton Express, a project that was included in the exhibition Z.O.U.—Zone of Urgency, curated by Hou Hanru for the 50th Venice Biennale in 2003 (23 June–10 September 2017).
Canton Express examined the unique course of development of globalisation in Asia as distinct from that in the West, in a manner that broke away from discourses and curatorial directions concerned with national boundaries. The exhibition presented the practices of 14 artists and artist groups, including Big Tail Elephants (Lin Yilin, Chen Shaoxiong, Xu Tan in collaboration with Jin Jiangbo), Liang Juhui, Vitamin Creative Space, and Yangjiang Group (Zheng Guogu, Hu Fang, Sha Yeya, and Feng Qianyu). Works in the original exhibition—which were acquired by art collector Guan Yi, who donated his collection to M+ in 2013—consisted of photography, sculpture, installations and multimedia works that reflected on life in the Pearl River Delta, once dubbed the 'factory of the world'. At the M+ Pavilion, these works—including the surviving group of fibreglass, resin and steel armature chicken sculptures that remain from the 100 originally made for Duan Jianyu's installation Artistic Chicken (2003)—were shown alongside archival materials and documentation surrounding the history of the exhibition itself.
Exhibition view: Canton Express: Art of the Pearl River Delta, M+, Hong Kong (23 June–10 September 2017). Courtesy M+, Hong Kong.
As a prelude to the museum's official inauguration, Canton Express, subtitled Art of the Pearl River Delta, reflects an endeavour on the part of M+ to experiment with the 'conservation' of contemporary art that usually rejects canonisation, while at the same time showcasing its collection. (As seen in previous exhibitions, such as Shifting Objectives: Design from the M+ Collection, 2017, M+ Sigg Collection: Four Decades of Chinese Contemporary Art, 2016, and Building M+: The Museum and Architecture Collection, 2014). The act of restaging a complete project within a museum is destined to be a paradox. The dual mission of this Canton Express remake was to indicate the context of the artworks on display while putting them within the frame of the M+ collection: reflective of M+'s aim to be a museum that not only displays visual culture but also the unknown (hence, +). But unlike previous collection exhibitions, at curator Pi Li's disposal was a curated project that had already been devised with much deliberation, instead of items from a collection that he could freely interpret and group.
Instead of the typical linear, grand narrative often seen in museums and adopted in previous M+ shows, this updated Canton Express highlighted the decentralised and network-like contemporaneity of the practices represented in the original exhibition. A conceptual graph with 47 keywords provided a summary of political and economic incidents as well as cultural concepts from the 'Special Economic Zone' and 'Deng Xiaoping's south-bound tour' to 'collective action' and 'Autonomous Regions'. The graph also presented art organisations from the region, including the Guangdong Times Museum, Book of Changes (an exhibition) and D-Lab (a project). In the show itself, works by the artists and art organisations included—namely Zheng Guogu, Chen Shaoxiong, Yang Yong, Jiang Zhi, Lin Yilin, Liu Heng Doreen, Xu Tan, Feng Qianyu, Duan Jianyu, Liang Juhui, Vitamin Creative Space, and Chen Tong and Lu Yi of the Libreria Borges—revealed how alternative survival strategies were being developed during this period. These strategies, which found ways to employ the city as both resource and target of intervention while circumventing the institution and the market, remain influential today.
Xu Tan, Biennale.dog (2003). Digital print on vinyl banner. Exhibition view: Canton Express: Art of the Pearl River Delta, M+, Hong Kong (23 June–10 September 2017). Gift of Guan Yi (2013). Courtesy M+, Hong Kong.
One of the major features of the original Canton Express was the simulation of a Guangdong street scene by Zheng Guogu to offer a conceptual and spatial framework for the show. The original design was preserved in this 2017 staging by means of an aggregation of unevenly shaped impermanent steel street stall-like structure containing 13 groups of exhibits. These included Zheng Guogu's Sample Room (2003), an installation made with mass produced kitchenware, designed to resemble a showroom display and reconstructed according to archival photographs and email correspondence. Other works on view in the structure were Lin Yilin's Hotbed (2003), an installation portraying video documentation of different performances by the artist, such as Safely Manoeuvring across Lin He Road (1995) and 100 Pieces and 1000 Pieces (1993); and Liang Juhui's City (2003) video installation, showing images of people's backs framed into a wooden tower-like structure made to resemble a skyscraper.
Lin Yilin, Hotbed (2003). Steel frame bunk bed, bricks, six-channel video. Exhibition view: Canton Express: Art of the Pearl River Delta, M+, Hong Kong (23 June–10 September 2017). Gift of Guan Yi (2013). Courtesy M+, Hong Kong.
M+ made good use of its Pavilion's architectural design by fully revealing the glass wall, so that exhibits seemed to blend with the reality outside. This added another layer to the contextual re-framing of Canton Express, presented over a decade after its original staging in Hong Kong, a 'Special Administrative Region' under the 'One Country, Two Systems' policy. The original Canton Express closely inspected the role (both pivotal and peripheral) Guangdong province has played between nationalism and globalism, as the Pearl River Delta—a vanguard of China's economic reform—achieved the impossible by balancing itself within the reckless express of urbanisation. The fact that Canton Express became the unofficial Chinese representation at the 2003 Venice Biennale was an accident, as the original Chinese Pavilion was scrapped because of the SARS outbreak at the time. Perhaps it is more than a coincidence that Guangdong province played a vital role in the history of modern China through extensive commerce in the late Qing dynasty; while a bit more than a century later, the Cantonese have come to prove to the international art scene that China is more than one voice represented by artists from the north.
Yet, while the restaging of Canton Express highlighted the unique strategic position of Hong Kong as a cultural hub that successfully 'conserves' the contemporary art of the recent past, it turned out to be incapable of 'revitalising' the geopolitics reflected in the spirit of the project's original staging. (Focused as it was on the impact of urbanisation, modernisation and globalisation on the Pearl River Delta at the time.) The exhibition felt strangely detached from the controversy of the cross-border high speed rail link surrounding it, the terminus of which is situated right next to the West Kowloon Cultural District where M+ is located. The project has sparked concerns in the city with regards to a proposed 'co-location' arrangement that would mean Mainland Chinese laws are enacted in a leased area of the station, thus threatening the 'Two Systems' policy with China.
Liang Juhui, City (2003). Merbau wood, transparency, single-channel video. Exhibition view: Canton Express: Art of the Pearl River Delta, M+, Hong Kong (23 June–10 September 2017). Gift of Guan Yi (2013). Courtesy M+, Hong Kong.
Considering the resonances between the Pearl River Delta then and now, the staging of Canton Express in 2017 thus raises a question. What is to be conserved by presenting an exhibition like this today, which serves to put contemporary art between quotation marks? The question is not about the debate between popular versus professional in terms of audience building, nor does it dismiss the need for historical exhibitions like these. Rather, the question is about how exhibitions like these serve to connect past discourses with those unfolding in the present. M+ is not exclusive to professional viewers, and it so happened that on my visit to the Pavilion, an elderly viewer with no clue as to what the exhibition was about, tried to touch the kitchen utensils displayed in ZhengGuogu's Sample Room, as if in a department store. Such moments reflect the need to make use of an artwork's contemporaneity so that the real contemporary is brought to life as we tug at the old with a retrospective hook. —[O]
—
i According to Boris Groys, installation art that contains an abundance of physical objects, is highly dependent on the museum institution for its status as high art. But at the same time it claims to be something taken from real life, so as to make a distinction from other art forms, and to eventually make its way into museum collections. From Boris Groys, 'On the new', Art Power (Cambridge, London: MIT Press, 2013), 23–42.
ii Chen Tong's conclusion that '"This is not art" was clearly printed on the cargo list of Canton Express' in his essay, 'Continuity and diversity—contemporary art in Guangdong since 1990', from the original programme for Canton Express. The text best explains the dichotomy of being real versus being artistic in contemporary art.