Insight | Art Fair
Artist Highlights: Art Fair Philippines
Between 6 and 15 May 2021, Art Fair Philippines shifts entirely online with 43 international exhibitors.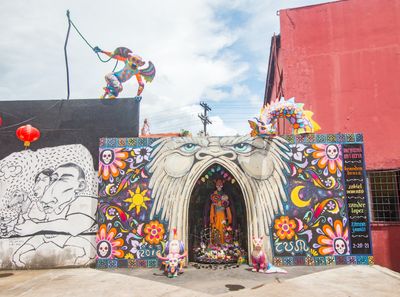 Orange Project, Bacolod City, the Philippines. Courtesy Orange Project.
This year's edition offers a unique opportunity to experience some of the Philippines' premier galleries and spaces, including Orange Project—an art district situated on the northwest coast of Negros Island in Bacolod City.
Orange Project is also participating in the newly launched ArtFairPH/Residencies, which invites Filipino artists to submit portfolios and be paired with spaces and galleries across the Philippines. The resulting artists' projects will be presented at Art Fair Philippines 2022.
Aeson Baldevia, 'Positive Cases' series (2021) on view at Orange Project, Bacolod City, the Philippines. Courtesy Orange Project.
Also new to this year's edition is a special project supported by the Bank of the Philippine Islands and co-curated with Tropical Futures Institute and Narra Art Gallery with an NFT-focused presentation, Welcome to the Metaverse.
As Tropical Futures' Chris Fussner explained to Ocula Magazine, the aim of Art Fair Philippines' NFT focus is to unveil the 'magic dust hidden behind the hype', and to provide an insight into this watershed moment of new media and its complex factors.
Courtesy Narra Gallery.
The presentation will include a page highlighting NFT artists, along with Zoom talks on topics including 'how to NFT' by blockchain entrepreneur Luis Buenventura on Friday 14 May, and Narra Gallery founder Colin Goltra's discussion on 15 May with crypto artists Fewocious, Parott, and Jonathan Wolfe on the future of the space.
Beyond NFT, Art Fair Philippines will also include a series of artwork presentations by galleries from around the world. Below is a selection of highlights.
Gina Osterloh, i am image (2020). Archival pigment print mounted on Dibond aluminium. 109.22 x 143.51 cm. Courtesy Silverlens Galleries.
Gina Osterloh at Silverlens Galleries
Following the artist's solo presentation with Higher Pictures Generation in New York in 2020, Silverlens presents Gina Osterloh's constructed images that explore the thresholds between space and identity.
Covering herself completely in opaque tape in i am image (2020), Osterloh disrupts the camera's gaze, rendering the body as a component of the image's trace. Although Osterloh presents herself as a black 'void' to the camera, the physicality of the tape draws attention to photographic space as being an extension of the artist's hand, and thus the body. Obliterating sets with tape and paper, her photographs resemble Yayoi Kusama's 'Infinity Nets' through their totalising aesthetic.
Veejay Villafranca, Penance - A photo of a lone devotee after his flagellation as a sign of penitence during Good Friday in Manila, Philippines last April 2021 (2021). Courtesy the artist.
VeeJay Villafranca at Strangefruit
The informal photography collective Strange Fruit, founded in 2020, will present works by Raena Abella, Jes Aznar, Edric Chen, Paco Guerrero, Jason Quibilan, and Veejay Villafranca that look to uncover the socio-political landscape of the Philippines.
In his series 'Barrio Sagrado', Villafranca looks to different practices of spirituality in the Philippines, peeling back the complexities of the nation's identity. Among these, animist, catholic, and psychic healing practices demonstrate different methods of 'faith about fate', explains the artist. In 2013, following the death of his father, the artist's project took a personal turn, looking to spirituality to understand how people cope with extreme grief. At a time when faith is being put to the test, Villafranca's works hold particular significance.
Eko Nugroho, We are Among Us (2019). Acrylic on canvas. 200 x 200 cm. Courtesy A3 Arndt Art Agency.
Eko Nugroho at A3 Arndt Art Agency
This painting featured in A3 Arndt Art Agency's stellar group exhibition The Possibility of an Island at London's Cromwell Place last year, which provided an insight into the artistic scenes of Southeast Asia.
Rendered in hot colours with punctuations of green and blue, We are Among Us (2019) depicts a dystopic scene in a burnt landscape. Nugroho's work incorporates traditional elements such as wayang kulit, a form of shadow puppet theatre originating from his native Java, Indonesia, layering bold graphic aesthetics that imbue the works with satire while taking on influence from contemporary street art. Born in 1977, the artist developed his practice off the back of the fall of Suharto's regime, which summoned a transition to democracy and along with it a burst of artistic creativity.
Carlo Tanseco, Theseus and the Minotaur (2020). Acrylic on canvas. 101.6 x 76.20 cm. Courtesy Art Cube Gallery.
Carlo Tanseco at Art Cube Gallery
Having graduated from the University of the Philippines in 1994, Carlo Tanesco initially focused his career on furniture and commercial product design, becoming a member of the celebrated group, Movement 8, which has brought Filipino design to furniture fairs across the world.
The formal elements of his degree find their way into his painting practice, which was given increased focus during the lockdown period in Manila. Among subjects from Greek mythology, other canvases feature art history figures Jose Rizal, Salvador Dali, and Yayoi Kusama against geometric grids. As the artist explained to ANCX, these grids are a 'commentary on how things are presented to us: the government versus populace, social media versus reality, good versus evil.'
Izumi Akiyama, Still Life IV (2020). Pencil on paper. 53 x 53 cm. Courtesy Kobayashi Gallery.
Izumi Akiyama at Kobayashi Gallery
Born in 1982 in Yamanashi in Japan, Tokyo-based Izumi Akiyama creates subtle still-life drawings on paper, having received an MFA in Oil Painting from Tokyo University of the Arts.
Typically encompassing porcelain ware and lit candles, the meticulously etched drawings emanate quietness and tranquility, as if time is passing very slowly. The field of the image is built using yohaku—an approach characteristic of Chinese and Japanese ink painting in which blank space is given equal importance to drawn or painted areas. In the context of landscape painting, blank space offers both pictorial depth as well as movement through time. The result in Izumi Akiyama's drawings is stunningly meditative.
Ricky Ambagan, Driven (2021). Oil on canvas with vintage luggage. 36 x 48 cm.
Ricky Ambagan at Art Elaan
Art Elaan present a selection of Ricky Ambagan's widely cherished luggage paintings, which riff of the notion of personal baggage. Touching on themes including longing and returning home, their detailed interiors contain 'handpicked' memories that offer rich visual narratives.
The exhibition follows the artist's first solo exhibition at Salcedo Private View in 2020, I'm Coming Home—a year since he was name one of Tatler Philippines' 'Filipino Artists Under 40 To Watch Out For' in 2019. Over the last decade, Ambagan has received prizes including the Grand Prize at the GSIS Painting Competition in 2011, The Juror's Choice Award for LRT ART in 2009, and the 2011 and 2012 title of Philippine Art Awards Luzon Regional Winner. —[O]