Insight
Gao Weigang's Artwork 'International Standard' Under the Hammer

In collaboration with Asia Art Archive
At first glance, Gao Weigang's International Standard (2018) looks like a regular wooden frame—rectilinear, with a cross bisecting each of its four sides, almost resembling the generic windows from children's drawings—except that it has been coated in 24-karat gold leaf. International Standard belongs to 'The International Standard', a series of oil painting inner frames sheathed in gold that the artist began to make in 2018. Gao, who graduated with a degree in oil painting from Tianjin Academy of Fine Arts in 1998, made one frame for each of the French's standardised frame sizes and donated the 81 x 130-centimetre version for this year's Asia Art Archive Annual Fundraiser. The auction, which brings together over 70 works by regional and international artists, is available from 11 October to 2 November 2019 at www.aaa2019auction.com.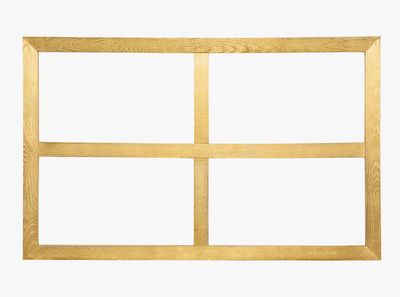 Gao Weigang, International Standard (2018). 24-karat gold leaf and wood. 81 x 130.8 x 2.6 cm. Generously donated by the artist to Asia Art Archive.
In International Standard, the preciousness of gold leaf contrasts with the ordinariness of the frame, elevating the otherwise insignificant, behind-the-scenes object to a subject worthy of contemplation. The use of commonplace items is characteristic of Gao's work, which largely encompasses paintings, sculptures, and installations that question our sense of reality by removing materials from their original contexts.
The frames' predecessors as object of focus in Gao's practice include the staircase and ladder, such as Superstructure (2010)—a stainless steel and titanium wall sculpture depicting a receding staircase—or Yes (2013) and Where #4 (2015), which respectively show a three-dimensional staircase and ladder propped against the wall. Both objects are practical and suggestive of upward movement. The artist's creations, however, belie their function, being unable to support weight. Yet even when their failings are evident, they remain 'stairs' and 'ladders' in the viewer's mind because of their appearance.
In other works, Gao devises simple forms that play with the audience's vision. Vice (2012) and Bad Habit (2013), for example, are two of his many works involving mirrors, and show broken shards that the artist carefully arranged into symmetrical patterns. Upon closer examination, however, it becomes evident that the fragments are not exactly mirror-images of each other—he only picked out shards that looked similar enough. Likewise, in 'Eternal' (2015)—a series of oil paintings depicting stars in the sky—the specks that denote stars from a distance are not all shaped like stars. There is the five-pointed star, of course, but hearts, snowflakes, tulips, and apples also feature. —[O]
---
Founded in 2000, Asia Art Archive (AAA) is an independent non-profit research and education centre dedicated to preserving and offering to the wider public the history of contemporary art in Asia. AAA's annual auction is the most important funding source of the organisation, bringing together over 70 works by regional and international artists. In this year's edition, works on offer include creations by Yang Jiechang, Gao Weigang, and the late Pacita Abad. Online bidding will be available from 11 October to 2 November 2019 at www.aaa2019auction.com.