Insight
Pacita Abad's Artwork 'Stained Glass' up for Grabs

In collaboration with Asia Art Archive
Small, circular mirrors glint from rings of colour—green, dark green, and pale pink from inside out—while sprightly brushstrokes of red, yellow, and green acrylic paint compose the background. This painted collage, titled Stained Glass (2000), is the work of the late Pacita Abad; it was donated by the artist's estate for Asia Art Archive's Annual Fundraiser.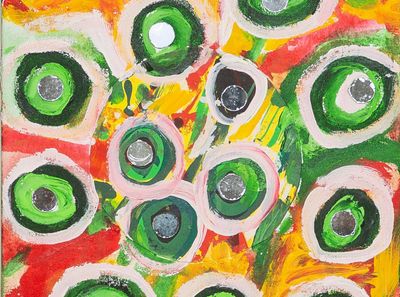 Pacita Abad, Stained Glass (2000) (detail). Acrylic, mirrors, and painted cloth on canvas. 35.7 x 28.3 x 3.3 cm. Generously donated to Asia Art Archive by Pacita Abad Art Estate.
Born in Basco in the Philippines in 1946, Abad was itinerant for most of her adult life. She flew to San Francisco in 1970, first visiting a relative then settling there to start her graduate studies at the University of San Francisco. In 1973, she took a year-long trip from Turkey to the Philippines, crossing a number of Middle Eastern and Asian countries in between as she did so. Over the following decades, she would journey to more than 50 countries and take up residence in Paris; New York; Dhaka; Sudan; Bangkok; Manila; Washington, D.C.; Jakarta; and, finally, Singapore, where she passed away in 2004.
Abad's prolific career—she created over 4,000 artworks in her lifetime—is inseparable from her travels. In 1979, her visits to Cambodian refugee camps along the Thai border gave rise to the 30 paintings in 'Portraits of Cambodia', while Bakongo masks from Congo inspired an eponymous print series in the 1980s. She was also deeply affected by the local arts she encountered, among them wayang, Indonesian traditional puppets; batik, a wax-resist dyeing process of Indonesia; and the architecture of Yemen. She incorporated elements of these forms into her paintings, drawings, ceramics, paper collages, and wearable art. Despite such diversity in her art, however, one characteristic remained unchanged over the years: the artist's love for vibrant colours.
Pacita Abad, House of Incest (1991). Oil, plastic beads, coral, cowrie shells, mirrors, gold yarn on stitched and padded canvas. 143 x 175 cm. Collection of Metropolitan Museum of Manila. Courtesy the Pacita Abad Art Estate.
Abad's use of mirrors in works such as Stained Glass dates back to her trip to India in 1974. There, she was particularly impressed by Rajasthan's jewellery and application of mirrors, beads, and buttons as decorative elements in everyday wear. In 2000, she created a number of mirror assemblages as an homage to Rajasthan, such as Staring at the sun, a square canvas onto which round mirrors and sequins were stitched. Painted in oil, the yellow background emits the warmth of the sun, while small circle-mirrors are scattered around the larger central circle like satellites.
The combination of sewing and painting in Abad's practice is exemplified in her 'trapunto' paintings, which she began in the 1980s. Deriving the name from an Italian word for a type of quilt with a raised surface, the artist stitched a myriad of objects such as buttons, sequins, thread, beads, and mirrors onto padded canvas to make her paintings more sculptural. The artist's 'trapunto' paintings survey a range of subjects, including abstract compositions, immigrant experiences, tribal masks, and underwater scenes.
The two-dimensional circle is also a recurring motif in Abad's work. It was central to the body of work she developed as an artist-in-residence at STPI in 2003. The residency culminated in the solo presentation Circles in My Mind. The artist completed her Alkaff Bridge in Singapore a few months before she passed away, covering it in more than 2,000 circles. —[O]
---
Founded in 2000, Asia Art Archive (AAA) is an independent non-profit research and education centre dedicated to preserving and offering to the wider public the history of contemporary art in Asia. AAA's annual auction is the most important funding source of the organisation, bringing together over 70 works by regional and international artists. In this year's edition, works on offer include creations by Yang Jiechang, Gao Weigang, and the late Pacita Abad. Online bidding will be available from 11 October to 2 November 2019 at www.aaa2019auction.com.