Insight
Yang Jiechang: Good Morning Hong Kong

In Collaboration with Asia Art Archive
'Good Morning Hong Kong', read the layered calligraphic letters rendered in thick ink and acrylic brushstrokes on a work donated by contemporary artist Yang Jiechang for Asia Art Archive's upcoming annual fundraising auction. On view at Christie's in Hong Kong from 11, 14–17 October, the work has a sense of dynamic urgency about it: the ink has dried as it dripped from the letters, and small flecks are also splattered across the canvas. For Yang, the painting is a tribute to Hong Kong's ability to endure hardships and reinvent itself. The work follows on from a series of works he showed at the Hong Kong Central Library in 2015 in his exhibition Good Morning Hong Kong. On the occasion of that exhibition, the artist told the South China Morning Post that the title is a reference to how he always arrives in Hong Kong in the morning, and also a nod to the 1987 film starring Robin Williams, Good Morning, Vietnam. The work to be auctioned however was painted this year, and in the context of a city still reeling from ongoing political unrest, new meaning opens up. Though referencing a casual greeting, the claustrophobic gathering and layering of letters in the work suggest that perhaps it is not a good morning after all.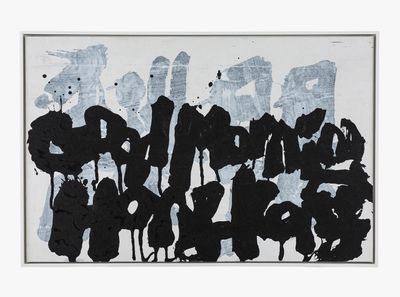 Yang Jiechang, Good Morning Hong Kong 2019 01.07. (2019). Ink and acrylic on paper, mounted on canvas. 71 x 107.6 cm. Generously donated to Asia Art Archive by the artist.
Good Morning Hong Kong 2019 01.07. reflects the practice of an artist who has long created works that react to the day's socio-political issues. For his graduate project at Guangzhou Academy of Fine Arts, Yang painted 'Massacre' (1982), a series of ink paintings that depict dead or suffering bodies submerged in darkness. The works revealed his dissatisfaction with academic training that then emphasised portrayals of happy, idealised citizens while hinting at the violent underside of China's authoritarian government. In 2002, Yang made the 'Crying Landscape' series, which consists of five ink-and-colour paintings showing iconic world sites such as the Three Gorges Dam in China and the Statue of Liberty in New York. He presented the series at the 50th Venice Biennale in 2003 alongside a soundtrack composed of The Blue Danube, a waltz by Johann Strauss II, and the artist's screams—a critique of the facade of progress and prosperity represented by grand landmarks.
—
Founded in 2000, Asia Art Archive (AAA) is an independent non-profit research and education centre dedicated to preserving and offering to the wider public the history of contemporary art in Asia. AAA's annual auction is the most important funding source of the organisation, bringing together over 70 works by regional and international artists. In this year's edition, works on offer include creations by Yang Jiechang, Gao Weigang, and the late Pacita Abad. Online bidding will be available from 11 October to 2 November 2019 at www.aaa2019auction.com.