Insight
Howard Bilton, founder and chairman of the Sovereign Art Foundation, Hong Kong
Yorkshire-born businessman Howard Bilton is the founder and chairman of the Sovereign Art Foundation, established in Hong Kong in 2003. The Foundation focuses on both recognising the abundance of artistic talent in Asia and bringing the benefits of art therapy and education to underprivileged children.

In both endeavours, the Foundation is going from strength to strength. Bilton, a long-time personal collector of Asian art, hatched the idea for the Foundation after observing the disparity in the distribution of wealth within the art world. He was particularly disappointed by the fact that so little resources were being fed back into the local community. By establishing the Foundation and an annual prize for artists, Bilton has managed to align his philanthropic aspirations while celebrating the high caliber of art that Asia has to offer.

Every year, the Sovereign Asian Art Prize invites entries from mid-career contemporary artists who have been nominated by a board of art experts. Entries are then judged by a small panel consisting of independent art experts and professionals—David Elliott, Song Dong, Asmudjo Irianto, Michael Lin and Alexandra Seno are on this year's jury. They select the best 30 artworks which are then exhibited in Hong Kong and evaluated a final time, both by the judges and by the public.

The winner of the prize receives US$30,000. With the exception of the winning entry, which then becomes the property of the Foundation and is used to further its charitable work, all artworks are auctioned to guests during a gala dinner, during which the winner of the art prize is also announced. The proceeds of the auction are split between the artist and the Foundation.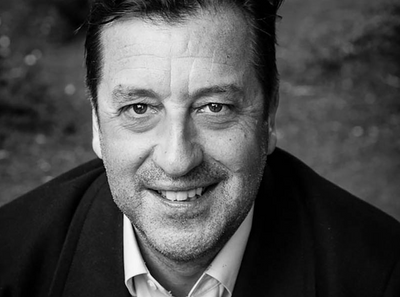 Image: Howard Bilton. Courtesy the Sovereign Art Foundation.
I understand the ethos of the Sovereign Art Foundation is to use art to fund and promote charitable art programmes. When and why did you decide to initiate this project?
I began collecting myself around two decades ago and I suppose this was around the time that the idea for the Foundation was hatched. I found myself getting more and more involved in the world of art, and I realised so little of the vast amounts of money spent on art are fed back to the local community. I decided around this time that I wanted to build a foundation that used art to fund and promote art programmes for the underprivileged. I wanted to put the best of Asian art in front of the Hong Kong public so that they could appreciate art for art's sake whilst at the same time, and most importantly for me personally, raise money which we could use to assist disadvantaged children. It wasn't until 2003 that I finally got moving and set up the Sovereign Art Foundation and as a result, The Sovereign Asian Art Prize.
The main motivation was always philanthropic, but we quickly realised that if we wanted to raise decent sums of money, we had to produce a world class art prize which would get the best artists entering. We had to offer the artists a decent prize fund and a platform which gave them international exposure to new audiences around the region. Everything had to come together. And I suppose it now has!


Left Wing by Alfredo and Isabel Aquilizan at the 12th Sovereign Asian Art Prize 2016. Photo: Kitmin Lee.
Why did you choose to focus on the Foundation's efforts in Asia in particular?
At the time, Asia stood out as a region not only in need of more charitable programmes, particularly art-based ones, but also as a region where there were a lot of very good 'undiscovered' artists. It was very much a 'locals buying local art' scene, and very little of it was being recognised at an international level. I suppose another big factor was that I was based in Hong Kong, which gave me a particular interest in the art of the region and meant that it was practical to launch a prize here. The aim of the prize was really to elevate the international profiles of contemporary artists in Asia. I do think we have helped raise the profile of artists from the region.
Since its inception in 2003, the art prize has grown considerably in stature. Looking back, what were the key moments in its evolution?
When we first started, entry to the prize was open to all artists, meaning that we were receiving thousands of entries by our third year. It became impractical. And our world-class judges really didn't want to see anything other than the best work. Since 2007, entry to the prize has been limited to nominated artists only. This naturally led to us to receive a much higher standard of entries year after year. It also allowed us to grow in stature and prestige, taking us to where we are today. I think it's fair to say that we have become Asia's most established and respected prize in contemporary art.
In 2014, we accepted sculpture as a medium of entry for the very first time. We were surprised to see that almost half of the top 30 finalists' works that year, and this, were three-dimensional. It's important to make sure that the Foundation evolves along with the rest of the world, so we try to expand and improve the prizes each year.
Bringing our Hong Kong-based 'Make It Better' project in-house in 2013 was a big move, and one that has allowed us to really see firsthand the value of our work in the local community. Since 2013, we have grown tremendously and now offer weekend and midweek workshops to almost 100 children from Hong Kong's most disadvantaged areas. It makes it all very worthwhile. We plan to expand this charitable work as funding allows.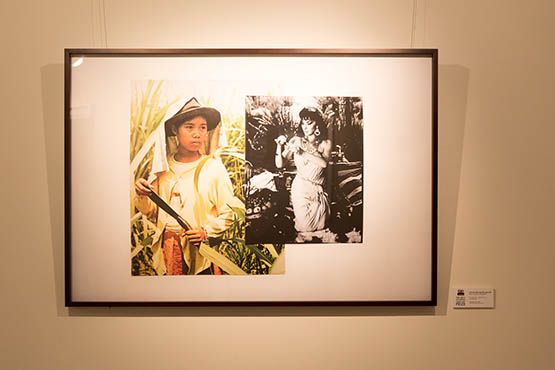 New Society (series) by Mark Salvatus at the 12th Sovereign Asian Art Prize 2016. Photo: Kitmin Lee.
Building on this, why do you think the Art Prize has gained such a prominent status in the Asian art world today?
We have established a fantastic panel of judges and nominators, headed by curator David Elliott who has been enormously helpful and is just so respected around the world. This has allowed us to ensure the art is becoming better and better each year. We've evolved from holding an annual art auction geared towards those with a few extra dollars in their pockets, to one that offers a seriously outstanding selection of what I, and many others, believe to be the very best in emerging contemporary talent. The artworks that make it through as finalists have been selected by two boards of independent experts—the nominators and judges—with no commercial interest in the art. This is a unique process and makes the art desirable to both collectors and those with an eye on investment. Our track record suggest there is no better forum for buying the next big thing whilst helping the less well off. We hope and believe this is a compelling offering.
Partnering with Christie's and brands like Pictet and Louis Vuitton has also ensured the stature of the prize.
You have just announced the 30 finalists for the 2016 award. Perhaps you could talk a little more about the selection process—what the judges are looking for and how they begin to find these artists spread across Asia?
The Prize invites mid-career contemporary artists, who have been nominated by a very carefully selected board of art experts, to enter up to three artworks online. We usually have about 300 entries. The judges then select the best 30 works. These 30 pieces are then exhibited in a prominent public space in Hong Kong, where the pieces are judged a second time, in person, by the same judging panel. The winner receives US$30,000 and there is also a public prize winner. Votes can be cast by those who view the exhibition in Hong Kong or online.
Our judging panel changes every year—with David Elliott a constant. This year we have Song Dong, Asmudjo Irianto, Michael Lin and Alexandra Seno also on our panel. They are recognised world experts whose opinions matter. As you can imagine, what each judge is looking for is very personal and I can't answer on their behalf, but we find they tend to go for the more 'intellectual' works. It's always rather interesting to see which works they award top scores to. I think they give huge consideration to an artist's reputation and potential, whereas the public votes veer more towards the overall aesthetics of a piece. It is rarely the case that the public vote for the same piece as the judges.


Mongkut by Arin Rungjang at the 12th Sovereign Asian Art Prize 2016. Photo: Kitmin Lee.
The money you raise is hugely important to the Foundation, going towards supporting art education, rehabilitation and therapy for disadvantaged children. Are there particular stories of success you can share?
This year we held our first ever Summer Programme for children in our 'Make It Better' project, which works with kids from Hong Kong's poorest neighbourhoods. The two week course drew on the principles of art therapy, saw the children do a stint at Outward Bound [an outdoor education organisation], engage in community service, kayak to an island off Sai Kung where they had to fend, forage and cook for themselves, and camp under the stars. For some of the children, it was the first time they had done any of these activities or even visited one of Hong Kong's country parks—which is really shocking when you think about how easy it is to access these places. For many of them, it was the first night they had ever spent away from home. At the beginning of the programme, a lot of the children were reluctant, shy, and had very little self-confidence. Our teachers and volunteers struggled to convince some of the children to stay beyond the first day. By the end of the course, the children were arriving with big smiles on their faces every day, having made new friends, having learnt valuable life skills and having experienced a dramatic transformation in the way they viewed themselves and the world. The programme was a sort of spin on 'wilderness therapy'—and it really worked. It was incredible to see the grins on everyone's faces at the graduation ceremony, and the visible change in their self-esteem.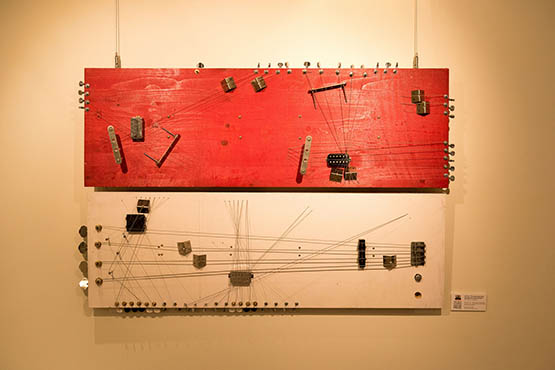 The Americans have colonised our subconscious by Haykal Bani at the 12th Sovereign Asian Art Prize 2016. Photo: Kitmin Lee.
Finally, how and where do you plan to use the money raised this year?
The way our auction works is that for every artwork sold, 50% goes to the artist, meaning they receive the split they usually would through a gallery (however their work tends to fetch a higher price due to the generous bidding of guests,) and the other 50% is channeled directly into our charitable programmes. We don't only run charitable programmes in Hong Kong—since the early 2000s we've worked with the Christina Noble Children's Foundation in Vietnam and Nepal, M'Lop Tapang and HAGAR International in Cambodia, and the Child Welfare Scheme in Nepal. We also work with the Royal Charity Organization in Bahrain and just this year partnered with the nonprofit START, providing refugees, orphans and children with special needs across the Middle East and India with art therapy-based programmes. The Sovereign Art Foundation has all overheads covered by The Sovereign Group, meaning 100% of funds raised on the night of the gala are able to be channeled directly to our art and music programmes across Asia. —[O]