News | Market
Art Basel Announces Name + Directors of New Paris Fair
They also announced the gallery representatives who will form the event's selection committee.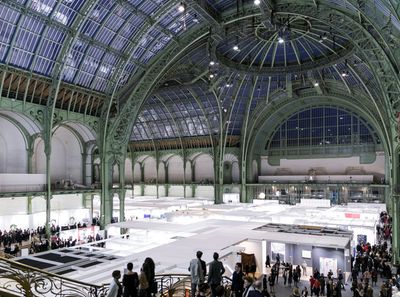 The Grand Palais during FIAC 2015. Photo Charles Roussel. Courtesy Ocula.
Art Basel's Paris fair, which launches at the Grand Palais Éphémère in October, will not be called 'Art Basel Paris'.
During a public competition organised by the Réunion des musées nationaux to host the contemporary and modern art fair, they were told that such a name wouldn't fly. The city had to come first.
Instead, it will be called 'Paris+, par Art Basel'.
'It's very minimalist and works in different languages,' Marc Spiegler told Artnet News yesterday. 'We wanted a name that was not going to take up too much space, because one of the big parts of this adventure is that we want to work with other creative industries. We wanted a name that worked well for collab mode.'
The addition of a '+' to brand names is trendy, especially among streaming services such as Apple TV+, Disney+, and ESPN+.
'The value of + is that it implies more, better, premium, without being specific as to content, scale, or degree of premium-ness,' explained Maria Cypher, creative director at naming company Catchword, speaking to Time in 2020.
But its vagueness is also a downside, as Catchword's co-founder Laurel Sutton told Fortune in 2019.
'It doesn't tell you what you're getting; it doesn't say why it's different,'­ Sutton said. 'It's just adding a superlative on the end—like saying "ultra" or "supreme" or "better".'
Clement Delépine, Director, Paris+, par Art Basel © Art Basel. Photo by Ilyes Griyeb.
Paris+, par Art Basel's New Directors and Advisory Board
Paris+, par Art Basel will be directed by Clément Delépine, former co-director of the fair Paris Internationale, which showcased young galleries and emerging artists.
'Even before my appointment, I welcomed the news of Art Basel's selection to stage a new fair in Paris,' Delépine said in a statement. 'I look forward to collaborating with the entire ecosystem of galleries, institutions, creative and cultural industries here in Paris to create a magnetic event for the city and the world.'
Delépine will be joined by former Christie's France VP Virginie Aubert, who will serve as the fair's general manager, and deputy director Maxime Hourdequin, who previously worked as deputy director of FIAC, the fair shouldered out of the Grand Palais by Paris+, par Art Basel.
FIAC's long-serving director, Jennifer Flay, will join Paris+ as president of its advisory board in March 2023.
The fair's selection committee comprises gallery representatives from Air de Paris, Ellen de Bruijne Projects, Galerie Buchholz, Anton Kern Gallery, Galerie Chantal Crousel, Galerie Georges-Philippe & Nathalie Vallois, and Van de Weghe. Emerging galleries will be selected by representatives of Marcelle Alix, Neue Alte Brücke, and Simone Subal Gallery.
The inaugural edition of Paris+, par Art Basel will take place from Thursday 20 October 20 to Sunday 23 October, with a preview day on Wednesday 19 October. —[O]