News | Market
Art Basel Wins Bid to Host Paris Fair at Grand Palais
The new fair shoulders out FIAC, which has taken place at the Grand Palais since 1975.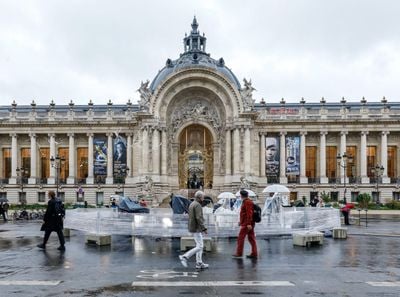 The Grand Palais in Paris during FIAC, 17–20 October 2019. Courtesy Ocula. Photo: Charles Roussel.
Art Basel has been awarded a seven-year contract to stage a new contemporary and Modern art fair at the Grand Palais in Paris. The contract was won following a public competition organised by the Réunion des musées nationaux – Grand Palais in December last year.
The fair will launch in October at Grand Palais' temporary venue, the Grand Palais Éphémère, where it will remain until the restoration of the Grand Palais is completed in 2024.
The Paris fair is being presented as a major win for Swiss firm MCH Group, Art Basel's parent company, who will reportedly pay €10.6m for the seven-year contract.
'This is another step towards our goal to ensure the long-term success of MCH Group, and it's gratifying to see that our strategy is beginning to bear fruit,' said Beat Zwahlen, MCH Group CEO. Earlier this week, MCH Group announced it was taking a 15% stake in Art Events Singapore, the organiser of the ART SG fair.
As a consequence of MCH's win, France's pre-eminent art fair, FIAC, has lost its long-held October slot. RX France, which organises FIAC, said they reserved the right to challenge the decision in court.
In a press statement, RX France's chief executive Michel Filzi said, 'The procedure launched by the RMN-Grand Palais is not only a first that impacts the entire ecosystem associated with French contemporary art but also questions the programming of events at the Grand Palais. If it is confirmed that the most established events are thus at the mercy of decisions that are as brutal and unilateral as they are unpredictable on the part of the managers of the buildings that are likely to host them in France, it is clearly our entire sector that will be affected, to the great benefit of our European competitors.'
RX France will continue to host Paris Photo at the Grand Palais in November.
Looking ahead, Art Basel said it would work closely with Paris's museums, private institutions, galleries, and other cultural spaces to create an active cultural program from morning to night, all week, and across the city. They plan to establish a new French entity and employ a dedicated team on the ground, as well as work closely with France's gallery community.
In addition, Art Basel intends to develop an identity and a brand specific to the Parisian fair.
Speaking to The Art Newspaper, Marc Spiegler, Global Director, Art Basel said the new fair will 'definitely not be Art Basel Paris'.
'We aim to build on Paris's unparalleled standing as a global metropolis to help create a vibrant week that even further amplifies the city's international resonance as a cultural capital,' he said. —[O]