News | Institutions
Asia Art Archive's 2022 Fundraising Auction: What Are the Highlights?
Sin Wai Kin's makeup-stained face wipe will go under the hammer alongside works by Takashi Murakami, Maria Taniguchi, and other leading artists from the region.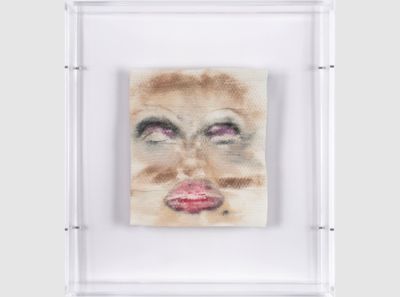 Sin Wai Kin, The End of Her Act (2017). Makeup on face wipe. 21 x 17 cm. Donated by the artist and Blindspot Gallery.
Over fifty artworks will be auctioned online during Asia Art Archive's annual fundraiser from 19 October to 3 November. The works will go on view at Christie's Hong Kong from 19 to 21 October, with bids accepted on a dedicated website.
Asia Art Archive (AAA) was established by Claire Hsu and Johnson Chang in 2000 to ensure a record was kept of emerging art activities in Asia. It now boasts the world's largest collection of materials related to contemporary art in the region.
According to AAA Executive Director Christopher K. Ho, this year's auction will help to fund the digitisation of 12 archives, the scoping of new archives, and a room dedicated to books and materials about Hong Kong art in AAA's brand new library space.
Takashi Murakami, Zzzz (2021). 80.8 x 162 cm. Edition of 25. Donated by Gagosian Gallery.
Among the offerings in this year's auction are works by Takashi Murakami, Izumi Kato, Zao Wou-Ki, Mona Hatoum, Pixy Liao, Liu Jianhua, and Tiffany Chung.
Sin Wai Kin's The end of her act (2017), donated by Blindspot Gallery, stands out for its unusual medium. A face wipe bears the imprint of the artist's face after attending Dollar Baby, a well-known LGBTQ party in London, in drag makeup.
Sin said in a 2019 Ocula Conversation: 'A lot of drag is about unlearning for me, but it's also creating new models of gender and identity'.
Another work appearing in the auction is an edition of Takashi Murakami's Zzz (2020) donated by Gagosian gallery. The work depicts one of Murakami's iconic flower figures snoring peacefully against a backdrop of smiling petals. It's a typical example of the infectiously positive, playful, colourful, fun-poking style of the father of the Superflat movement.
Gagosian has previously donated Murakami's 'bag' (2018) made in collaboration with Virgil Abloh, among other works and the Murakami art has often found its way onto AAA's auction list in previous years.
Maria Taniguchi, Untitled (room of phrases) (2021). Acrylic on canvas. 46 x 46 x 3 cm. Donated by the artist and Silverlens.
Manila gallery Silverlens, meanwhile, donated Maria Taniguchi's Untitled (room of phrases) (2021), a recent deviation from the artist's labour intensive series of black brick paintings. An imperfect chequered pattern plays out in rich reddish-brown hues, distinctive from the uniform and cohesive grids of hundreds and thousands of hand-painted black bricks Taniguchi has been making since 2008.
Other auction highlights include an oil and crayon piece by Rita Ackermann, a portrait by Stars artist Huang Rui entitled Woman Figure (2009), and Wang Yigang's No One Watching On (1995), which captures the artist's shift from abstraction to pop in the mid-90s. All of these are expected to fetch high prices.
Artists recommended by AAA India, including Hemali Bhuta and Sahil Naik, are also going under the hammer.
In an interview with Ocula Magazine last year, Ho said he was eager to help AAA continue to grow.
'After nearly a decade in our current space, AAA is ready for a larger home to accommodate our growing collections and audiences,' he said.When their new library officially opens on 23 November, Ho said it 'will be a site for bold propositions and experimental interventions.' —[O]