News | Market
Basquiat and Beeple Lead 2021's Priciest Works at Auction
Auctions at Christie's this month brought in results that rival the highest prices paid for contemporary art at auction in 2020.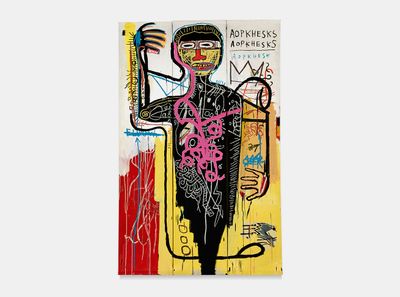 Jean-Michel Basquiat, Versus Medici (1982). Synthetic polymer paint and oil wax crayon on canvas. Courtesy Sotheby's.
Just three months into 2021, works by Beeple and Jean-Michel Basquiat fetched prices that rival the most expensive contemporary art works bought at auction last year.
Basquiat's Warrior (1982) brought in US $41.8 million at Christie's Hong Kong last week, the highest sum since Beeple's Everydays – The First 5,000 Days NFT (2007–2021) sold for $69.3 million at Christie's New York on 11 March.
Those prices are comparable to the most expensive contemporary artworks to sell at auction in 2020: Roy Lichtenstein's Nude with Joyous Painting (1994), which sold for $46.2 million, and Francis Bacon's Triptych Inspired by the Oresteia of Aeschylus (1981), which fetched $84.5 million. (All prices include buyers' premiums.)
Total sales at public auction were significantly impacted by the pandemic in 2020, falling 30% from 2019 according to a report published by Art Basel and UBS.
While Beeple is a newcomer to the auction market, Basquiat is one of its most reliable earners. The artist, who died in 1988 aged 27, went from selling drawings for $50 in 1980 to the highest-grossing American artist at auction in 2016. According to the Artprice database, 80 Basquiat works generated $171.5 million that year.
Basquiat's Untitled (1982), which was purchased by Jerry and Emily Spiegel in 1984 for $19,000, became his most expensive work ever sold at auction when it fetched $110.5 million in 2017.
There were no works by Basquiat among the top 15 art sales at auction last year, though his Untitled (Head) (1982) did bring in $15.2 million at Sotheby's Contemporary Art Evening Auction in June.
Another Basquiat, Boy and Dog in a Johnnypump (1982), was among the biggest known private contemporary art purchases in 2020, according to the New York Times. It was reportedly bought by billionaire hedge fund manager Ken Griffin for more than $100 million.
The Basquiat pictured top, Versus Medici (1982), is unlikely to reach such a sum, but it could sell for more than Warrior when it goes under the hammer at Sotheby's Contemporary Art Evening Auction in New York City on 12 May. It has an estimate of $35–50 million. The work will be exhibited in Taipei 3–4 April, Hong Kong 16–20 April, and Los Angeles 24–26 April before returning to New York.
Among the other stand out contemporary art sales at auction this year is Banksy's Game Changer (2020), a pandemic painting of a child playing with a heroic nurse figurine. The work sold for $23.1 million, more than four times its estimate, at Christie's 20th Century Evening Sale in London on 23 March. —[O]