News | Artists
David Lynch Debuts at Pace with 'Big Bongo Night'
Others who recently found representation with new galleries include Turner Prize-winner Lubaina Himid and American photographer Rosalind Fox Solomon.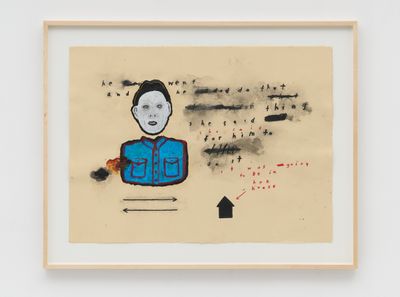 David Lynch, He Went and He Did DoThat Thing, (not dated). Mixed media on paper. 56.5 × 76.2 cm. © David Lynch. Courtesy Pace Gallery.
David Lynch, the auteur behind TV show Twin Peaks and films such as Blue Velvet, will give his first exhibition at Pace Gallery in New York from 4 November to 17 December.
Big Bongo Night features disquieting scenes on paper and wood panel, presented in an art brut style. The works feature aeroplanes, cartoon animals, disembodied heads and ambiguous lines of dialogue.
In Good Times OnOur Street (2022), for instance, painted letters reading 'He bought the boots. Who did? Robert. Robert bought the boots? Yes.' hover above a coffee stain of a man firing a revolver at someone's head.
David Lynch, Good Times On Our Street (2022). Mixed media on wood. 127 cm × 152.4 cm × 6.4 cm. © David Lynch. Courtesy Pace Gallery.
In addition to these twisted tableaus, the exhibition features a selection of Lynch's lamps. These are made with combinations of cold-rolled steel, wood, plexiglass, resin and plaster in forms that range from industrial to biomorphic.
Pace announced in early October that it would represent Lynch worldwide. Recounting a visit by Glimcher to discuss the partnership, Lynch said, 'I told him I would try to do some good work for his gallery. I think he smiled and said, "You fuckin' better!!!".'
Among the other artists joining new galleries in October, American photographer Rosalind Fox Solomon is now represented in Europe by Galerie Julian Sander. Julian's father, Gerd Sander, was an early exhibitor of her work in Washington D.C. in the 1970s.
David Lynch, Matchstick Lamp C (2019). Cold-rolled steel, pine, and plexiglass shade. 174 x 30.5 x 35.6 cm. © David Lynch. Courtesy Pace Gallery.
Turner Prize-winner Lubaina Himid—regarded as an influential figure in the British Black arts movement since the 1980s—joined New York gallery Greene Naftali. Her work was highlighted in a Tate Modern show late last year.
Also announced last month, BMW Art Journey 2021 winner Julien Creuzet is now represented by Andrew Kreps Gallery and Zio Ziegler, whose mural paintings can be found worldwide, joined Almine Rech.
Iranian-born Parisian Sepand Danesh, whose blocky figurative works playfully and poignantly protest the Iranian regime, joined Praz-Delavallade, and Canadian artist Ken Lum — whose billboard artwork partly inspired the renaming of Rotterdam's FKA Witte de With to Kunstinstituut Melly — joined Magenta Plains.
Meanwhile, emerging Brazilian artist Jaime Lauriano joined Nara Roesler, and Mehwish Iqbal, who bridges material cultures of Pakistan and Australia, signed with Yavuz Gallery. —[O]