News | Artist
Kader Attia Announced as 12th Berlin Biennale Curator
Kader Attia, whose atmospheric installations explore ideas of repair, has been appointed curator of the 12th Berlin Biennale for Contemporary Art.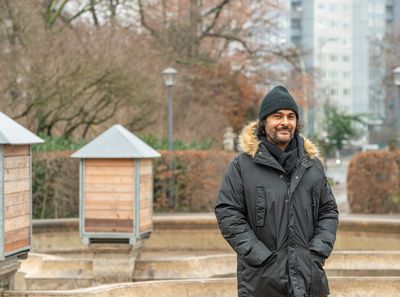 Kader Attia, Curator 12th Berlin Biennale for Contemporary Art. Photo: F. Anthea Schaap.
The Berlin Biennale for Contemporary Art has named artist Kader Attia as the curator of its upcoming edition, scheduled for 2022.
In 1998, the inaugural Berlin Biennale was jointly curated by Klaus Biesenbach, Nancy Spector and Hans Ulrich Obrist with the ongoing mission to bring together 'the most influential current positions of artists, theorists and practitioners'.
Attia joins former artist-curators of the biennial: Italian artist Maurizio Cattelan co-curated the 4th edition in 2006 with curators Massimiliano Gioni and Ali Subotnick, and Polish artist Artur Żmijewski presented the 7th Berlin Biennale in 2012. In 2014, independent curator and writer Juan A. Gaitán invited artists Tarek Atoui, Olaf Nicolai and Danh Vo, alongside curators and writers, to collaborate on that year's edition.
Recent artists to curate the biennial have included DIS, a New York-based collective that focused on the digital for the 9th Berlin Biennale in 2016. 'Our proposition is simple,' DIS had said. 'Instead of holding talks on anxiety, let's make people anxious.'
Raised in France and Algeria, Attia is known for his concept of 'repair', a notion that interrogates modes of cultural resistance and appropriation as a means of decolonisation, while examining the ongoing effects of colonisation on nations and individuals.
The breadth of Attia's practice can be seen in such works as Untitled (Ghardaïa) (2009), a model of the ancient Algerian city made out of cooked couscous that highlights the extensive cultural and intellectual exchange between North Africa and Europe before the colonial period. Shifting Borders (2018), a mixed media installation presented at the 12th Gwangju Biennale, continues his recurring use of prosthetic limbs to signify processes of trauma and repair.
Attia is also the founder of La Colonie, an independent cultural centre in the 10th arrondissement of Paris, which closed permanently in 2020 due to the coronavirus pandemic.
Attia was selected by an international committee of artists, professionals, curators, and directors, including artist Yael Bartana; Krist Gruithuijsen, director of KW Institute for Contemporary Art; and artist and independent curator Gabi Ngcobo, who curated the 10th Berlin Biennale in 2018. —[O]