News | Market
Kiaf PLUS to Expand Seoul Fair Week with Experimental Presentations

Kiaf PLUS | Sponsored Content
The satellite fair will gather an additional 73 galleries to those showing at Kiaf SEOUL and Frieze Seoul, and includes a strong showing of NFTs.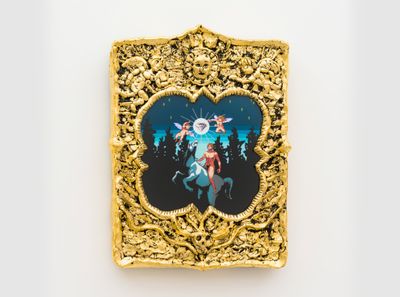 Hansaem Kim, Essence of Angels (2022). Glass, gold leaf, pigment print, resin. 48 x 36 x 8 cm. Courtesy of the artist and ThisWeekendRoom, Seoul.
The Galleries Association of Korea, which organises the Korean International Art Fair (Kiaf) in Seoul, has revealed details of their new satellite fair. Kiaf PLUS will be dedicated to ambitious and experimental presentations, including new media art and art NFTs.
Kiaf PLUS takes place at the Seoul Trade Exhibition and Convention (SETEC) centre in Gangnam, less than 2km from the COEX Convention & Exhibition Center where Kiaf SEOUL and Frieze Seoul are being held.
Between the three fairs, over 350 galleries will gather in Seoul this September.
Kiaf PLUS will feature emerging galleries such as BLANK SPACE (New York), CYLINDER (Seoul), Everyday Mooonday (Seoul), L21 Gallery (Palma de Mallorca), SARADIPOUR Art (Bandar-e Mahshahr), Urban Spree Galerie (Berlin), and YUKIKOMIZUTANI (Tokyo) alongside established Korean galleries such as Gallery Banditrazos and Gallery Hyundai.
NFTs will feature prominently at Kiaf PLUS. Among them, Gallery STAN (Seoul) will show works by James Jean, So Youn Lee, and SAMBYPEN, gallery chosun (Seoul) will show NFTs by Lee Eun, and Artemis Art Gallery (Lisbon) will exhibit an NFT by Martina Menegon, who uses 3D scanning to distort images of her body.
Kiaf PLUS will also feature Bored Apes Golf Club Korea (BAGC Korea), an NFT collection from metaverse company ALTAVA Group and art NFT platform ETNAH.
NFTs also feature in the We Connect, Art & Future exhibition at Incheon International Airport. Sixty works from 20 galleries will be shown on the mezzanine of Terminal 1, from 22 August to 25 September.
One highlight is PKM Gallery's presentation of Cody Choi's Database Painting, Animal Totem, Tigers 2208030330 (2022). The NFT is a tokenised version of the artist's first 'database painting' from 1999, an early digital work in which Choi colourised a digital 3D jungle scene in bright pink, yellow, and green.
Kiaf PLUS opens with a VIP day on 1 September, the day before Kiaf SEOUL and Frieze Seoul open to VIPs. Kiaf PLUS will open to the public from 2 to 5 September.
The full list of galleries participating in Kiaf PLUS follows below. —[O]
---
Kiaf PLUS 2022 Galleries
Artcode Gallery, Seoul
Art Factory, Paju
Artemis Art Gallery, Lisbon
Allme Artspace, Seoul
Artspace H, Seoul
BLANK SPACE, New York
Bongsung Gallery, Daegu
CYLINDER, Seoul
Cosmos Gallery, Incheon
Contemporary Tokyo, Tokyo
Dongho Gallery, Seoul
Dong Soong Gallery, Seoul
Dohing Art, Seoul
ELIGERE, Seoul
Everyday Mooonday, Seoul
FNG-Art, Taipei
Fill Gallery, Seoul
Gallery Kiaf
Gallery Test Vision, Barcelona
Gallery Jeeum, Hong Kong
Gallery Seorim, Seoul
Gallery Baum, Seoul
Garam Gallery, Seoul
Gallery KGauzo, Seoul
Gallery Jari Art, Gwangju
Gallery Chosun, Seoul
Gallery Hyundai, Seoul
Gallery FM, Seoul
Galerie GAIA, Seoul
Gallery Choi, Seoul
Gallery Jung, Seoul
Gallery Joeun, Seoul
Gallery Grimson, Seoul
Gallery Stan, Seoul
Gallery Joy, Busan
Gallery We, Seoul
Gallery Yoon, Seoul
Gallery Miroonamu, Yeongcheon
Gallery Dream, Seongnam
Gallery Banditrazos, Seoul
Gallery Daon, Seoul
Hana Art Gallery, Seoul
Hofa Gallery, London
Hidden M Gallery, Seoul
Heesu Gallery, Seoul
Klamp Gallery, Seoul
Kimreeaa Gallery, Seoul
KIDARI GALLERY, Daegu
KIMHYUNJOOGALLERY, Seoul
Keumsan Gallery, Seoul
Kangshinduk Galerie, Seoul
L21 Gallery, Palma De Mallorca
Lkif Gallery, Seoul
LYNN Fine Art Gallery, Seoul
Mikwang Gallery, Busan
Myung Gallery, Seoul
Na Gallery, Seoul
Obscura, Seoul
Ocean Gallery, Busan
ROW Gallery, Gyeongju
SPACE SO, Seoul
Suppoment Gallery, Seoul
Seo Gallery, Seoul
Sarai Gallery (Saradipour), Tehran, Mahshahr
Seloarts Gallery, Seoul
Seojung Art, Seoul
SPACE NAMU Gallery Aurora, Yangsan
The Columns Gallery, Seongnam
Thisweekendroom, Seoul
Urban Spree Galerie, Berlin
Vidi Gallery, Seoul
Was Gallery, Shanghai
YOD Editions, Osaka
YUKIKOMIZUTANI, Tokyo
Zoom Gallery, Seoul