News | News
London Galleries Prepare for 12 April Reopening
Many galleries struggled with their doors closed, and not just financially. But they also adapted new ways of showing and selling art.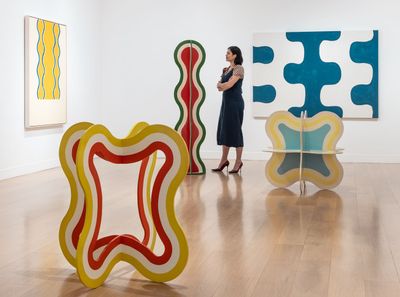 Installation view of Paul Feeley: Space Stands Still (2021) at Waddington Custot, London. Courtesy the artist and Waddington Custot. Photo: Rob Harris.
Commercial galleries in England will be able to reopen to the public from Monday 12 April, alongside other 'non-essential shops' and pub gardens. Most galleries were forced to close from March until June last year as the pandemic spread, and shut again in November following a resurgence in cases of Covid-19.
'The closures have impacted us to some extent financially, but more severe has been the disruption to our exhibition programme,' said Jacob Twyford, senior director of Waddington Custot, London.
'For a gallery like ours, the programme is how we define ourselves, how we tell the art world who we are,' he said. 'It has forced us to find other ways to keep telling that story.'
Technological solutions such as online viewing rooms have been important to many galleries, and Twyford said staff have been learning new skills so the gallery can make the most of them.
'The rush to the digital sphere has swept us up, as it has most people in the art world, but what we learnt is that it isn't the medium but the message that counts', he said. 'The conversation is still key.'
Waddington Custot will reopen with the exhibition Paul Feeley: Space Stands Still on 12 April.
Adam de Boer,
Berenang Malam
(2021). Wax-resist, acrylic paint staining, and oil paint on linen. Courtesy the artist and Gazelli Art House.
Gazelli Art House also leaned on technological solutions over the past year, introducing weekly talks on Instagram, experimenting with Clubhouse, and persevering with Gazell.io, an online residency for digital artists.
'Technology has been a huge asset throughout the pandemic,' said Rebecca Bosworth, Chief of Marketing and Communication at the gallery. 'Without it we would have been a bit stuck.'
She said Gazelli also started regular Zoom calls between artists and the entire staff, a practice they intend to continue after the pandemic with their artists living overseas.
Gazelli will reopen with the group exhibition Curtain Twitching, which has been installed since 15 March for audiences to view through their windows and in an online viewing room.
'We are excited to be able to let visitors in to see the exhibition in the flesh from 12 April,' Bosworth said.
Other exhibitions physically opening next week include a show of works by Sabine Moritz entitled Mercy at Pilar Corrias and Idris Khan: The Seasons Turn at Victoria Miro.
Over 80 galleries have also signed up for the inaugural London Gallery Weekend, which will take place in the city's centre on 4 June, its south on 5 June, and the East End on 6 June.
Public museums and galleries in London will reopen from 17 May. Upcoming exhibitions include: Jean Dubuffet: Brutal Beauty at the Barbican, Michael Armitage: Paradise Edict at the Royal Academy of Arts, Eileen Agar: Angel of Anarchy at Whitechapel Gallery, and Matthew Barney: Redoubt at Hayward Gallery. —[O]