News | Artists
Mendes Wood DM Stages Second Show at Italian Country Estate
A project by Matthew Lutz-Kinoy treats the 19th-century house as a platform for political theatre.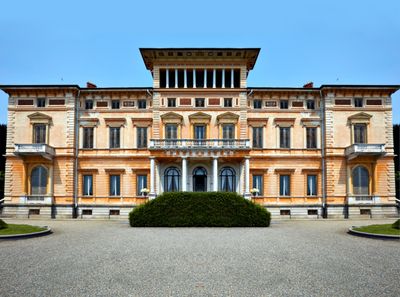 Villa Era. Courtesy Villa Era and Mendes Wood DM.
Brazilian gallery Mendes Wood DM will exhibit works by Matthew Lutz-Kinoy and five feminist artists at an Italian country estate from 31 May to 17 July.
American-born and Paris-based artist Lutz-Kinoy will show the project 'Grand Entrance' on the ground floor of Villa Era, a house located near the city of Biella, roughly halfway between Milan and Turin.
The project draws on the artist's research into lavish events held by the house of Medici during the Renaissance. Embracing the concept of Theatrum Mundi, or The Great Theatre of the World, entire streets would be transformed into sets—the Palazzo Pitti courtyard was even flooded for a naval battle—for performances that aggrandised Italian elites.
In this tradition, Lutz-Kinoy's canvases will make a set out of Villa Era's architecture, interrogating the ways today's governments construct narratives that serve them.
Rosana Paulino, Musa Paradisíaca (2020). Digital printing on fabric, acrylic paint, and sewing. 44 x 74 cm. Courtesy the artist and Mendes Wood DM.
The first floor of the building will host another project, 'Rebel Archives', by guest curator Sofia Gotti. It will feature works by Brazilian artists Anna Bella Geiger and Rosana Paulino, and Italian artists Mirella Bentivoglio, Nedda Guidi, and Clemen Parrocchetti, all of whose practices critique patriarchal and heteronormative structures.
Spread across eight rooms, 'Rebel Archives' will include weaving, drawing, ceramics, collage, and photography. Materials from each artist's personal archives—photographs, books, and stories—will be presented together alongside books from Villa Era's Steinerian library.
The exhibition can be viewed by appointment only.
This is the second time Mendes Wood DM has shown works at Villa Era. They exhibited Cristina Canale, Vojtěch Kovařík, Paulo Nazareth, and Brice Guilbert at the idyllic estate from September to November 2020.
'Everyone was dreaming of getting out to the countryside during lockdown, and I think that feeling will linger for many of us,' Ermanno Rivetti, an associate director at Mendes Wood, told The Art Newspaper at the time.
'With all this in mind, we are looking to bring art to the countryside,' he said. —[O]